Retrospective 102 ICU patients in the USA, 73 receiving vitamin C and zinc, showing a negative correlation of treatment with mortality, but not reaching statistical significance (p = 0.31). This study is excluded in the after exclusion results of meta analysis: very late stage, ICU patients.
This study includes vitamin C and
zinc
.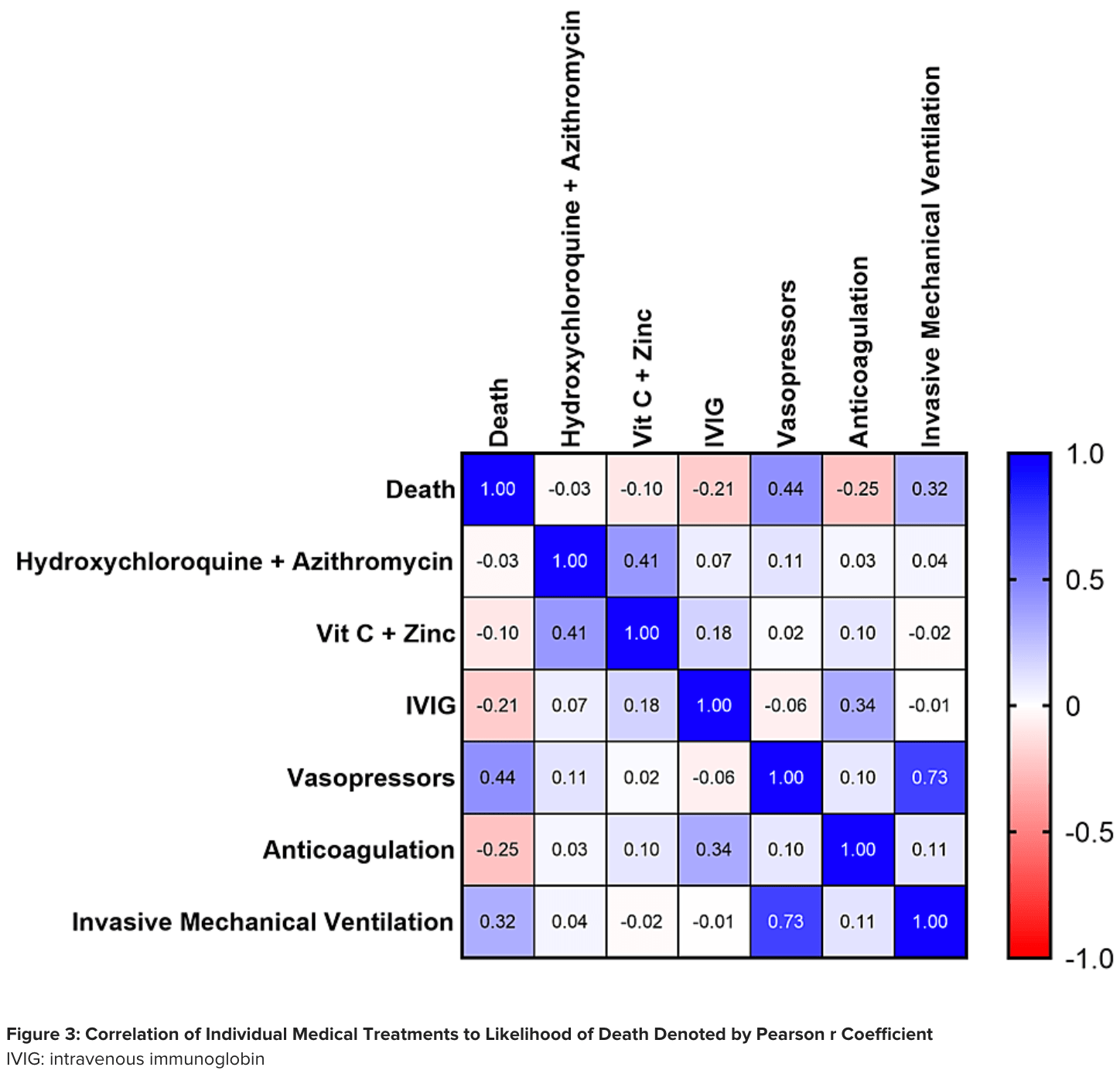 Capone et al., 17 Aug 2021, USA, peer-reviewed, 11 authors.
Characterization of Critically Ill COVID-19 Patients at a Brooklyn Safety-Net Hospital
Cureus, doi:10.7759/cureus.9809
Background The novel coronavirus disease 2019 (COVID-19) pandemic continues to spread across the country with over 3 million cases and 150,000 deaths in the United States as of July 2020. Outcomes have been poor, with reported admission rates to the intensive care team of 5% in China and mortality among critically ill patients of 50% in Seattle. Here we explore the disease characteristics in a Brooklyn safety-net hospital affected by the severe acute respiratory syndrome coronavirus 2 (SARS-CoV-2) pandemic. Methods A retrospective chart review of COVID-19 positive patients at The Brooklyn Hospital Center who were treated by the intensive care team prior to April 20, 2020. Data was extracted from the electronic health record, analyzed and correlated for outcome. Results Impact of various clinical treatments was assessed, showing no change in median overall survival (OS) of both hydroxychloroquine with azithromycin or vitamin C with zinc. Supplemental therapies were used in selected patients, and some were shown to increase median OS and patients requiring vasopressor support or invasive mechanical ventilation showed decreased OS. There was no statistically significant difference in overall survival based on ethnicity, healthcare status, or individual medical comorbidities, although a negative trend exists for diabetes. Despite this, there is a trend towards increasingly poor prognosis based on the number of comorbidities and Class 3 obesity. Conclusions Despite the fact that we show no significant differences in mortality based on ethnicity, insurance status, or individual medical comorbidities, we show a high overall mortality. There is also a trend towards increased overall mortality in Class 3 obesity, which should be further investigated. We suggest that these findings may be attributed to both socioeconomic factors and an increased incidence of total medical comorbidities in our patient population.
Additional Information Disclosures Human subjects: Consent was obtained by all participants in this study. The Brooklyn Hospital Center issued approval 1595421. Animal subjects: All authors have confirmed that this study did not involve animal subjects or tissue. Conflicts of interest: In compliance with the ICMJE uniform disclosure form, all authors declare the following: Payment/services info: All authors have declared that no financial support was received from any organization for the submitted work. Financial relationships: All authors have declared that they have no financial relationships at present or within the previous three years with any organizations that might
References