Supplement Usage Pattern in a Group of COVID-19 Patients in Tehran
Retrospective 510 patients in Iran, showing lower risk of severity with vitamin D (statistically significant) and zinc (not statistically significant) supplementation. IR.TUMS.VCR.REC.1398.1063.
risk of severe case,

60.4% lower

, OR 0.40, p = 0.41
, treatment 33, control 477, adjusted per study, multinomial logistic regression, RR approximated with OR.
risk of hospitalization,

41.0% lower

, RR 0.59, p = 0.37
, treatment 4 of 33 (12.1%), control 167 of 477 (35.0%), NNT 4.4, adjusted per study, inverted to make RR<1 favor treatment, odds ratio converted to relative risk, binary logistic regression.
Effect extraction follows pre-specified rules prioritizing more serious outcomes. Submit updates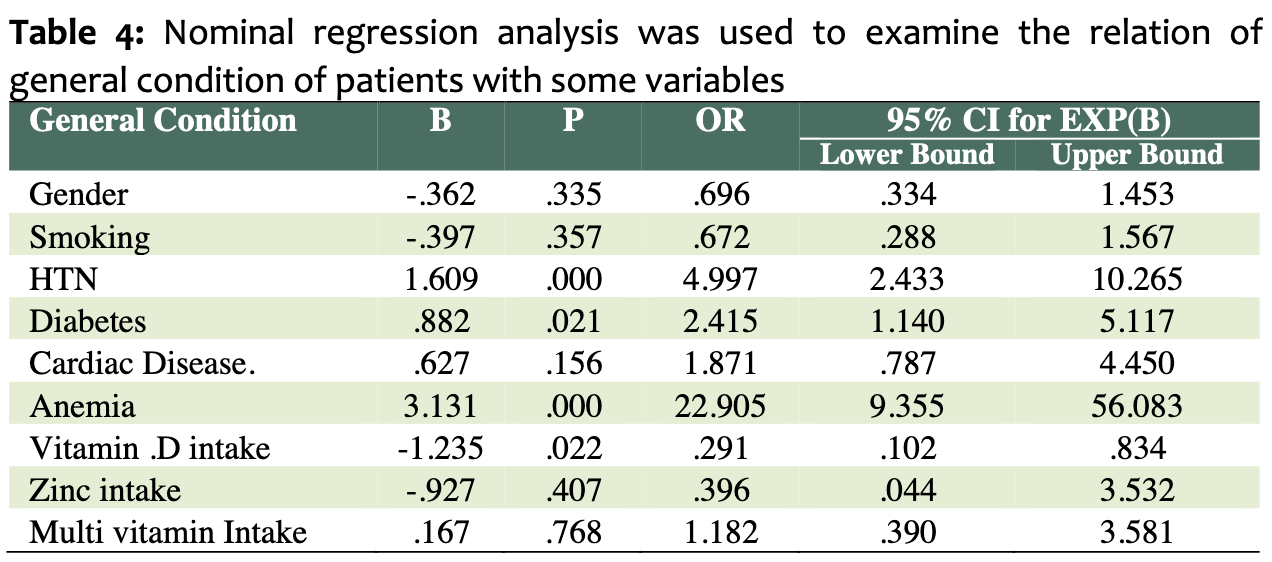 Bagheri et al., 1 Sep 2021, retrospective, Iran, peer-reviewed, 6 authors.
Abstract: Original Article Supplement Usage Pattern in a Group of COVID- 19 Patients in Tehran Maryam Bagheri; Ph.D.1, Fedyeh Haghollahi; M.Sc.2, Mamak Shariat; M.D.3, Mina Jafarabadi; M.D.2, Parastoo Aryamloo; M.Sc.4, Elahe Rezayof; B.Sc.2 1 Department of Midwifery and Reproductive Health, School of Nursing and Midwifery, Tehran University of Medical Sciences, Tehran, Iran 2 Vali-e-Asr Reproductive Health Research Center, Tehran University of Medical Sciences, Tehran, Iran 3 Maternal, Fetal & Neonatal Research Center, Family Health Institute, Tehran University of Medical Sciences, Tehran, Iran 4 Imam Khomeini Hospital Complex, Tehran University of Medical Sciences, Tehran, Iran Received August 2020; Revised and accepted September 2020 Abstract Objective: The coronavirus disease 19 (COVID-19) is a highly transmittable and pathogenic viral infection, causes severe acute respiratory syndrome and was spread throughout the world in early 2020. The effects of vitamin and micronutrient supplements on the prevention and treatment of COVID- 19 seems challenging in scientific considerations. On the other side generally, experts warn against overconsumption of these supplements. Materials and methods: This study aimed to investigate the vitamin and micronutrient supplementation usage pattern in past history of patients with COVID-19 via a cross-sectional inquiry. Totally 510 patients referring to the infectious disease clinic of Imam Khomeini Hospital in Tehran from March 2020 to May 2020 were recruited. The inclusion criterion was suspected patients for COVID-19 based on clinical findings and CT scans of the lung. The infected patients included both inpatients (171) and outpatients (339). Demographic information, clinical signs, and the supplement pattern use were collected through a questionnaire and the data were statistically analyzed. Results: Vitamin D3 intake was reported in 30% (103 patients) of outpatients and 16.5% (28 patients) of hospitalized patients, which is statistically significant (P=0.001). It shows that, the frequency of vitamin D3 consumption in the outpatient group was higher than inpatient group. This significant difference has also been shown in zinc consumption, in 29 patients (9%) outpatients versus 4 patients (2%) inpatients were reported (P=0.007). Multi nominal regression showed that vitamin D3 intake has a supportive effect and reduces the risk of exacerbation and worsening of the disease. (OR=0.291; 95% CI 0.102-.0834, P=0.022). Conclusion: According to the results of the present study and the findings of other studies, considering the supportive effect of vitamin D3 in reducing the severity of infectious diseases; Clinical trials with an appropriate sample size are recommended to investigate the functional role of this vitamin in improving viral diseases of the respiratory tract. Keywords: Supplement; COVID-19; Vitamins; Micronutrients Copyright © 2020 Tehran University of Medical Sciences. Published by Tehran University of Medical Sciences. This work is licensed under a Creative Commons Attribution-Noncommercial 4.0 International license (https://creativecommons.org/licenses/by-nc/4.0/). Noncommercial uses of the work are permitted, provided the original work is properly cited. 158 Vol. 14, No. 3, September 2020 http://jfrh.tums.ac.ir Journal of Family and Reproductive Health  Ahangarpour et al.
bagheri
Please send us corrections, updates, or comments. Vaccines and treatments are complementary. All practical, effective, and safe means should be used based on risk/benefit analysis. No treatment, vaccine, or intervention is 100% available and effective for all current and future variants. We do not provide medical advice. Before taking any medication, consult a qualified physician who can provide personalized advice and details of risks and benefits based on your medical history and situation.
FLCCC
and
WCH
provide treatment protocols.
Submit