Vitamin D levels in children with COVID-19: a report from Turkey
Retrospective 75 COVID-19 hospitalized pediatric patients in Turkey and 80 healthy controls, showing significantly lower vitamin D levels in COVID-19 patients.
risk of case,

73.0% lower

, OR 0.27, p < 0.001
, high D levels 42 of 75 (56.0%) cases, 66 of 80 (82.5%) controls, NNT 3.2, case control OR, >20ng/mL.
Effect extraction follows pre-specified rules prioritizing more serious outcomes. Submit updates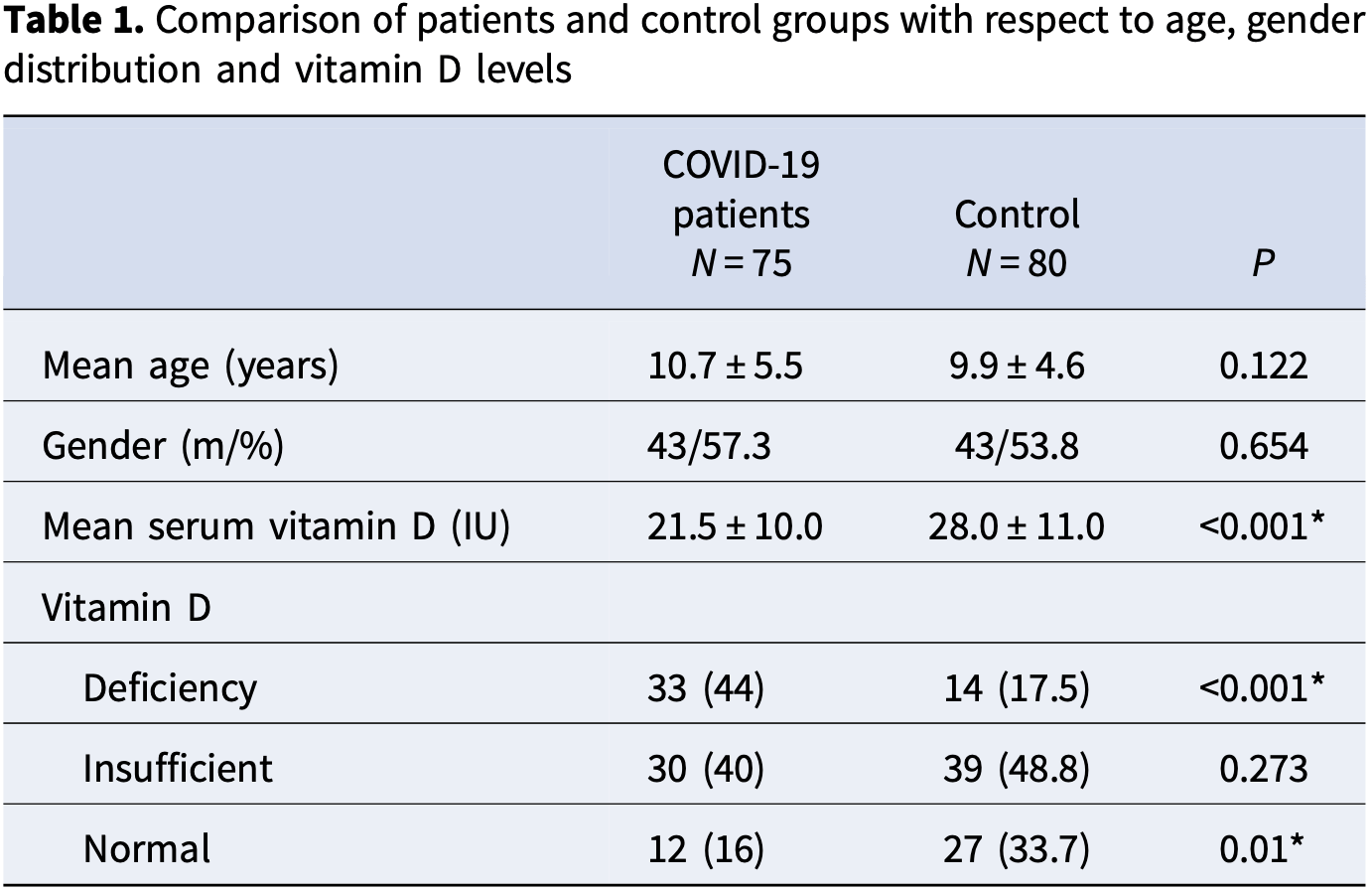 Alpcan et al., 10 Aug 2021, retrospective, Turkey, peer-reviewed, 3 authors.
Abstract: Epidemiology and Infection cambridge.org/hyg Vitamin D levels in children with COVID-19: a report from Turkey Aysegul Alpcan, Serkan Tursun and Yaşar Kandur Original Paper Cite this article: Alpcan A, Tursun S, Kandur Y (2021). Vitamin D levels in children with COVID19: a report from Turkey. Epidemiology and Infection 149, e180, 1–4. https://doi.org/ 10.1017/S0950268821001825 Received: 12 May 2021 Revised: 1 July 2021 Accepted: 22 July 2021 Key words: Children; COVID-19; vitamin D Author for correspondence: Aysegul Alpcan, E-mail: aysegulozcalik@gmail.com Department of Pediatrics, School of Medicine, Kirikkale University, Kirikkale, Turkey Abstract Several studies have demonstrated that higher levels of vitamin D are associated with better prognosis and outcomes in infectious diseases. We aimed to compare the vitamin D levels of paediatric patients with mild/moderate coronavirus disease 2019 (COVID-19) disease and a healthy control group. We retrospectively reviewed the medical records of patients who were hospitalised at our university hospital with the diagnosis of COVID-19 during the period between 25 May 2020 and 24 December 2020. The mean age of the COVID-19 patients was 10.7 ± 5.5 years (range 1–18 years); 43 (57.3%) COVID-19 patients were male. The mean serum vitamin D level was significantly lower in the COVID-19 group than the control group (21.5 ± 10.0 vs. 28.0 ± 11.0 IU, P < 0.001). The proportion of patients with vitamin D deficiency was significantly higher in the COVID-19 group than the control group (44% vs. 17.5%, P < 0.001). Patients with low vitamin D levels were older than the patients with normal vitamin D levels (11.6 ± 4.9 vs. 6.2 ± 1.8 years, P = 0.016). There was a significant male preponderance in the normal vitamin D group compared with the low vitamin D group (91.7% vs. 50.8%, P = 0.03). C-reactive protein level was higher in the low vitamin D group, although the difference did not reach statistical significance (9.6 ± 2.2 vs. 4.5 ± 1.6 mg/l, P = 0.074). Our study provides an insight into the relationship between vitamin D deficiency and COVID-19 for future studies. Empiric intervention with vitamin D can be justified by low serum vitamin D levels.
Please send us corrections, updates, or comments. Vaccines and treatments are complementary. All practical, effective, and safe means should be used based on risk/benefit analysis. No treatment, vaccine, or intervention is 100% available and effective for all current and future variants. We do not provide medical advice. Before taking any medication, consult a qualified physician who can provide personalized advice and details of risks and benefits based on your medical history and situation.
FLCCC
and
WCH
provide treatment protocols.
Submit