Retrospective 71 hospitalized COVID-19 patients in Greece with vitamin D levels measured within 48 hours of admission, showing longer hospitalization, more radiographic findings, and higher inflammatory and cellular damage markers with vitamin D deficiency. Differences were only statistically significant for troponin and PCT.This is the
122nd of 185 COVID-19 sufficiency studies
for vitamin D, which collectively show higher levels reduce risk with
p<0.0000000001 (1 in 115 vigintillion)
.
risk of death,

26.4% lower

, RR 0.74, p = 1.00
, high D levels (≥20ng/ml) 2 of 25 (8.0%), low D levels (<20ng/ml) 5 of 46 (10.9%), NNT 35.
radiographic changes,

18.2% lower

, RR 0.82, p = 0.26
, high D levels (≥20ng/ml) 16 of 25 (64.0%), low D levels (<20ng/ml) 36 of 46 (78.3%), NNT 7.0.
hospitalization time,

37.7% lower

, relative time 0.62, p = 0.16
, high D levels (≥20ng/ml) 25, low D levels (<20ng/ml) 46.
Effect extraction follows pre-specified rules prioritizing more serious outcomes. Submit updates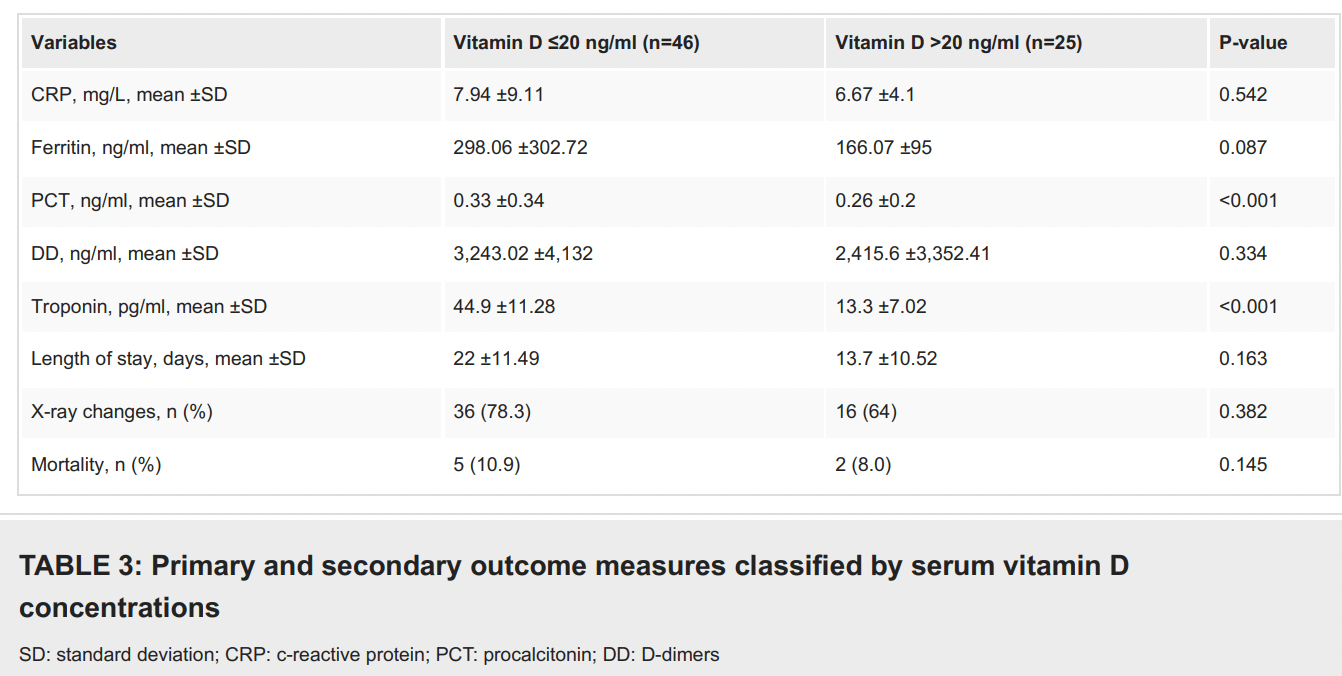 Zidrou et al., 19 Feb 2022, retrospective, Greece, peer-reviewed, 6 authors, study period August 2020 - October 2020.
The Relationship Between Vitamin D Status and the Clinical Severity of COVID-19 Infection: A Retrospective Single-Center Analysis
Cureus, doi:10.7759/cureus.22385
Background and objective Some studies have suggested a potential protective role of vitamin D in coronavirus disease 2019 patients, and this has led to a debate on the topic in the medical community. However, the reported data on the number of hospitalized patients who were vitamin D-deficient is not convincing. In light of this, the aim of the present study was to explore if vitamin D deficiency is correlated with severity and mortality rates of COVID-19 infection in hospitalized COVID-19 patients at a tertiary care hospital in Greece. Methods We conducted a single-center retrospective study involving 71 patients hospitalized with COVID-19 from August to October 2020. Serum 25-hydroxyvitamin D (25(OH)D) level was assessed in all patients within 48 hours of hospital admission. Serum 25(OH)D level ≤20 ng/ml was defined as a deficiency, while that >20 ng/ml as repletion. The primary outcomes of the infection were classified as partial/complete recovery and mortality during hospitalization. The secondary outcomes were blood markers of inflammation and thrombosis. Results Among the 71 COVID-19-positive patients [mean age: 63 years, range: 20-97; male (n=47; 66.2%): female (n=24; 33.8%)] who were enrolled in the study, 46 (64.8%) patients had 25(OH)D levels ≤20 ng/ml and 25 (35.2%) had a level >20 ng/ml. According to the patients' medical history, 55 patients (77.5%) had comorbidities. It appears that vitamin D deficiency (<20 ng/ml) significantly correlated with elevated biochemical markers such as procalcitonin and troponin (p<0.001). Moreover, male gender, advanced age (>60 years), and comorbidities were positively associated with more severe COVID-19 infection (elevated inflammation markers, radiographic findings on X-rays, and increased length of hospital stay). Conclusion These preliminary findings show that vitamin D status among the patients was not related to the severity of COVID-19 infection.
Additional Information Disclosures Human subjects: Consent was obtained or waived by all participants in this study. Hospital Ethics Committee, General Hospital of Thessaloniki "Papageorgiou" issued approval 345/April 2021. This study has been approved by the Hospital Ethics Committee at the General Hospital of Thessaloniki "Papageorgiou". Animal subjects: All authors have confirmed that this study did not involve animal subjects or tissue. Conflicts of interest: In compliance with the ICMJE uniform disclosure form, all authors declare the following: Payment/services info: All authors have declared that no financial support was received from any organization for the submitted work. Financial relationships: All authors have declared that they have no financial relationships at present or within the previous three years with any organizations that might have an interest in the submitted work. Other relationships: All authors have declared that there are no other relationships or activities that could appear to have influenced the submitted work.
References
Lagadinou, Zorbas, Velissaris, Vitamin D plasma levels in patients with COVID-19: a case series, Infez Med
Raharusuna, Priambada, Budiarti, Agung, Budi, Patterns of COVID-19 mortality and vitamin D: an Indonesian study
Readcube, None