Ethnicity and risks of severe COVID-19 outcomes associated with glucose-lowering medications: A cohort study
Ethnicity and risks of severe COVID-19 outcomes associated with glucose-lowering medications: A cohort study
,
Diabetes, Obesity and Metabolism, doi:10.1111/dom.14872
,
Retrospective 624,771 people with type 2 diabetes in the UK, showing lower COVID-19 mortality and hospitalization with metformin use.
risk of death,

34.3% lower

, RR 0.66, p < 0.001
, meta analysis of 6 groups reported.
risk of hospitalization,

31.2% lower

, RR 0.69, p < 0.001
, meta analysis of 6 groups reported.
Effect extraction follows pre-specified rules prioritizing more serious outcomes. Submit updates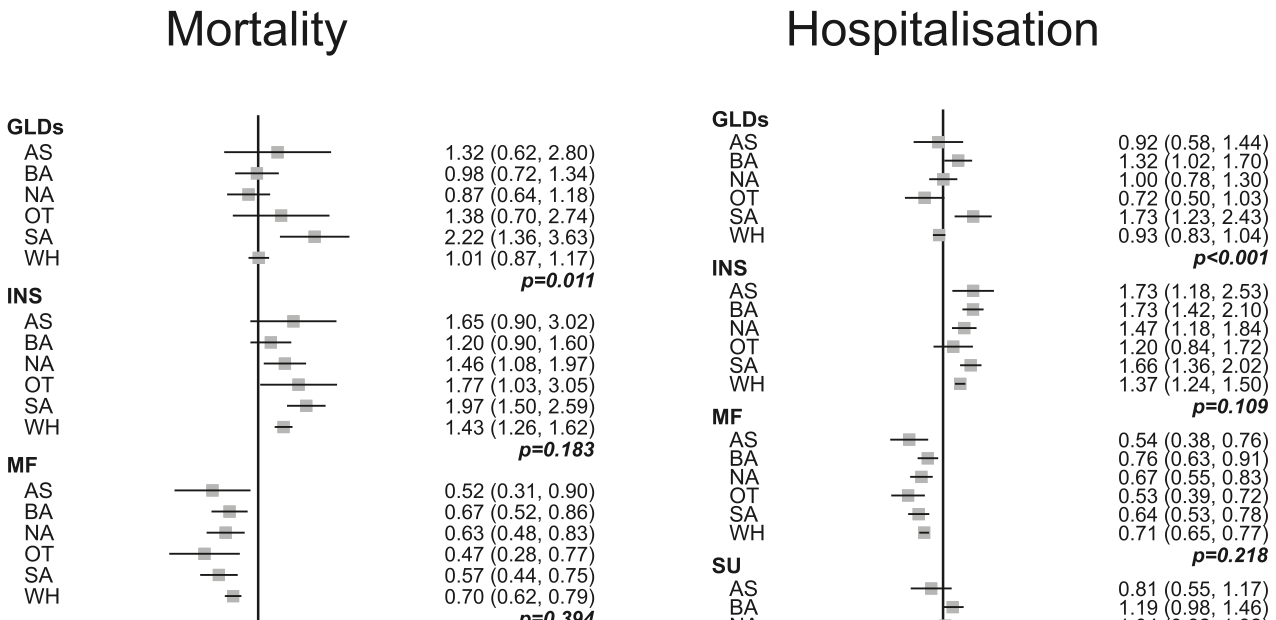 Zaccardi et al., 13 Sep 2022, retrospective, United Kingdom, peer-reviewed, 11 authors.
Contact: frazac@fastwebnet.it.
Abstract: Revised: 31 August 2022 Accepted: 10 September 2022 DOI: 10.1111/dom.14872 RESEARCH LETTER Ethnicity and risks of severe COVID-19 outcomes associated with glucose-lowering medications: A cohort study Francesco Zaccardi PhD 1 | Pui San Tan PhD 2 4 | Ash Kieran Clift MBBS Baiju R. Shah PhD 2 Martina Patone PhD | Simon J. Griffin DM 6,7 Kamlesh Khunti PhD 1 | Carol Coupland PhD 2,3 2,5 | 2 | Defne Saatci MBBS | | Hajira Dambha-Miller PhD 8 | | Julia Hippisley-Cox FRCP 2 1 Leicester Real World Evidence Unit, Leicester Diabetes Centre, University of Leicester, Leicester, UK 2 Nuffield Department of Primary Care Health Sciences, University of Oxford, Oxford, UK 3 Division of Primary Care, School of Medicine, University of Nottingham, Nottingham, UK 4 Department of Medicine, University of Toronto; Division of Endocrinology, Sunnybrook Health Sciences Centre, Institute for Clinical Evaluative Sciences, Toronto, Ontario, Canada 5 Cancer Research UK Oxford Centre, University of Oxford, Oxford, UK 6 Primary Care Unit, School of Clinical Medicine, University of Cambridge, Cambridge, UK 7 MRC Epidemiology Unit, School of Clinical Medicine, University of Cambridge, Cambridge, UK 8 Primary Care Research Centre, University of Southampton, Southampton, UK Correspondence Francesco Zaccardi, Leicester Real World Evidence Unit, Diabetes Research Centre, Leicester General Hospital Gwendolen Road, Leicester, LE5 4PW, UK. Email: frazac@fastwebnet.it Funding information National Insitute for Health and Care Research (NIHR), Grant/Award Number: COV0130 /MR/V027778/1; UK Research and Innovation; Academic Clinical Lecturer; Leicester Biomedical Research Centre (BRC), Grant/Award Number: NIHR200171; Applied Research Collaboration East Midlands (ARC EM); Cancer Research UK Oxford Centre, and the Oxford Wellcome Institutional, Grant/Award Number: 204826/Z/16/Z; National Institute for Health Research, Oxford, John Fell Oxford University Press Research Fund, Cancer Research UK, Grant/Award Number: C5255/A18085; Clinical Research Fellowship from Cancer Research UK, Grant/Award Number: C2195/A31310; MRC Epidemiology Unit programme, Grant/Award Number: MC_UU_12015/4 1 | I N T RO DU CT I O N [metformin (MF), sodium-glucose cotransporter-2 inhibitors (SGLT-2i), sulphonylurea].5 During the early phases of the COVID-19 pandemic, diabetes became Alongside the role of diabetes, multiple large observational stud- associated with a poorer prognosis,1 with an approximately three-fold ies also showed higher risks of COVID-19-related hospitalization, increased risk of a COVID-19 death in those with diabetes compared intensive care unit admission and death in people from ethnic minor- with those without.2,3 In an effort to understand this association, ity populations.6,7 there was an increasing interest in the role of glucose-lowering medi- As type 2 diabetes is more prevalent in ethnic minority cations on the risk of COVID-19 outcomes, given their pharmacologi- populations—particularly South Asians—determining the risk of COVID- cal differences and potential direct effect on shared immunometabolic 19 outcomes in relation to different glucose-lowering therapies has impli- pathways4: the available evidence would suggest small absolute cations for both patients and health care professionals.8 We therefore increased rates of COVID-19 mortality with some dipeptidyl pepti- designed a cohort study within the QResearch UK nationwide..
Please send us corrections, updates, or comments. Vaccines and treatments are complementary. All practical, effective, and safe means should be used based on risk/benefit analysis. No treatment, vaccine, or intervention is 100% available and effective for all current and future variants. We do not provide medical advice. Before taking any medication, consult a qualified physician who can provide personalized advice and details of risks and benefits based on your medical history and situation.
FLCCC
and
WCH
provide treatment protocols.
Submit