Vitamin D status and COVID-19 prevention in a worker subgroup in Italy
Report on vitamin D supplementation with 139 employees in Italy from April to June 2021, showing only one confirmed COVID-19 case (0.7%) and 4 cases of flu-like symptoms, compared to ~7-9% COVID-19 incidence for the same Italian district and period.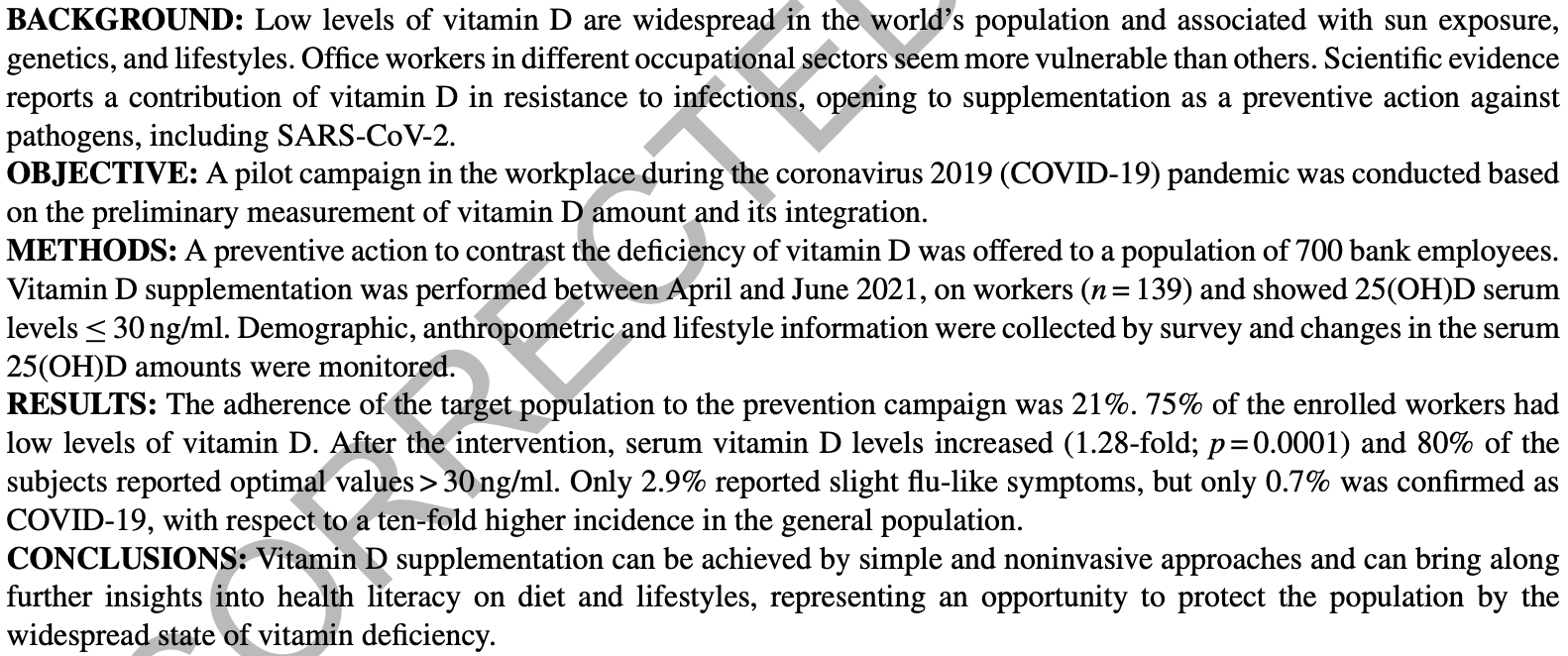 Ubaldi et al., 10 Jan 2023, Italy, peer-reviewed, 9 authors, study period April 2021 - June 2021.
Contact: federica.valeriani@uniroma4.it.
Abstract: 1 Work xx (2022) x–xx DOI:10.3233/WOR-220387 IOS Press Vitamin D status and COVID-19 prevention in a worker subgroup in Italy a University of Rome "Foro Italico", Rome, Italy b Scientific Direction of "Elisir di Salute", Bologna, Italy O O F Francesca Ubaldia , Enrico Montanarib , Lory Marika Margaruccia , Claudio Caprarab , Gianluca Gianfranceschia , Elena Scaramuccic , Antonio Piccolellad , Federica Valeriania,∗ and Vincenzo Romano Spicaa c Sant'Andrea Hospital A.O.U., Sapienza University of Rome, Rome, Italy PR d University Hospital "Agostino Gemelli" Foundation, Rome, Italy Received 17 July 2022 Accepted 10 November 2022 O R R EC TE D Abstract. BACKGROUND: Low levels of vitamin D are widespread in the world's population and associated with sun exposure, genetics, and lifestyles. Office workers in different occupational sectors seem more vulnerable than others. Scientific evidence reports a contribution of vitamin D in resistance to infections, opening to supplementation as a preventive action against pathogens, including SARS-CoV-2. OBJECTIVE: A pilot campaign in the workplace during the coronavirus 2019 (COVID-19) pandemic was conducted based on the preliminary measurement of vitamin D amount and its integration. METHODS: A preventive action to contrast the deficiency of vitamin D was offered to a population of 700 bank employees. Vitamin D supplementation was performed between April and June 2021, on workers (n = 139) and showed 25(OH)D serum levels ≤ 30 ng/ml. Demographic, anthropometric and lifestyle information were collected by survey and changes in the serum 25(OH)D amounts were monitored. RESULTS: The adherence of the target population to the prevention campaign was 21%. 75% of the enrolled workers had low levels of vitamin D. After the intervention, serum vitamin D levels increased (1.28-fold; p = 0.0001) and 80% of the subjects reported optimal values > 30 ng/ml. Only 2.9% reported slight flu-like symptoms, but only 0.7% was confirmed as COVID-19, with respect to a ten-fold higher incidence in the general population. CONCLUSIONS: Vitamin D supplementation can be achieved by simple and noninvasive approaches and can bring along further insights into health literacy on diet and lifestyles, representing an opportunity to protect the population by the widespread state of vitamin deficiency. C Keywords: Diet, nutrition, supplementation, health promotion, public health, cholecalciferol
Please send us corrections, updates, or comments. Vaccines and treatments are complementary. All practical, effective, and safe means should be used based on risk/benefit analysis. No treatment, vaccine, or intervention is 100% available and effective for all current and future variants. We do not provide medical advice. Before taking any medication, consult a qualified physician who can provide personalized advice and details of risks and benefits based on your medical history and situation.
FLCCC
and
WCH
provide treatment protocols.
Submit