Prospective study of 131 hospitalized patients in Poland, showing lower mortality and improved recovery with a history of higher physical activity.
risk of death,

62.0% lower

, HR 0.38, p = 0.21
, high activity levels 71, low activity levels 60, inverted to make HR<1 favor high activity levels, IPAQ 1/2 vs. IPAQ 0, Cox proportional hazards.
risk of no recovery,

61.0% lower

, HR 0.39, p = 0.19
, high activity levels 71, low activity levels 60, IPAQ 1/2 vs. IPAQ 0, Cox proportional hazards.
Effect extraction follows pre-specified rules prioritizing more serious outcomes. Submit updates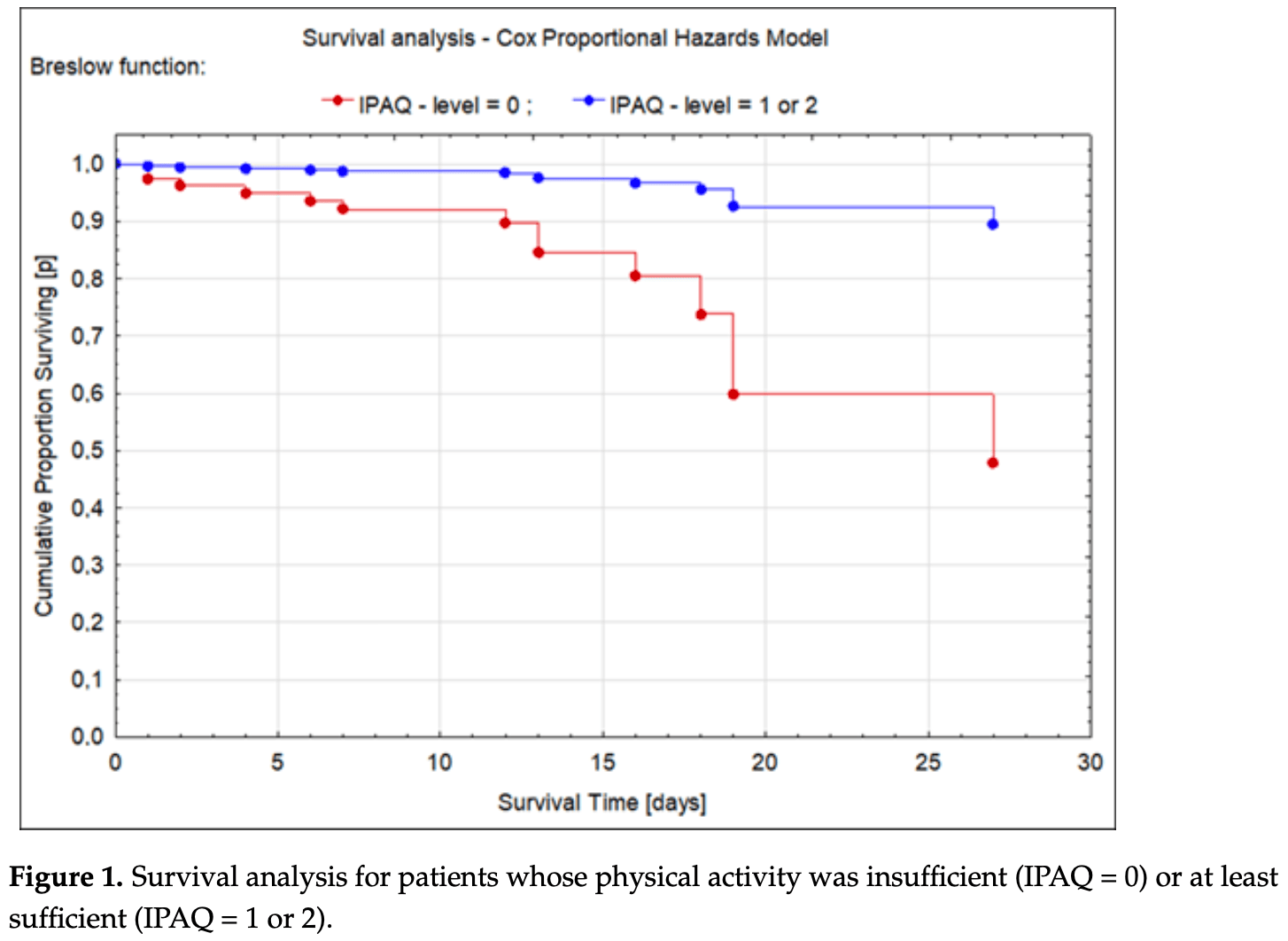 Sutkowska et al., 14 Jun 2023, prospective, Poland, peer-reviewed, 14 authors, study period 31 January, 2022 - 11 February, 2022, trial
NCT05200767
(history)
.
Contact: edyta.sutkowska@umw.edu.pl (corresponding author), astanek@tlen.pl, grzegorz.k.jakubiak@gmail.com, katarzyna.madziarska@umw.edu.pl, mmadziarski@usk.wroc.pl, ksutkowska@usk.wroc.pl, adrianna.borowkow@gmail.com, justyna.mazurek@umw.edu.pl.
Physical Activity Modifies the Severity of COVID-19 in Hospitalized Patients—Observational Study
Journal of Clinical Medicine, doi:10.3390/jcm12124046
Background and aim: Physical activity (PA) can modulate the immune response, but its impact on infectious disease severity is unknown. We assess if the PA level impacts the severity of COVID-19. Methods: Prospective, cohort study for adults hospitalized due to COVID-19, who filled out the International Physical Activity Questionnaire (IPAQ). Disease severity was expressed as death, transfer to intensive care unit (ICU), oxygen therapy (OxTh), hospitalization length, complications, C-reactive protein, and procalcitonin level. Results: Out of 326 individuals, 131 (57; 43.51% women) were analyzed: age: median-70; range: 20-95; BMI: mean-27.18 kg/m 2 ; and SD: ±4.77. During hospitalization: 117 (83.31%) individuals recovered, nine (6.87%) were transferred to ICU, five (3.82%) died, and 83 (63.36%) needed OxTh. The median for the hospital stay was 11 (range: 3-49) for discharged patients, and mean hospitalization length was 14 (SD: ±5.8312) for deaths and 14.22 days (SD: ±6.92) for ICU-transferred patients. The median for MET-min/week was 660 (range: 0-19,200). Sufficient or high PA was found in recovered patients but insufficient PA was observed in dead or ICU-transferred patients (p = 0.03). The individuals with poor PA had a higher risk of death (HR = 2.63; ±95%CI 0.58-11.93; p = 0.037). OxTh was used more often in the less active individuals (p = 0.03). The principal component analysis confirmed a relationship between insufficient PA and an unfavorable course of the disease. Conclusion: A higher level of PA is associated with a milder course of COVID-19.
Informed Consent Statement: Informed consent was obtained from all subjects involved in the study. Conflicts of Interest: The authors declare no conflict of interest.
References
Biernat, Stupnicki, Gajewski, International Physical Activity Questionnaire (IPAQ)-Polish version, Wych Fiz. Spor
Chandarana, Pisuchpen, Krieger, Dane, Mikheev et al., Association of body composition parameters measured on CT with risk of hospitalization in patients with Covid-19, Eur. J. Radiol
Chen, Stevinson, Ku, Chang, Chu, Relationships of leisure-time and non-leisure-time physical activity with depressive symptoms: A population-based study of Taiwanese older adults, Int. J. Behav. Nutr. Phys. Act
Nieman, Exercise Is Medicine for Immune Function: Implication for COVID-19, Curr. Sports Med. Rep