Prophylaxis RCT with 59 zinc + doxycycline, 56 doxycycline, and 57 placebo healthcare workers, showing lower symptomatic cases and significantly improved Ct values with the addition of zinc to doxycycline treatment. Doxycycline 100mg/day and zinc 15 mg/day.
risk of symptomatic case,

68.4% lower

, RR 0.32, p = 0.36
, treatment 1 of 59 (1.7%), control 3 of 56 (5.4%), NNT 27, zinc + doxycycline vs. doxycycline.
risk of case,

5.1% lower

, RR 0.95, p = 1.00
, treatment 5 of 59 (8.5%), control 5 of 56 (8.9%), NNT 220, zinc + doxycycline vs. doxycycline.
relative Ct values,

21.4% better

, RR 0.79, p < 0.001
, treatment mean 29.0 (±1.3) n=59, control mean 22.8 (±4.0) n=56, zinc + doxycycline vs. doxycycline.
Effect extraction follows pre-specified rules prioritizing more serious outcomes. Submit updates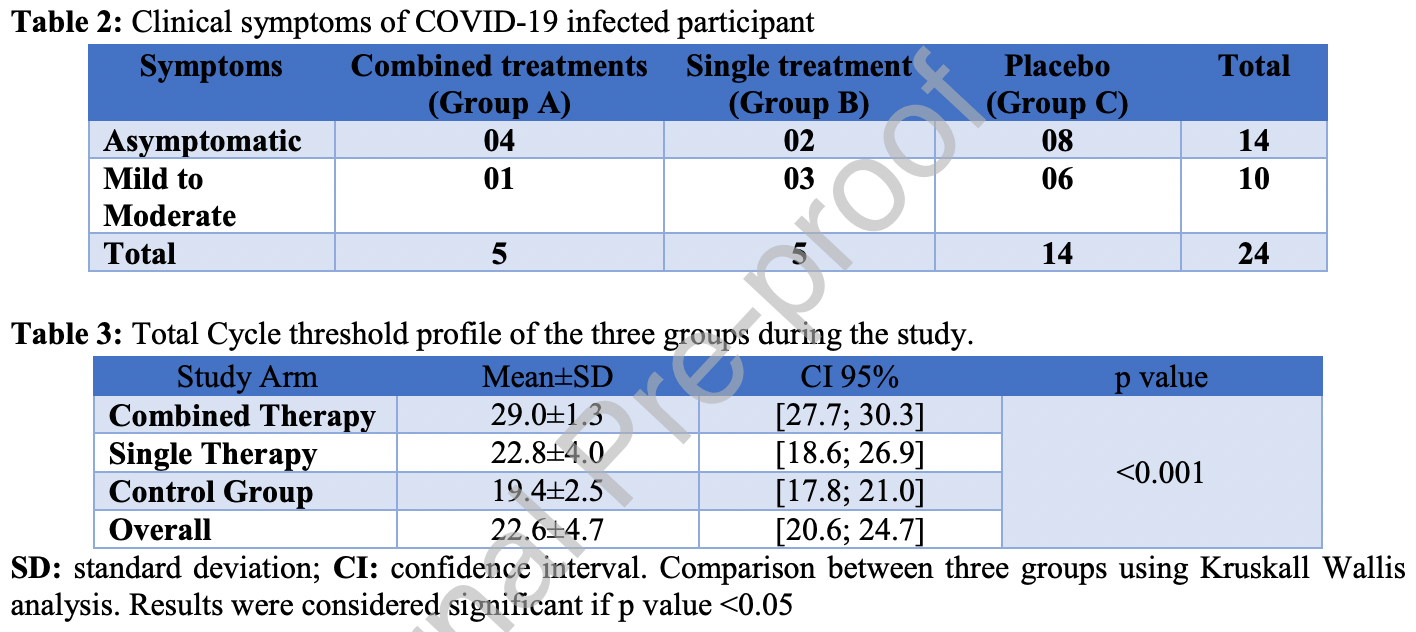 Stambouli et al., 17 Jun 2022, Double Blind Randomized Controlled Trial, placebo-controlled, Tunisia, peer-reviewed, 22 authors, study period 12 November, 2020 - 10 February, 2021, trial
NCT04584567
(history)
.
Contact: nejlastam@gmail.com.
COVID-19 prophylaxis with doxycycline and zinc in health care workers: a prospective, randomized, double-blind clinical trial
International Journal of Infectious Diseases, doi:10.1016/j.ijid.2022.06.016
This is a PDF file of an article that has undergone enhancements after acceptance, such as the addition of a cover page and metadata, and formatting for readability, but it is not yet the definitive version of record. This version will undergo additional copyediting, typesetting and review before it is published in its final form, but we are providing this version to give early visibility of the article. Please note that, during the production process, errors may be discovered which could affect the content, and all legal disclaimers that apply to the journal pertain.
Conflict of interest statement: The manuscript is an original work that has never been published or is under consideration for publication in another journal. We confirm that all authors have participated in the study and have approved the manuscript. Contributions Declaration of interests ☒ The authors declare that they have no known competing financial interests or personal relationships that could have appeared to influence the work reported in this paper. ☐The authors declare the following financial interests/personal relationships which may be considered as potential competing interests:
References
Dutta, Basu, Use of minocycline in viral infections, Indian J Med Res