Evaluation of the level of vitamin D3 in the blood serum of patients infected with COVID-19 in Al-Amiriya city
Evaluation of the level of vitamin D3 in the blood serum of patients infected with COVID-19 in Al-Amiriya city
,
Technium BioChemMed, doi:10.47577/biochemmed.v3i2.7179
,
Analysis of 35 COVID-19 patients and 25 healthy controls in Iraq, showing significantly lower vitamin D levels in COVID-19 patients.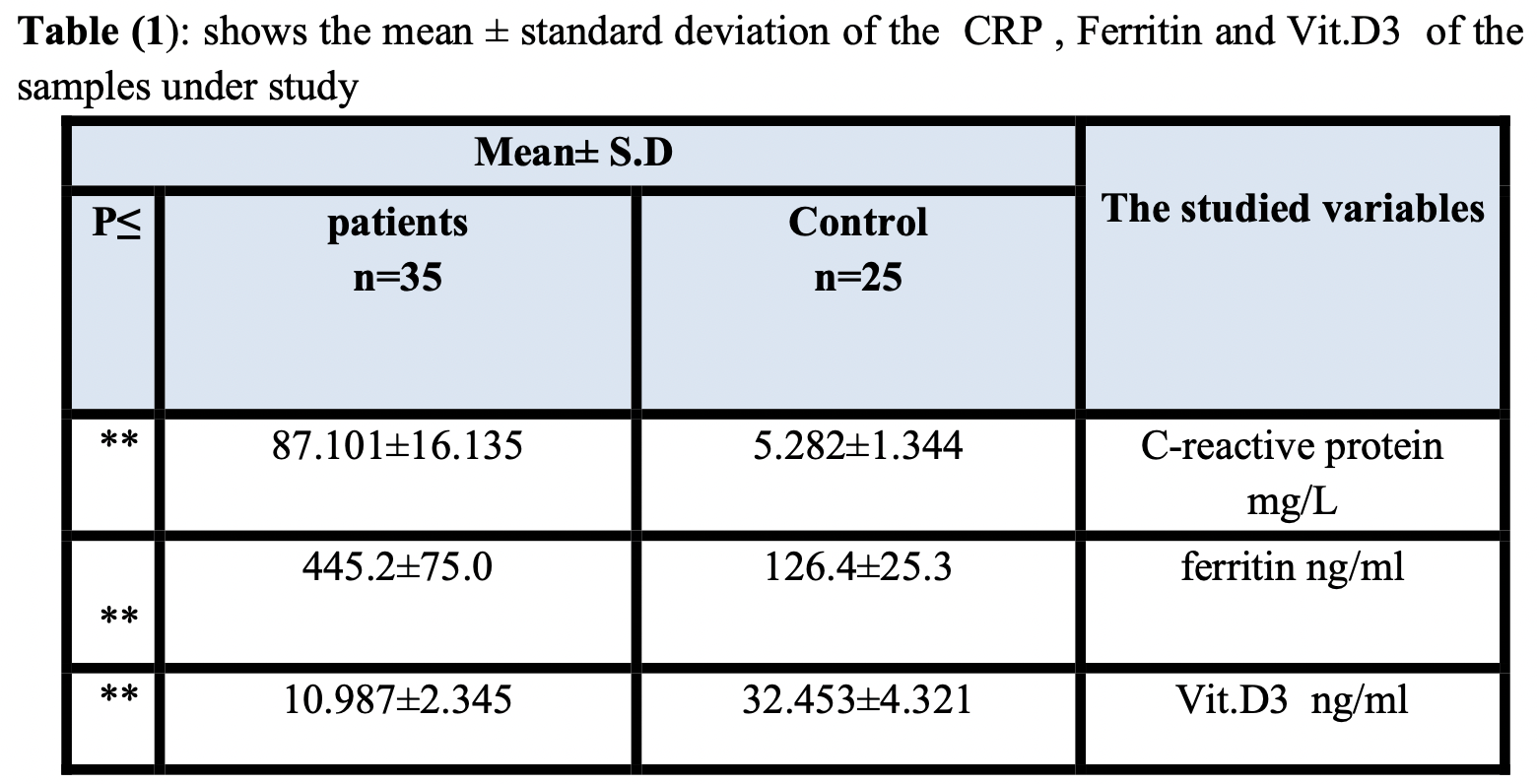 Shannak et al., 12 Aug 2022, Iraq, peer-reviewed, 3 authors.
Abstract: Technium BioChemMed Vol. 3, Issue 2 pp.127-135 (2022) ISSN: 2734-7990 www.techniumscience.com Evaluation of the level of vitamin D3 in the blood serum of patients infected with COVID-19 in Al-Amiriya city Qader Abdullah Shannak 1, Thaar Mohammed Najim 1, Dhamer Ismail Madab 2 1 2 University of Fallujah, Biotechnology and Environmental Center Ministry of Education, General Directorat of Education, Salah Al-Din Abstract. The researchers used 60 samples, 35 of which were infected with the developing corona virus and 25 of which were healthy and disease-free. Their ages ranged from 30 to 55, and the samples were taken from their homes. Al-Amiriya Hospital in An bare Governorate. After that, blood was collected from healthy and sick people and separated by centrifugation. The biochemical variables were Determination, including (CRP ,ferritin, Vit.D3) . In comparison to healthy people, people infected with the developing corona virus had significantly higher levels of C-reactive protein and ferritin in their blood serum, according to the findings of the current study. Also When compared to healthy people, Vit.D3 levels in blood serum of people infected with the developing corona virus were shown to be significantly lower. Key words: COVID-19, Vit.D3, Ferritin.
Please send us corrections, updates, or comments. Vaccines and treatments are complementary. All practical, effective, and safe means should be used based on risk/benefit analysis. No treatment, vaccine, or intervention is 100% available and effective for all current and future variants. We do not provide medical advice. Before taking any medication, consult a qualified physician who can provide personalized advice and details of risks and benefits based on your medical history and situation.
FLCCC
and
WCH
provide treatment protocols.
Submit