Analysis of neighborhood built environment characteristics in the USA with 18,042 COVID+ individuals, showing lower risk of hospitalization with higher walkability and higher bikeability scores.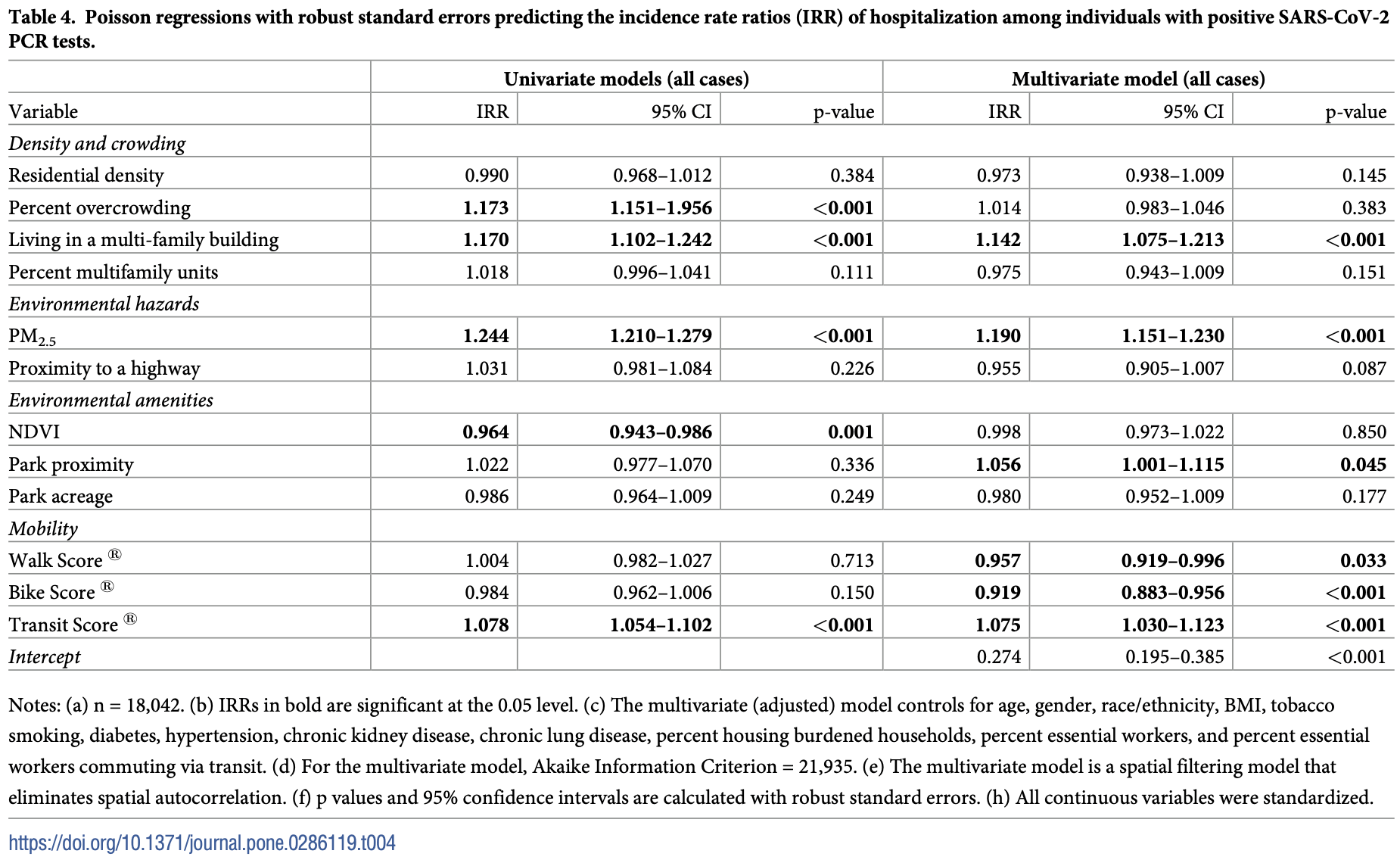 Rigolon et al., 14 Jun 2023, retrospective, USA, peer-reviewed, 9 authors, study period 1 May, 2020 - 31 December, 2020.
Contact: alessandro.rigolon@utah.edu, haendel@cuanschutz.edu.
The neighborhood built environment and COVID-19 hospitalizations
PLOS ONE, doi:10.1371/journal.pone.0286119
Research on the associations between the built environment and COVID-19 outcomes has mostly focused on incidence and mortality. Also, few studies on the built environment and COVID-19 have controlled for individual-level characteristics across large samples. In this study, we examine whether neighborhood built environment characteristics are associated with hospitalization in a cohort of 18,042 individuals who tested positive for SARS-CoV-2 between May and December 2020 in the Denver metropolitan area, USA. We use Poisson models with robust standard errors that control for spatial dependence and several individual-level demographic characteristics and comorbidity conditions. In multivariate models, we find that among individuals with SARS-CoV-2 infection, those living in multi-family housing units and/or in places with higher particulate matter (PM 2.5 ) have a higher incident rate ratio (IRR) of hospitalization. We also find that higher walkability, higher bikeability, and lower public transit access are linked to a lower IRR of hospitalization. In multivariate models, we did not find associations between green space measures and the IRR of hospitalization. Results for non-Hispanic white and Latinx individuals highlight substantial differences: higher PM 2.5 levels have stronger positive associations with the IRR of hospitalization for Latinx individuals, and density and overcrowding show stronger associations for non-Hispanic white individuals. Our results show that the neighborhood built environment might pose an independent risk for COVID-19 hospitalization. Our results may inform public health and urban planning initiatives to lower the risk of hospitalization linked to COVID-19 and other respiratory pathogens.
Supporting information S1 Appendix. (DOCX) Author Contributions
References
Braveman, Cubbin, Egerter, Pedregon, None
Denver, Health, Center, None
Drcog, Parks recreation and open space
Faq, None
Field, Discovering statistics using SPSS
Goldberg, Security information
Griffith, Spatial autocorrelation and spatial filtering: Gaining understanding through theory and scientific visualization
Hernandez, Denver's population grew by more than 115,000 residents in the last decade
Jackman, Tahk, Zeileis, Maimone, Fearon et al., None
Mckibbin, Fernando, The economic impact of COVID-19
Walkscore, Walkability, real estate, and public health data
Xiao, The road to racial justice: Resolving the disproportionate health burden placed on communities of color by highway pollution. Columbia Human Rights Law Rev