Prognostic factors at admission on patients with cancer and COVID-19: Analysis of HOPE registry data
Retrospective 770 COVID-19 patients with cancer, showing increased mortality with aspirin use in unadjusted results.
risk of death,

49.1% higher

, RR 1.49, p < 0.001
, treatment 66 of 155 (42.6%), control 183 of 608 (30.1%), odds ratio converted to relative risk.
Effect extraction follows pre-specified rules prioritizing more serious outcomes. Submit updates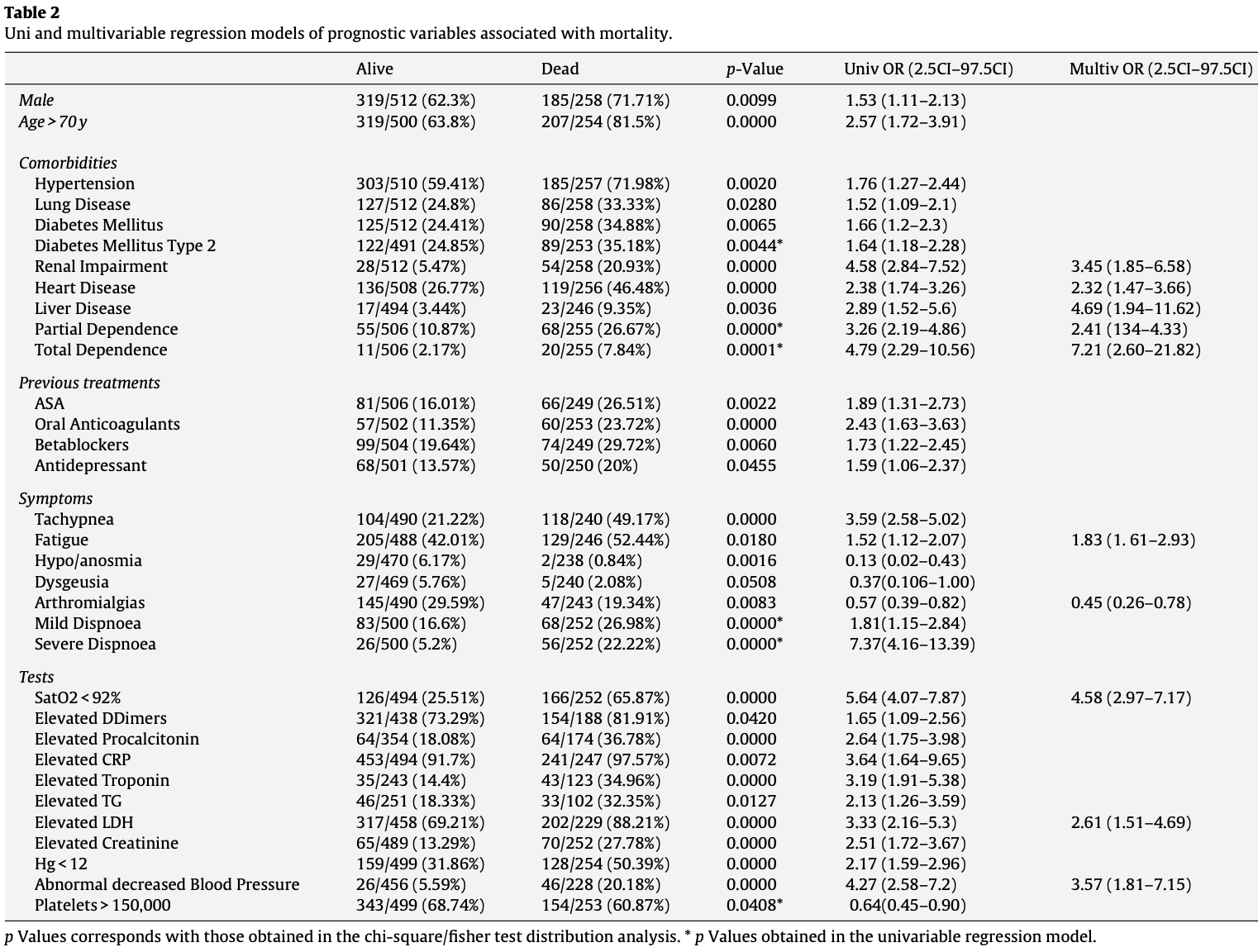 Pérez-Segura et al., 4 Oct 2021, retrospective, multiple countries, peer-reviewed, 23 authors.
Abstract: Medicina Clínica 157 (2021) 318–324 www.elsevier.es/medicinaclinica Original article Prognostic factors at admission on patients with cancer and COVID-19: Analysis of HOPE registry data Pedro Pérez-Segura a,∗ , M. Paz-Cabezas a , I.J. Núñez-Gil b , R. Arroyo-Espliguero c , C. Maroun Eid d , R. Romero e , I. Fernández Rozas f , A. Uribarri g , V.M. Becerra-Muñoz h , M. García Aguado i , J. Huang j , E. Rondano k , E. Cerrato l , E. Alfonso Rodríguez m , M.E. Ortega-Armas n , S. Raposeiras Roubin o , M. Pepe p , G. Feltes q , A. Gonzalez r , B. Cortese s , L. Buzón t , I. El-Battrawy u , V. Estrada b a Medical Oncology Dpt. Hospital Clinico San Carlos, Madrid, Spain Hospital Clinico San Carlos, Madrid, Spain c Hospital Universitario Guadalajara, Guadalajara, Spain d Hospital Universitario La Paz. Instituto de Investigación Hospital Universitario La Paz (IdiPAZ), Madrid, Spain e Hospital Universitario Getafe, Madrid, Spain f Hospital Universitario Severo Ochoa, Leganés, Spain g Hospital Clinico Universitario de Valladolid, Valladolid, Spain h Hospital Clinico Universitario Virgen de la Victoria, Málaga, Spain i Hospital Puerta de Hierro de Majadahonda. Majadahonda, Madrid, Spain j The Second Affiliated Hospital of Southern University of Science and Technology, Shenzhen, China k Sant'Andrea Hospital, Vercelli, Italy l San Luigi Gonzaga University Hospital, Orbassano and Rivoli Infermi Hospital, Rivoli, Turin, Italy m Institute of Cardiology and Cardiovascular Surgery, Havana, Cuba n Hospital General del Norte de Guayaquil IESS Los Ceibos, Guayaquil, Ecuador o University Hospital Alvaro Cunqueiro, Vigo, Spain p Azienda ospedaliero-universitaria consorziale policlinico di Bari, Bari, Italy q Nuestra Señora de América, Madrid, Spain r Hospital Universitario Infanta Sofia. San Sebastian de los Reyes, Madrid, Spain s San Carlo Clinic, Milano, Italy t Hospital Universitario de Burgos, Burgos, Spain u First Department of Medicine, Medical Faculty Mannheim, University Heidelberg, Mannheim, 68167, Germany, DZHK (German Center for Cardiovascular Research), Partner Site, Heidelberg-Mannheim, Mannheim, Germany b a r t i c l e i n f o Article history: Received 23 October 2020 Accepted 24 February 2021 Available online 6 May 2021 Keywords: Cancer COVID19 Prognosis Admission Factors a b s t r a c t Background: Previous works seem to agree in the higher mortality of cancer patients with COVID-19. Identifying potential prognostic factors upon admission could help identify patients with a poor prognosis. Methods: We aimed to explore the characteristics and evolution of COVID-19 cancer patients admitted to hospital in a multicenter international registry (HOPE COVID-19). Our primary objective is to define those characteristics that allow us to identify cancer patients with a worse prognosis (mortality within 30 days after the diagnosis of COVID-19). Results: 5838 patients have been collected in this registry, of whom 770 had cancer among their antecedents. In hospital mortality reached 258 patients (33.51%). The median was 75 years (65–82). Regarding the distribution by sex, 34.55% of the patients (266/770) were women. The distribution by type of cancer: genitourinary 238/745 (31.95%), digestive 124/745 (16.54%), hematologic 95/745 (12.75%). In multivariate regression analysis, factors that are independently associated with mortality at admission are: renal impairment (OR 3.45, CI 97.5% 1.85–6.58), heart disease (2.32, 1.47–3.66), liver disease (4.69,..
Please send us corrections, updates, or comments. Vaccines and treatments are complementary. All practical, effective, and safe means should be used based on risk/benefit analysis. No treatment, vaccine, or intervention is 100% available and effective for all current and future variants. We do not provide medical advice. Before taking any medication, consult a qualified physician who can provide personalized advice and details of risks and benefits based on your medical history and situation.
FLCCC
and
WCH
provide treatment protocols.
Submit