Retrospective 770 COVID-19 patients with cancer, showing increased mortality with aspirin use in unadjusted results.
risk of death,

49.1% higher

, RR 1.49, p < 0.001
, treatment 66 of 155 (42.6%), control 183 of 608 (30.1%), odds ratio converted to relative risk.
Effect extraction follows pre-specified rules prioritizing more serious outcomes. Submit updates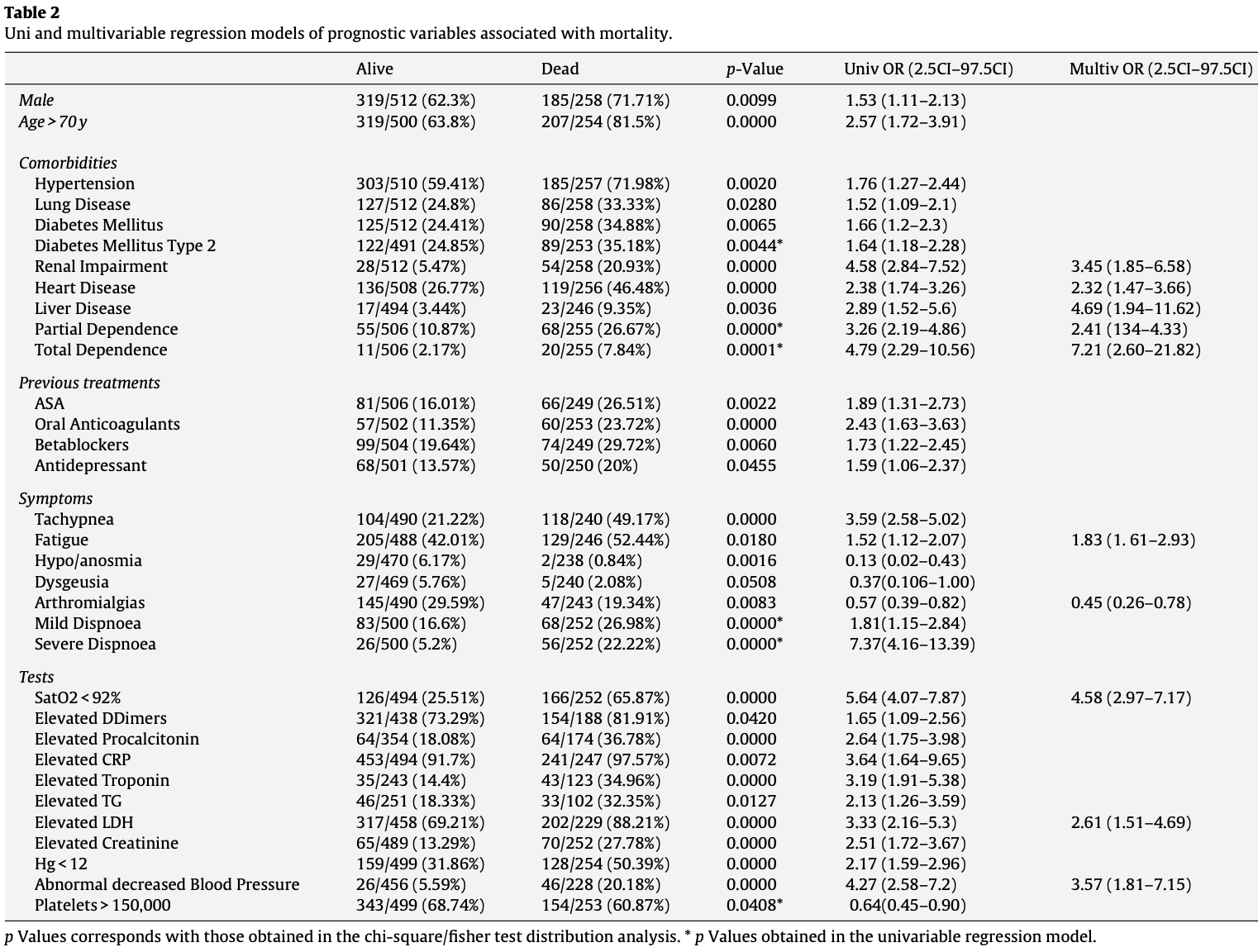 Pérez-Segura et al., 4 Oct 2021, retrospective, multiple countries, peer-reviewed, 23 authors.
Prognostic factors at admission on patients with cancer and COVID-19: Analysis of HOPE registry data
Medicina Clínica, doi:10.1016/j.medcli.2021.02.021
Background: Previous works seem to agree in the higher mortality of cancer patients with COVID-19. Identifying potential prognostic factors upon admission could help identify patients with a poor prognosis. Methods: We aimed to explore the characteristics and evolution of COVID-19 cancer patients admitted to hospital in a multicenter international registry (HOPE COVID-19). Our primary objective is to define those characteristics that allow us to identify cancer patients with a worse prognosis (mortality within 30 days after the diagnosis of COVID-19). Results: 5838 patients have been collected in this registry, of whom 770 had cancer among their antecedents. In hospital mortality reached 258 patients (33.51%). The median was 75 years (65-82). Regarding the distribution by sex, 34.55% of the patients (266/770) were women. The distribution by type of cancer: genitourinary 238/745 (31.95%), digestive 124/745 (16.54%), hematologic 95/745 (12.75%). In multivariate regression analysis, factors that are independently associated with mortality at admis-
identification of factors predicting a worse prognosis, such as those presented here, can help us to better manage this process and try to reduce mortality from COVID-19 in the cancer patient. Conflict of interests The authors declare that they have no conflict of interest.
References
Blimark, Holmberg, Mellqvist, Landgren, Björkholm et al., Multiple mieloma and infections: a population-based study on 9253 multiple mieloma patients, Haematologica
Cdc, COVID-19 Response Team. Severe outcomes among patients with coronavirus disease 2019 (COVID-19) -United States, MMWR Morb Mortal Wkly Rep
Guan, Ni, Hu, Liang, Ou et al., Clinical characteristics of coronavirus disease 2019 in China, N Engl J Med
Liang, Guan, Chen, Li, Xu, Cancer patients in SARS-CoV-2 infection: a nationwide analysis in China, Lancet Oncol
Who, WHO Director-General's opening remarks at the media briefing con COVID-19