risk of ICU admission,

55.8% lower

, RR 0.44, p = 0.01
, high D levels (≥20ng/mL) 9 of 24 (37.5%), low D levels (<20ng/mL) 11 of 13 (84.6%), NNT 2.1, inverted to make RR<1 favor high D levels (≥20ng/mL).
Effect extraction follows pre-specified rules prioritizing more serious outcomes. Submit updates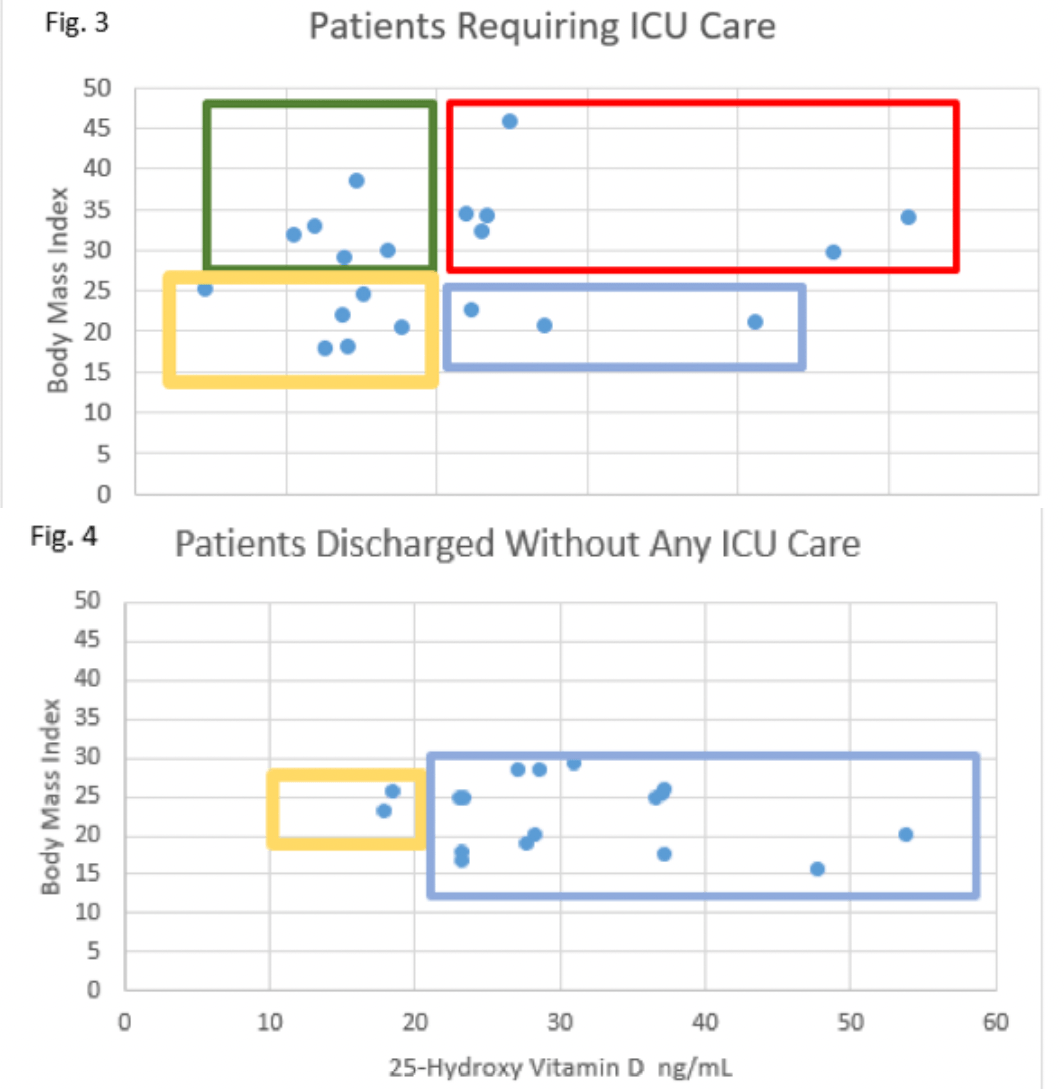 Pepkowitz et al., 29 Sep 2020, retrospective, USA, preprint, 7 authors.
Vitamin D Deficiency is Associated with Increased COVID-19 Severity: Prospective Screening of At-Risk Groups is Medically Indicated
doi:10.21203/rs.3.rs-83262/v1
Non-classical actions of Vitamin D are involved in regulation of the immune system including a role in mitigation of excessive in ammation. We hypothesized that vitamin D de ciency existing prior to SARS-CoV-2 infection could contribute to patients developing severe pulmonary compromise as a result of dysfunctional hyperin ammation. Serum vitamin D concentrations of patients experiencing such severe COVID-19 manifestations that they required ICU care at any point of their hospitalization were compared to serum vitamin D concentrations of patients achieving discharge without the need for any ICU care. Having serum vitamin D < 20 ng/mL was signi cantly associated with increased COVID-19 severity, p=0.001. It is conjectured that population groups know to have low serum vitamin D should be prospectively screened for de ciency and if found emergently treated. Such action could both decrease the maximum severity suffered by infected individuals and lessen the strain on medical resources by decreasing the percentage of COVID-19 hospital admissions requiring ICU care.
References
Aucoin, Weaver, Thomas, Jones, Vitamin D status of refugees arriving in Canada: ndings from the Calgary Refugee Health Program, Can Fam Physician
Hooper, Nápoles, Pérez-Stable, COVID-19 and Racial/Ethnic Disparities
Horby, Lim, Dexamethasone in Hospitalized Patients with Covid-19 -Preliminary Report