Retrospective 7,713 COVID-19 patients in Korea, showing no significant difference in mortality with paracetamol use. Paracetamol is also known as acetaminophen.
risk of death,

1.9% lower

, RR 0.98, p = 0.97
, treatment 58, control 7,655, adjusted per study, odds ratio converted to relative risk, multivariable, control prevalance approximated with overall prevalence.
Effect extraction follows pre-specified rules prioritizing more serious outcomes. Submit updates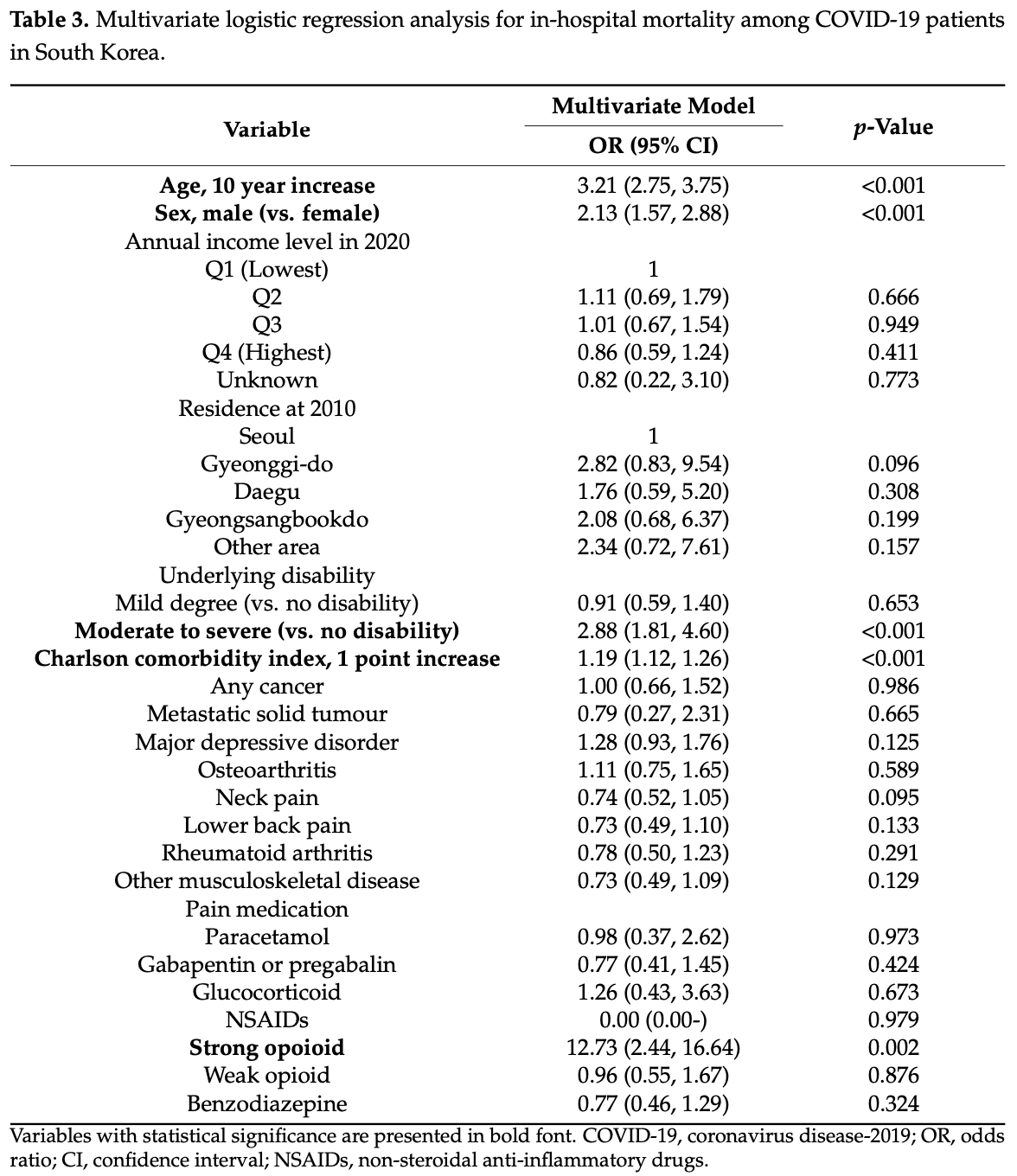 Oh et al., 24 Jun 2021, retrospective, South Korea, peer-reviewed, 5 authors, study period 1 January, 2020 - 4 June, 2020.
Contact: uchic@ncc.re.kr (corresponding author), airohtak@hotmail.com, songoficu@outlook.kr, leejoon.com@gmail.com, ytjeon@snubh.org.
Musculoskeletal Disorders, Pain Medication, and in-Hospital Mortality among Patients with COVID-19 in South Korea: A Population-Based Cohort Study
International Journal of Environmental Research and Public Health, doi:10.3390/ijerph18136804
We aimed to investigate whether comorbid musculoskeletal disorders (MSD)s and pain medication use was associated with in-hospital mortality among patients with coronavirus disease 2019 . Adult patients (≥20 years old) with a positive COVID-19 diagnosis until 5 June 2020 were included in this study, based on the National Health Insurance COVID-19 database in South Korea. MSDs included osteoarthritis, neck pain, lower back pain, rheumatoid arthritis, and others, while pain medication included paracetamol, gabapentin, pregabalin, glucocorticoid, nonsteroidal anti-inflammatory drugs (NSAIDs), opioids (strong and weak opioids), and benzodiazepine. Primary endpoint was in-hospital mortality. A total of 7713 patients with COVID-19 were included, and in-hospital mortality was observed in 248 (3.2%) patients. In multivariate logistic regression analysis, no MSDs (p > 0.05) were significantly associated with in-hospital mortality. However, in-hospital mortality was 12.73 times higher in users of strong opioids (odds ratio: 12.73, 95% confidence interval: 2.44-16.64; p = 0.002), while use of paracetamol (p = 0.973), gabapentin or pregabalin (p = 0.424), glucocorticoid (p = 0.673), NSAIDs (p = 0.979), weak opioids (p = 0.876), and benzodiazepine (p = 0.324) was not associated with in-hospital mortality. In South Korea, underlying MSDs were not associated with increased in-hospital mortality among patients with COVID-19. However, use of strong opioids was significantly associated with increased in-hospital mortality among the patients.
Supplementary Materials: The following are available online at https://www.mdpi.com/article/10 .3390/ijerph18136804/s1, Table S1 : ICD-10 codes and Table S2 : The ICD-10 codes used by comorbidity to compute the Charlson comorbidity index. Informed Consent Statement: Informed consent was waived by the IRB, as the analyses were performed retrospectively using anonymized data derived from the South Korean NHIS database. Conflicts of Interest: The authors declare no conflict of interest.
References