The evaluation of vitamin D deficiency as a risk factor in the case of patients with moderate COVID-19
Retrospective 128 hospitalized patients in Romania, showing a negative outcome associated with lower vitamin D levels.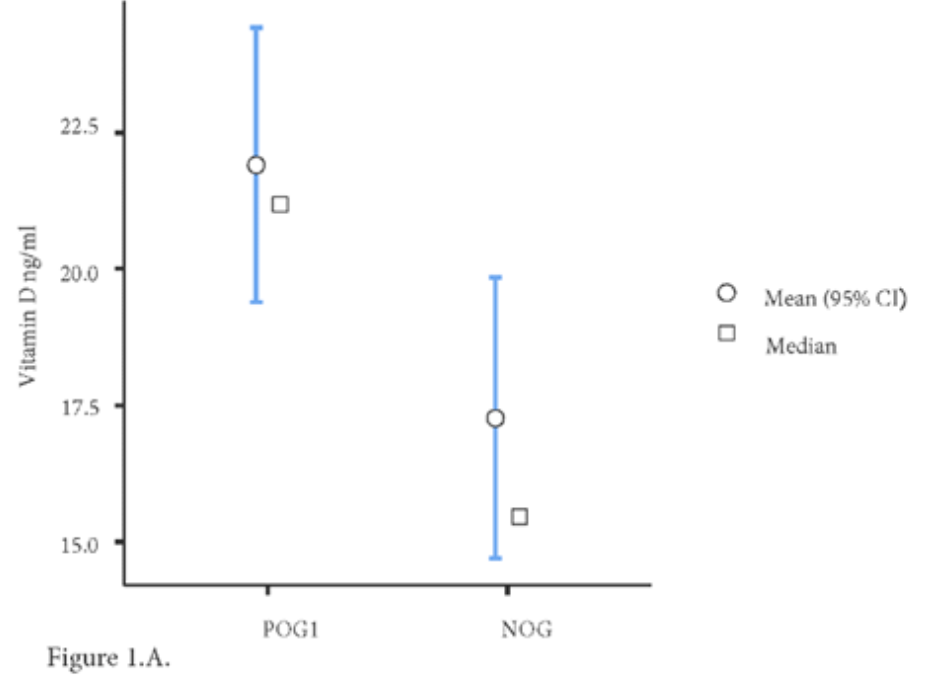 Nicolescu et al., 26 Jun 2022, Romania, peer-reviewed, mean age 66.0, 8 authors, study period January 2021 - April 2021.
Contact: antonius.stanciu@upt.ro.
Abstract: FARMACIA, 2022, Vol. 70, 3 https://doi.org/10.31925/farmacia.2022.3.17 ORIGINAL ARTICLE THE EVALUATION OF VITAMIN D DEFICIENCY AS A RISK FACTOR IN THE CASE OF PATIENTS WITH MODERATE COVID-19 LAURA-CORINA NICOLESCU 1,2#, CANDICE-LUANA POPESCU 3#, CARMEN-VIOLETA POPESCU 4, CRISTIAN-MIRCEA NICOLESCU 1,5, ALEXANDRU NESIU 1,5#, LUMINITA PILAT 5, ANTONIUS NICOLAE STANCIU 6*, ALIN GABRIEL MIHU 5,7 1Emergency County Hospital, 2-4 Andreny Karoly Street, 310037 Arad, Romania 2Department of Clinical Sciences, Vasile Goldiș University of Medicine and Pharmacy, 86 Liviu Rebreanu Street, 310048 Arad, Romania 3Core Invest Health, 30F Nadeș Street, 013534 Bucharest, Romania 4Hofigal Export Import, 2 Serelor, 042124 Bucharest, Romania 5Department of Biology and Life Sciences, Vasile Goldiș University of Medicine and Pharmacy, 86 Liviu Rebreanu Street, 310048 Arad, Romania 6Department of Automatics and Applied Informatics, "Politehnica" University, 2 Vasile Pârvan Boulevard, 300223 Timișoara, Romania 7Bioclinica Medical Analysis Laboratory, 23 Dreptății Street, 310300 Arad, Romania *corresponding author: antonius.stanciu@upt.ro #Authors with equal contribution. Manuscript received: January 2022 Abstract The paper aimed to evaluate the role of vitamin D in patients with moderate COVID-19. A total number of 128 patients, divided into two groups based on their clinical outcome, were evaluated. The group of patients with a positive outcome consisted of 82 patients (POG), while the group with a negative outcome consisted of 46 patients (NOG). We determined at two different moments (on the patients' admission and their discharge) the plasma level of vitamin D (25-hydroxy vitamin D) along with the levels of inflammatory markers in COVID-19 as C reactive protein (CRP), lactate dehydrogenase (LDH), ferritin, fibrinogen, the total leukocyte count and total cholesterol. The level of 25-hydroxy vitamin D was significantly lower in the NOG group when compared to the POG group, while levels of LDH and CRP in the NOG group were significantly higher than those found in the POG group. The levels of CRP and fibrinogen decreased in the POG group during hospitalization. The levels of CRP, as well as the total leukocyte count were inversely correlated with the levels of 25hydroxy vitamin D. This study brings new information on the interaction between vitamin D and pro-inflammatory markers and highlights the role of this vitamin in the modulation of the immune response in patients with moderate COVID-19. Rezumat Studiul și-a propus evaluarea rolului vitaminei D la pacienți diagnosticați cu COVID-19, formă moderată. Au fost incluși 128 de pacienți care au fost împărțiți, în funcție de evoluția clinică, în două grupuri. Grupul cu evoluție favorabilă (POG) a inclus 82 de pacienți, iar grupul cu evoluție nefavorabilă (NOG) a inclus 46 de pacienți. S-a determinat în două momente diferite (la admisia și la externarea pacienților) nivelul plasmatic al vitaminei D (25-hidroxi-vitamina D), împreună cu cel al markerilor inflamatori precum proteina C reactivă (PCR), lactat-dehidrogenaza (LDH), feritina, fibrinogenul, numărul total de leucocite și colesterolul total. Nivelul plasmatic al 25-hidroxi-vitaminei D a fost semnificativ mai scăzut în NOG comparativ cu POG, în timp ce nivelul LDH-ului și al PCR-ului în NOG au fost semnificativ mai mari comparativ cu cel găsit în POG. Nivelurile PRC-ului și al fibrinogenului au scăzut semnificativ în grupul POG pe timpul spitalizării...
Please send us corrections, updates, or comments. Vaccines and treatments are complementary. All practical, effective, and safe means should be used based on risk/benefit analysis. No treatment, vaccine, or intervention is 100% available and effective for all current and future variants. We do not provide medical advice. Before taking any medication, consult a qualified physician who can provide personalized advice and details of risks and benefits based on your medical history and situation.
FLCCC
and
WCH
provide treatment protocols.
Submit