Prospective survey analysis of 28,575 people in 99 countries, showing a lower risk of COVID-19 with a exercise, without statistical significance.
risk of case,

47.4% lower

, OR 0.53, p = 0.40
, inverted to make OR<1 favor high activity levels, exercise ≥1/month vs. exercise <1/month, RR approximated with OR.
Effect extraction follows pre-specified rules prioritizing more serious outcomes. Submit updates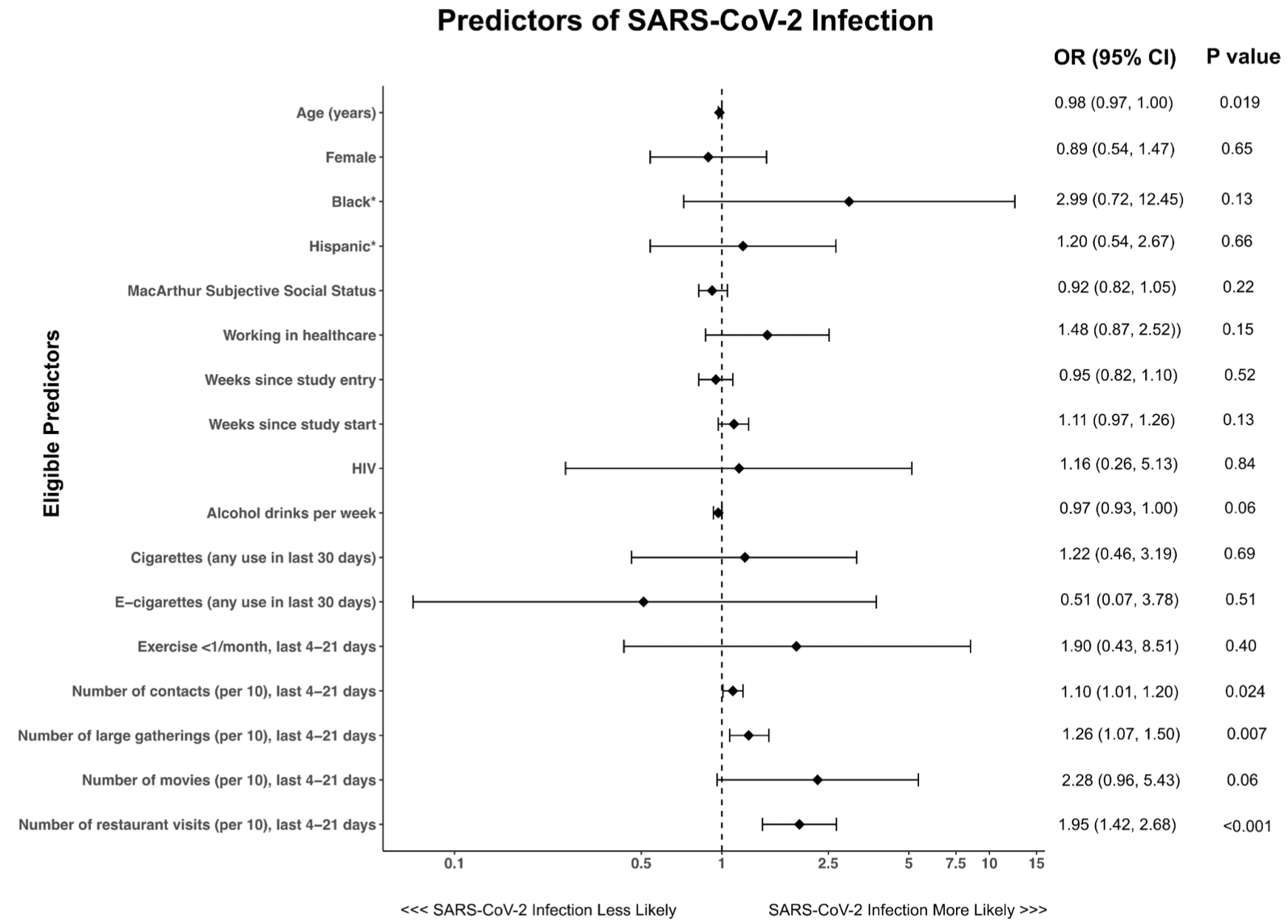 Lin et al., 21 Sep 2021, prospective, multiple countries, peer-reviewed, survey, 19 authors, study period 26 March, 2020 - 8 October, 2020.
Predictors of incident SARS-CoV-2 infections in an international prospective cohort study
BMJ Open, doi:10.1136/bmjopen-2021-052025
Objective Until effective treatments and vaccines are made readily and widely available, preventative behavioural health measures will be central to the SARS-CoV-2 public health response. While current recommendations are grounded in general infectious disease prevention practices, it is still not entirely understood which particular behaviours or exposures meaningfully affect one's own risk of incident SARS-CoV-2 infection. Our objective is to identify individual-level factors associated with one's personal risk of contracting SARS-CoV-2. Design Prospective cohort study of adult participants from 26 March 2020 to 8 October 2020. Setting The COVID-19 Citizen Science Study, an international, community and mobile-based study collecting daily, weekly and monthly surveys in a prospective and time-updated manner. Participants All adult participants over the age of 18 years were eligible for enrolment. Primary outcome measure The primary outcome was incident SARS-CoV-2 infection confirmed via PCR or antigen testing. Results 28 575 unique participants contributed 2 479 149 participant-days of data across 99 different countries. Of these participants without a history of SARS-CoV-2 infection at the time of enrolment, 112 developed an incident infection. Pooled logistic regression models showed that increased age was associated with lower risk (OR 0.98 per year, 95% CI 0.97 to 1.00, p=0.019), whereas increased number of non-household contacts (OR 1.10 per 10 contacts, 95% CI 1.01 to 1.20, p=0.024), attending events of at least 10 people (OR 1.26 per 10 events, 95% CI 1.07 to 1.50, p=0.007) and restaurant visits (OR 1.95 per 10 visits, 95% CI 1.42 to 2.68, p<0.001) were associated with significantly higher risk of incident SARS-CoV-2 infection. Conclusions Our study identified three modifiable health behaviours, namely the number of non-household contacts, attending large gatherings and restaurant visits, which may meaningfully influence individual-level risk of contracting SARS-CoV-2.
Competing interests None declared. Patient consent for publication Not required. Ethics approval The study was approved by the University of California, San Francisco Institutional Review Board (#17-21879). Provenance and peer review Not commissioned; externally peer reviewed. Data availability statement Data are available upon reasonable request. All data relevant to the study are included in the article or uploaded as supplemental information. Supplemental material This content has been supplied by the author(s). It has not been vetted by BMJ Publishing Group Limited (BMJ) and may not have been peer-reviewed. Any opinions or recommendations discussed are solely those of the author(s) and are not endorsed by BMJ. BMJ disclaims all liability and responsibility arising from any reliance placed on the content. Where the content includes any translated material, BMJ does not warrant the accuracy and reliability of the translations (including but not limited to local regulations, clinical guidelines, terminology, drug names and drug dosages), and is not responsible for any error and/or omissions arising from translation and adaptation or otherwise. Open access This is an open access article distributed in accordance with the Creative Commons Attribution Non Commercial (CC BY-NC 4.0) license, which permits others to distribute, remix, adapt, build upon this work non-commercially, and license their derivative works on different terms, provided the original work is properly cited,..
References
Adorni, Prinelli, Bianchi, Self-reported symptoms of SARS-CoV-2 infection in a non-hospitalized population: results from the large Italian web-based EPICOVID19 cross-sectional survey, JMIR Public Heal Surveill
Chernozhukov, Kasahara, Schrimpf, Causal impact of masks, policies, behavior on early covid-19 pandemic in the U, S. J Econom
Kaur, Gupta, COVID-19 vaccine: a comprehensive status report, Virus Res
Olgin, Pletcher, Marcus, The health eHeart study