Early High-Titer Plasma Therapy to Prevent Severe Covid-19 in Older Adults
et al., NEJM,
RCT 160 patients >=65 with symptom onset <72 hours, 80 treated with convalescent plasma, showing lower progression to severe disease with treatment.
risk of death,

50.0% lower

, RR 0.50, p = 0.43
, treatment 2 of 80 (2.5%), control 4 of 80 (5.0%), NNT 40.
risk of mechanical ventilation,

50.0% lower

, RR 0.50, p = 0.43
, treatment 2 of 80 (2.5%), control 4 of 80 (5.0%), NNT 40.
risk of ICU admission,

67.0% lower

, RR 0.33, p = 0.17
, treatment 2 of 80 (2.5%), control 6 of 80 (7.5%), NNT 20.
risk of progression,

48.0% lower

, RR 0.52, p = 0.03
, treatment 13 of 80 (16.2%), control 25 of 80 (31.2%), NNT 6.7.
Effect extraction follows pre-specified rules prioritizing more serious outcomes. Submit updates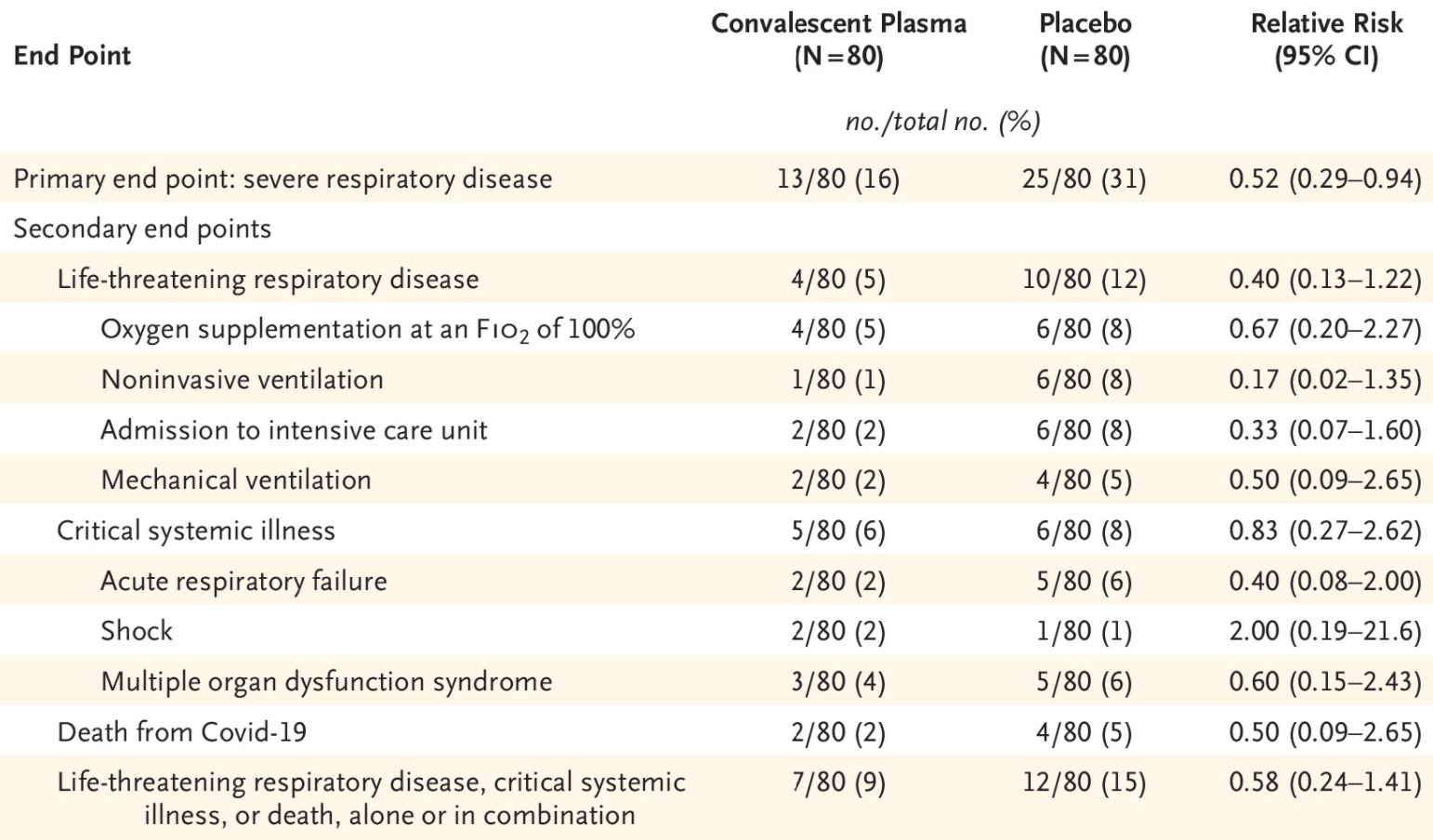 Libster et al., 6 Jan 2021, Double Blind Randomized Controlled Trial, Argentina, peer-reviewed, 56 authors, trial
NCT04479163
(history)
(INFANT-COVID-19).
Abstract: The n e w e ng l a n d j o u r na l of m e dic i n e Original Article Early High-Titer Plasma Therapy to Prevent Severe Covid-19 in Older Adults R. Libster, G. Pérez Marc, D. Wappner, S. Coviello, A. Bianchi, V. Braem, I. Esteban, M.T. Caballero, C. Wood, M. Berrueta, A. Rondan, G. Lescano, P. Cruz, Y. Ritou, V. Fernández Viña, D. Álvarez Paggi, S. Esperante, A. Ferreti, G. Ofman, Á. Ciganda, R. Rodriguez, J. Lantos, R. Valentini, N. Itcovici, A. Hintze, M.L. Oyarvide, C. Etchegaray, A. Neira, I. Name, J. Alfonso, R. López Castelo, G. Caruso, S. Rapelius, F. Alvez, F. Etchenique, F. Dimase, D. Alvarez, S.S. Aranda, C. Sánchez Yanotti, J. De Luca, S. Jares Baglivo, S. Laudanno, F. Nowogrodzki, R. Larrea, M. Silveyra, G. Leberzstein, A. Debonis, J. Molinos, M. González, E. Perez, N. Kreplak, S. Pastor Argüello, L. Gibbons, F. Althabe, E. Bergel, and F.P. Polack, for the Fundación INFANT–COVID-19 Group*​​ A BS T R AC T BACKGROUND The authors' full names, academic degrees, and affiliations are listed in the Appendix. Address reprint requests to Dr. Polack at Fundación INFANT, Gavilan 94, Buenos Aires (1406), Argentina, or at ­fpolack@​­infant​.­org​.­ar. Therapies to interrupt the progression of early coronavirus disease 2019 (Covid-19) remain elusive. Among them, convalescent plasma administered to hospitalized patients has been unsuccessful, perhaps because antibodies should be administered earlier in the course of illness. *The Fundación INFANT–COVID-19 Group members are listed in the Supplementary Appendix, available with the full text of this article at NEJM.org. We conducted a randomized, double-blind, placebo-controlled trial of convalescent plasma with high IgG titers against severe acute respiratory syndrome coronavirus 2 (SARS-CoV-2) in older adult patients within 72 hours after the onset of mild Covid-19 symptoms. The primary end point was severe respiratory disease, defined as a respiratory rate of 30 breaths per minute or more, an oxygen saturation of less than 93% while the patient was breathing ambient air, or both. The trial was stopped early at 76% of its projected sample size because cases of Covid-19 in the trial region decreased considerably and steady enrollment of trial patients became virtually impossible. Drs. Libster and Pérez Marc contributed equally to this article. This is the New England Journal of Medicine version of record, which includes all Journal editing and enhancements. The Author Final Manuscript, which is the author's version after external peer review and before publication in the Journal, is available under a CC BY license at PMC7793608. This article was published on January 6, 2021, at NEJM.org. N Engl J Med 2021;384:610-8. DOI: 10.1056/NEJMoa2033700 Copyright © 2021 Massachusetts Medical Society. METHODS RESULTS A total of 160 patients underwent randomization. In the intention-to-treat population, severe respiratory disease developed in 13 of 80 patients (16%) who received convalescent plasma and 25 of 80 patients (31%) who received placebo (relative risk, 0.52; 95% confidence interval [CI], 0.29 to 0.94; P = 0.03), with a relative risk reduction of 48%. A modified intention-to-treat analysis that excluded 6 patients who had a primary end-point event before infusion of convalescent plasma or placebo showed a larger effect size (relative risk, 0.40; 95% CI, 0.20 to 0.81). No solicited adverse events were observed. CONCLUSIONS Early administration of high-titer convalescent plasma..
Please send us corrections, updates, or comments. Vaccines and treatments are complementary. All practical, effective, and safe means should be used based on risk/benefit analysis. No treatment, vaccine, or intervention is 100% available and effective for all current and future variants. We do not provide medical advice. Before taking any medication, consult a qualified physician who can provide personalized advice and details of risks and benefits based on your medical history and situation.
FLCCC
and
WCH
provide treatment protocols.
Submit