Retrospective clinical study, in vitro study, and mouse study of metformin for influenza A virus (IAV) infection. Authors performed a retrospective analysis of 654 diabetic patients, finding that metformin treatment was associated with a 62% reduction in IAV-related mortality. In vitro experiments in IAV-infected cells showed that metformin suppressed viral replication and reduced expression of the pro-inflammatory cytokines MCP-1 and IP-10, which are implicated in cardiovascular disease. In vivo studies in atherosclerotic mice confirmed that metformin treatment inhibited IAV-induced MCP-1 and IP-10 expression and attenuated IAV-exacerbated atherosclerotic plaque development. Authors suggest metformin's immunomodulatory effects, mediated through AKT/MAPK signaling, may alleviate acute cardiovascular events in IAV-infected patients. Overall, this study demonstrates metformin's antiviral and anti-inflammatory properties and its potential to reduce influenza-related cardiovascular complications.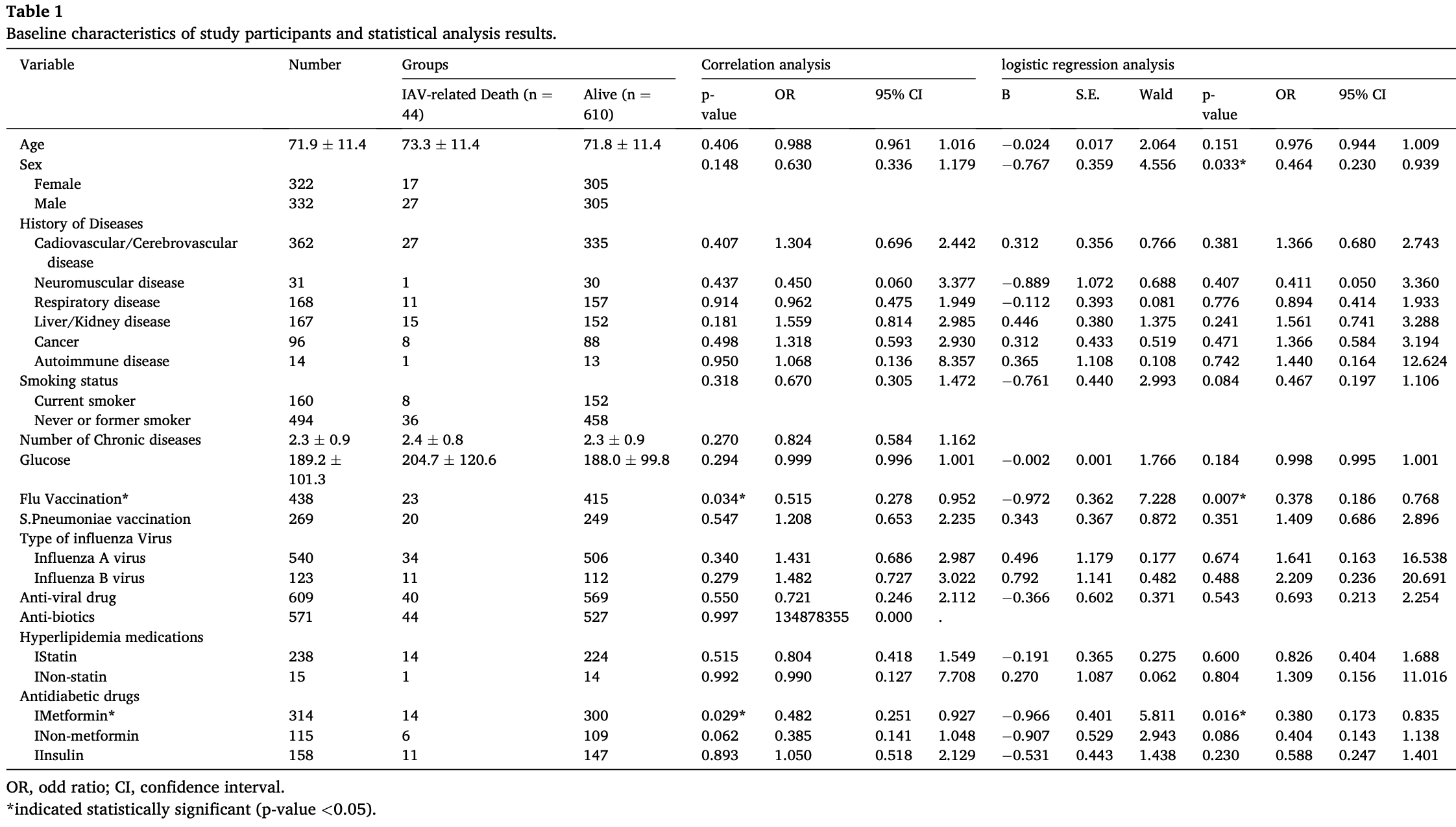 Lee et al., 28 Sep 2023, peer-reviewed, 5 authors.
Contact: wjkim@korea.ac.kr.
Metformin reduces the risk of developing influenza A virus related cardiovascular disease
Heliyon, doi:10.1016/j.heliyon.2023.e20284
A C T This study investigated the drug repositioning potential of metformin for cardiovascular risk due to influenza A virus infection. Statistical analysis was performed to analyze factors related to the risk of death after IAV infection in diabetic patients. Through in vitro and in vivo experiments, the effect of metformin on influenza A virus infection in non-diabetic conditions was analyzed. In logistic regression analysis, influenza vaccination (OR = 0.378, p-value = 0.007, 0.186 < 95% C⋅I < 0.768) and metformin treatment (OR = 0.380, p-value = 0.016, 0.173 < 95% C⋅I < 0.835) were associated with a decreased influenza-related mortality in diabetic patients. In vitro and in vivo studies showed that viral replication and influenza A virus-induced cytokine expression were inhibited by metformin. In particular, MCP-1 and IP-10, cytokines related to cell infiltration and cardiovascular disease development, were significantly reduced by metformin under influenza A virus infection condition. As a result, the acute exacerbation of atherosclerosis caused by influenza A virus in mouse aorta was inhibited by metformin. In addition, we found that regulation of AKT/MAPK signaling plays an important role in the mechanism of metformin. In conclusion, we demonstrated the potential and mechanism of metformin as a treatment for acute exacerbation of atherosclerosis caused by influenza A virus infection.
Heliyon 9 (2023) e20284 Author contribution statement Han Sol Lee: Conceived and designed the experiments; Performed the experiments; Contributed reagents, materials, analysis tools or data; Wrote the paper. Woo Joo Kim: Conceived and designed the experiments; Contributed reagents, materials, analysis tools or data; Wrote the paper. Ji Yun Noh, Joon Young Song, Hee Jin Cheong: Analyzed and interpreted the data. Declaration of competing interest The authors declare that they have no known competing financial interests or personal relationships that could have appeared to influence the work reported in this paper. Appendix A. Supplementary data Supplementary data to this article can be found online at https://doi.org/10.1016/j.heliyon.2023.e20284. References
References