Early Convalescent Plasma for High-Risk Outpatients with Covid-19
RCT 511 emergency department patients, 257 assigned to convalescent plasma, showing no significant difference in outcomes.
risk of death,

396.0% higher

, RR 4.96, p = 0.22
, treatment 5 of 250 (2.0%), control 1 of 248 (0.4%).
risk of hospitalization,

10.0% lower

, RR 0.90, p = 0.59
, treatment 51 of 257 (19.8%), control 56 of 254 (22.0%), NNT 45.
risk of progression,

6.0% lower

, RR 0.94, p = 0.70
, treatment 77 of 257 (30.0%), control 81 of 254 (31.9%), NNT 52.
Effect extraction follows pre-specified rules prioritizing more serious outcomes. Submit updates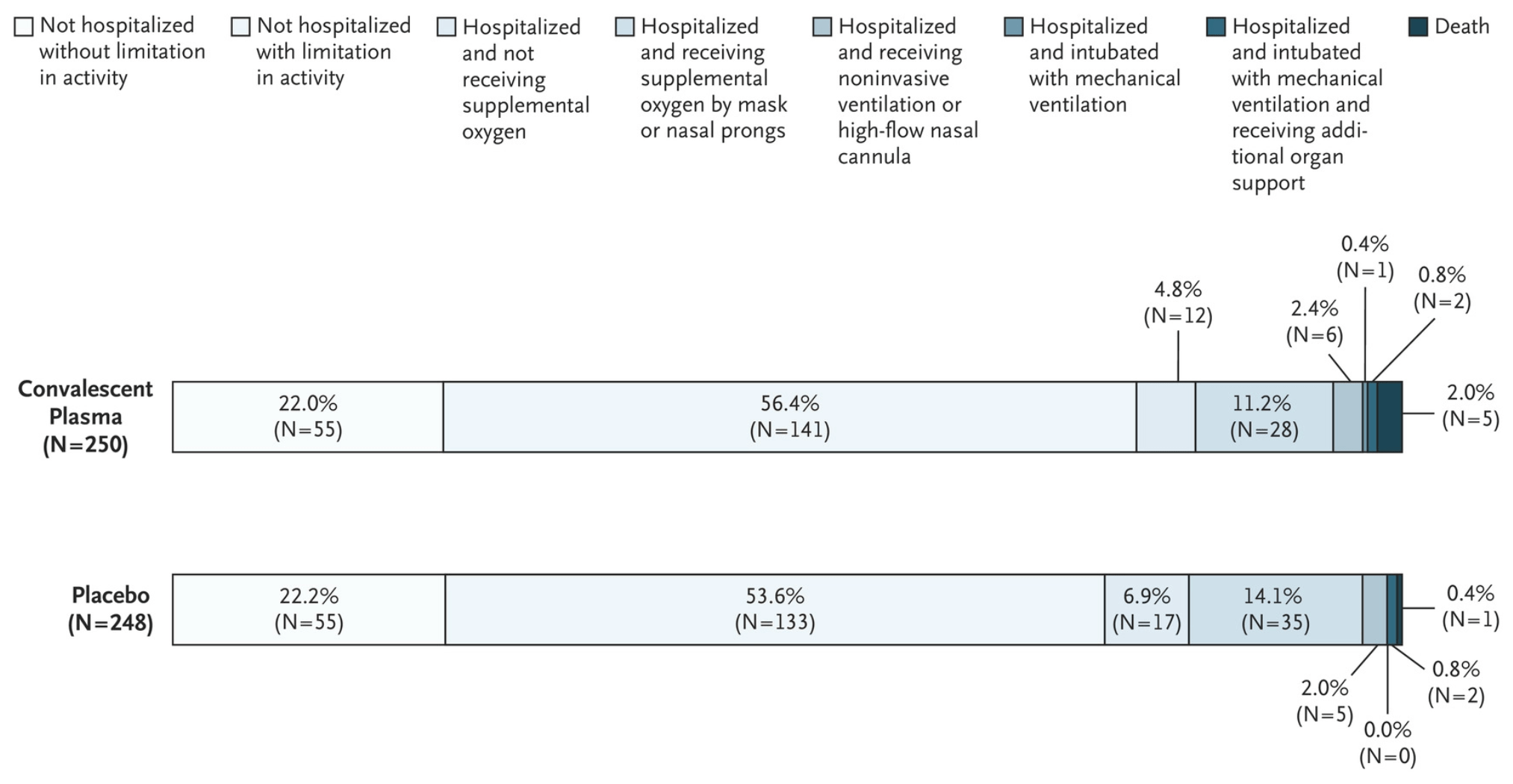 Korley et al., 18 Aug 2021, Randomized Controlled Trial, USA, peer-reviewed, 28 authors, average treatment delay 3.7 days.
Abstract: The n e w e ng l a n d j o u r na l of m e dic i n e Original Article Early Convalescent Plasma for High-Risk Outpatients with Covid-19 F.K. Korley, V. Durkalski‑Mauldin, S.D. Yeatts, K. Schulman, R.D. Davenport, L.J. Dumont, N. El Kassar, L.D. Foster, J.M. Hah, S. Jaiswal, A. Kaplan, E. Lowell, J.F. McDyer, J. Quinn, D.J. Triulzi, C. Van Huysen, V.L.W. Stevenson, K. Yadav, C.W. Jones, B. Kea, A. Burnett, J.C. Reynolds, C.F. Greineder, N.L. Haas, D.G. Beiser, R. Silbergleit, W. Barsan, and C.W. Callaway, for the SIREN-C3PO Investigators*​​ A BS T R AC T BACKGROUND Early administration of convalescent plasma obtained from blood donors who have recovered from coronavirus disease 2019 (Covid-19) may prevent disease progression in acutely ill, high-risk patients with Covid-19. METHODS In this randomized, multicenter, single-blind trial, we assigned patients who were being treated in an emergency department for Covid-19 symptoms to receive either one unit of convalescent plasma with a high titer of antibodies against severe acute respiratory syndrome coronavirus 2 (SARS-CoV-2) or placebo. All the patients were either 50 years of age or older or had one or more risk factors for disease progression. In addition, all the patients presented to the emergency department within 7 days after symptom onset and were in stable condition for outpatient management. The primary outcome was disease progression within 15 days after randomization, which was a composite of hospital admission for any reason, seeking emergency or urgent care, or death without hospitalization. Secondary outcomes included the worst severity of illness on an 8-category ordinal scale, hospital-free days within 30 days after randomization, and death from any cause. The authors' full names, academic degrees, and affiliations are listed in the Appendix. Address reprint requests to Dr. Callaway at the University of Pittsburgh, 400A Iroquois, 3600 Forbes Ave., Pittsburgh, PA 15260, or at ­callawaycw@​ ­upmc​.­edu. *A list of the SIREN-C3PO investigators is provided in the Supplementary Appendix, available at NEJM.org. This article was published on August 18, 2021, at NEJM.org. DOI: 10.1056/NEJMoa2103784 Copyright © 2021 Massachusetts Medical Society. RESULTS A total of 511 patients were enrolled in the trial (257 in the convalescent-plasma group and 254 in the placebo group). The median age of the patients was 54 years; the median symptom duration was 4 days. In the donor plasma samples, the median titer of SARS-CoV-2 neutralizing antibodies was 1:641. Disease progression occurred in 77 patients (30.0%) in the convalescent-plasma group and in 81 patients (31.9%) in the placebo group (risk difference, 1.9 percentage points; 95% credible interval, −6.0 to 9.8; posterior probability of superiority of convalescent plasma, 0.68). Five patients in the plasma group and 1 patient in the placebo group died. Outcomes regarding worst illness severity and hospital-free days were similar in the two groups. CONCLUSIONS The administration of Covid-19 convalescent plasma to high-risk outpatients within 1 week after the onset of symptoms of Covid-19 did not prevent disease progression. (SIREN-C3PO ClinicalTrials.gov number, NCT04355767.) n engl j med  nejm.org The New England Journal of Medicine Copyright © 2021 Massachusetts Medical Society. All rights reserved. 1 The n e w e ng l a..
Please send us corrections, updates, or comments. Vaccines and treatments are complementary. All practical, effective, and safe means should be used based on risk/benefit analysis. No treatment, vaccine, or intervention is 100% available and effective for all current and future variants. We do not provide medical advice. Before taking any medication, consult a qualified physician who can provide personalized advice and details of risks and benefits based on your medical history and situation.
FLCCC
and
WCH
provide treatment protocols.
Submit