Vitamin D Serum Levels and Its Association With COVID 19 Infection In Babylon Governorate, Iraq
et al., Nat. Volatiles & Essent. Oils, 8:4
Vitamin D Serum Levels and Its Association With COVID 19 Infection In Babylon Governorate, Iraq
,
Nat. Volatiles & Essent. Oils, 8:4
,
Analysis of 120 COVID-19 and 120 control patients in Iraq, showing lower risk of cases with regular sunlight exposure (3 times/week).
risk of case,

62.8% lower

, OR 0.37, p < 0.001
, higher sunlight exposure 43 of 120 (35.8%) cases, 72 of 120 (60.0%) controls, NNT 4.1, case control OR.
Effect extraction follows pre-specified rules prioritizing more serious outcomes. Submit updates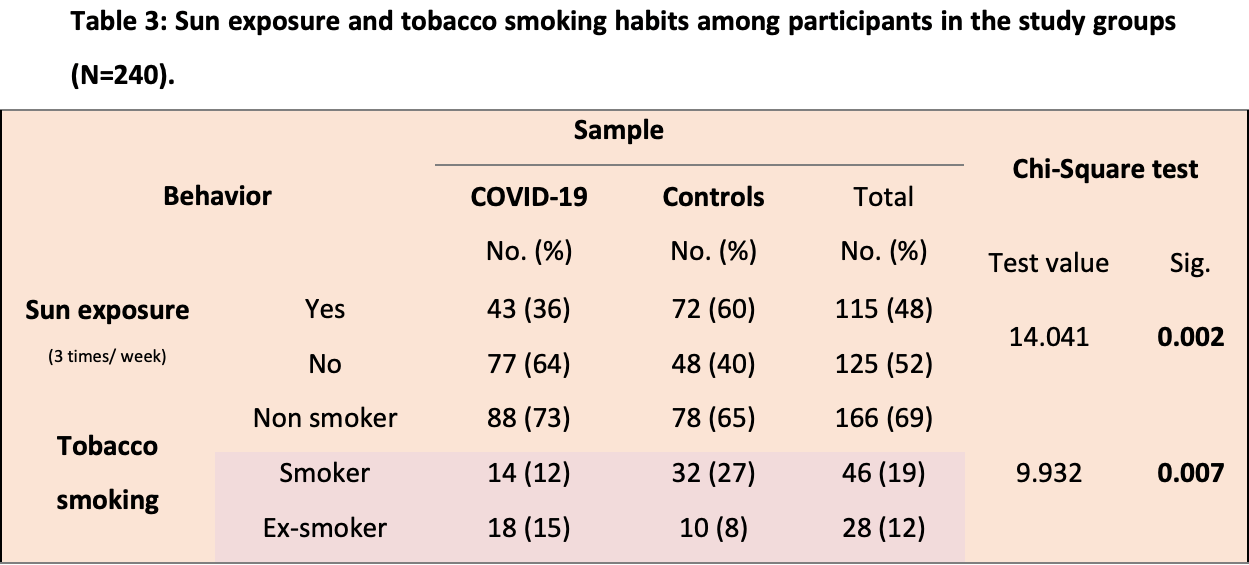 Jabbar et al., 31 Dec 2021, retrospective, Iraq, peer-reviewed, 4 authors.
Abstract: Nat. Volatiles & Essent. Oils, 2021; 8(4): 4562-4571 Vitamin D Serum Levels and Its Association With COVID 19 Infection In Babylon Governorate, Iraq. Amaase Falah Jabbar1 , Hasan Alwan Baiee2 , Fadhil Kahdim Jassim1 , Hatem Kareem Muhammad2 1 Babylon Health Directorate -Babylon Iraq 2 Nursing Department/ Hillah University College/ Babylon/Iraq Email: hassanbaey@yahoo.com Background: Considering the role of the data that indicate the importance of Vitamin D adequacy in protecting human being againstdifferent pathogens in patients exposed to infectious agents, the role of this Vitamin in Covid-19 patients is a matter of debate. Objectives: to identify the association between vitamin D level and infection with SARS-COV-2 of adult patients attending or admitted to Merjan Teaching Hospital , Babylon , Iraq .Methodology: this was a cross sectional comparison study of 240 participants, the total sample mean ±SD age was 46.9±15.4 years, 120confirmed diagnosed cases and admitted to coronavirus unit and 120 negative cases (comparison group). The study carried out from January to June 2021 in Merjan Teaching Hospital, Babylon, Iraq. A pretested questionnaire used to interview patients after obtaining their verbal consents. Serum 25(OH) vitamin D measured to both groups of participants using immunoassay method (maglumi instrument) and body mass index (BMI) measured. The questionnaire included demographicinformation, clinical symptoms, unhealthy habits, and underlying health conditions, (comorbidities related to each participant elicited and recorded). Results: This study showed that vitamin D deficiency or insufficiency were positively and significantly associated with SARS-COV-2 infection, COVID-19-cnfirmed patients had significantly lower serum vitamin D levels than comparison group (p = 0.01). In addition, the results revealed that the COVID-19 cases with Vitamin D inadequacy were significantly associated with low educational level, low socioeconomic status, and much lowest among female patients (p<0.05). Conclusions: Vitamin D inadequacy was significantly associated with COVID 19 infection. Keywords: Vitamin D, COVID 19 Infection, Babylon Governorate, Iraq
jabbar
Please send us corrections, updates, or comments. Vaccines and treatments are complementary. All practical, effective, and safe means should be used based on risk/benefit analysis. No treatment, vaccine, or intervention is 100% available and effective for all current and future variants. We do not provide medical advice. Before taking any medication, consult a qualified physician who can provide personalized advice and details of risks and benefits based on your medical history and situation.
FLCCC
and
WCH
provide treatment protocols.
Submit