Prospective study of 121 healthcare workers with COVID-19, showing higher risk of viral infectivity with antipyretic use. The antipyretic medications are not specified. Day 5 results exclude the fever group, while the day 7 and day 10 results combine the fever group without specifying antipyretic use. Acetaminophen is also known as paracetamol, Tylenol, Panadol, Calpol, Tempra, Calprofen, Doliprane, Efferalgan, Grippostad C, Dolo, Acamol, Fevadol, Crocin, and Perfalgan.
risk of no viral clearance,

383.0% higher

, OR 4.83, p = 0.02
, adjusted per study, multivariable, day 5, RR approximated with OR.
Effect extraction follows pre-specified rules prioritizing more serious outcomes. Submit updates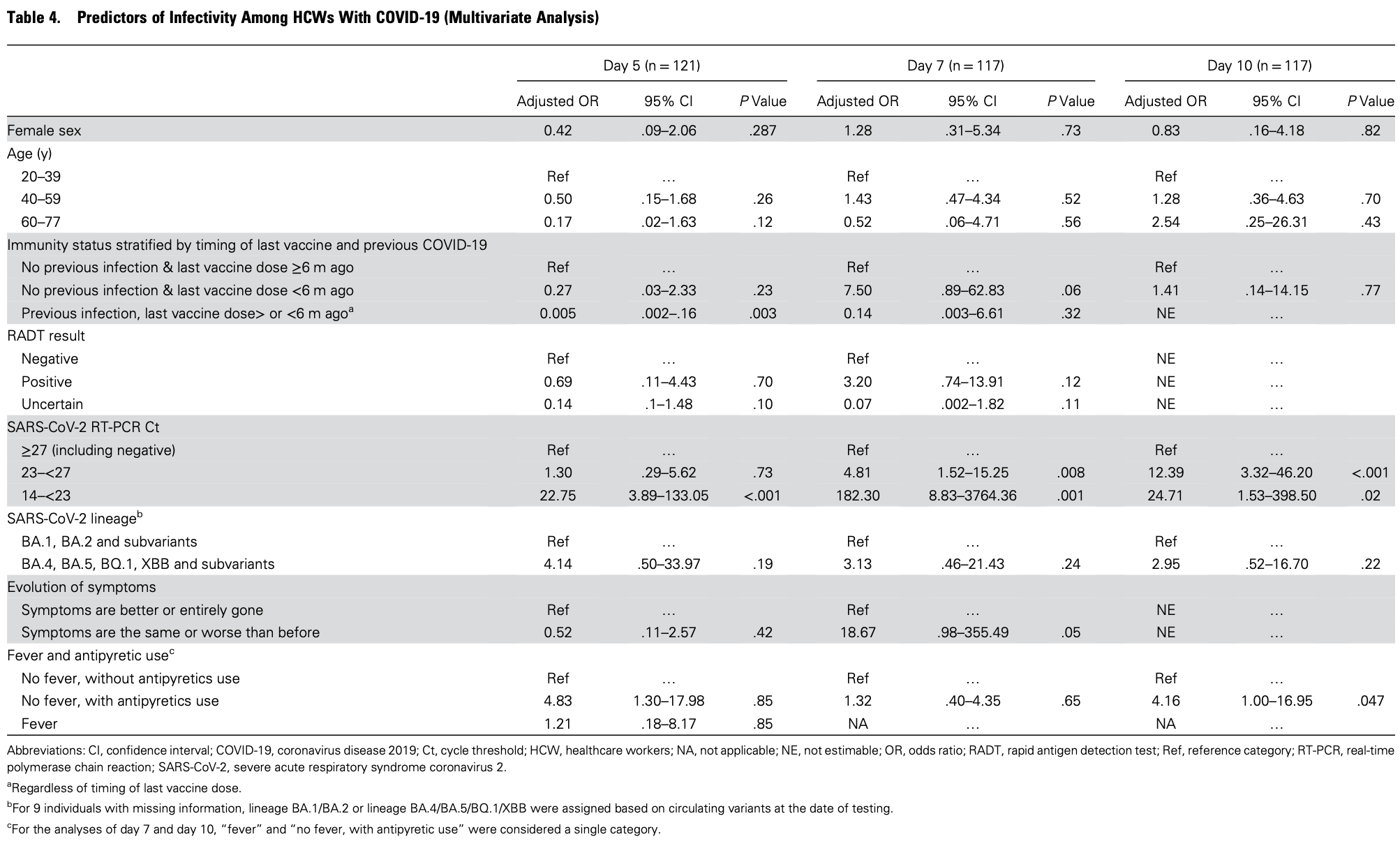 Dzieciolowska et al., 18 Jun 2023, prospective, Canada, preprint, 14 authors.
Contact: yves.longtin@mcgill.ca.
Timing and Predictors of Loss of Infectivity among Healthcare Workers with Primary and Recurrent COVID-19: a Prospective Observational Cohort Study
doi:10.1101/2023.06.16.23291449
Background: There is a need to understand the duration of infectivity of primary and recurrent COVID-19 and identify predictors of loss of infectivity. Methods: Prospective observational cohort study with serial viral culture, rapid antigen detection test (RADT) and RT-PCR on nasopharyngeal specimens of healthcare workers with COVID-19. The primary outcome was viral culture positivity as indicative of infectivity. Predictors of loss of infectivity were determined using multivariate regression model. The performance of the US CDC criteria (fever resolution, symptom improvement and negative RADT) to predict loss of infectivity was also investigated. Results: 121 participants (91 female [79.3%]; average age, 40 years) were enrolled. Most (n=107, 88.4%) had received ≥3 SARS-CoV-2 vaccine doses, and 20 (16.5%) had COVID-19 previously. Viral culture positivity decreased from 71.9% (87/121) on day 5 of infection to 18.2% (22/121) on day 10. Participants with recurrent COVID-19 had a lower likelihood of infectivity than those with primary COVID-19 at each follow-up (day 5 OR, 0.14; p<0.001]; day 7 OR, 0.04; p=0.003]) and were all non-infective by day 10 (p=0.02). Independent predictors of infectivity included prior on day 5, 0.005; p=0.003), a RT-PCR Ct value <23 (aOR on day 5, 22.75; p<0.001), but not symptom improvement or RADT result. The CDC criteria would identify 36% (24/67) of all non-infectious individuals on Day 7. However, 17% (5/29) of those meeting all the criteria had a positive viral culture. Conclusions: Infectivity of recurrent COVID-19 is shorter than primary infections. Loss of infectivity algorithms could be optimized. Coronavirus disease 2019 (COVID-19 ) is caused by the severe acute respiratory syndrome coronavirus 2 (SARS-CoV-2). 1 The current evidence regarding duration of infectivity rely on viral culture to detect shedding of replication-competent virus (also called viable or infectious virus). These studies suggest that immunocompetent individuals with non-severe COVID-19 can remain infective for up to 10 days. 2-6 While infective, healthcare workers (HCWs) with COVID-19 must refrain from working to prevent nosocomial transmission. 7,8 However, the timing of their return to work is complicated by the interindividual variation in the durations of infectivity. Approximately a fifth of individuals may be infective for as little as 5 days, while approximately a quarter can remain infective for 10 days or more. 9 Determinants of loss of infectivity are largely unknown, but could be useful to optimize the return-towork of infected HCWs. To limit absenteeism, 10 the US Centers for Disease Control and Prevention (CDC) and European CDC have provided guidance to allow earlier return to work of eligible HCWs. 7,8 These algorithms use readily available information such as symptom improvement and the result of rapid antigen detection tests (RADT) to predict loss of infectivity. 7,8 However, whether these criteria can..
References
Charest, Fafard, Carazo, Levade, Longtin et al., Statistical analyses: Carazo
Landon, Bartlett, Marrs, Guenette, Weber et al., High Rates of Rapid Antigen Test Positivity After 5 days of Isolation for COVID-19
Rothman, No adjustments are needed for multiple comparisons, Epidemiology. Jan
Sequencing, None