Retrospective 448 pregnant women with COVID-19. Patients with calcium, zinc, and magnesium supplementation, or magnesium only, had a significantly higher titer of SARS-CoV-2 anti-RBD antibodies. There was no statistically significant difference in severe cases based on supplementation.
risk of severe case,

17.6% lower

, RR 0.82, p = 1.00
, treatment 2 of 74 (2.7%), control 2 of 61 (3.3%), NNT 174, Ca+Mg+Zn vs. Mg.
Effect extraction follows pre-specified rules prioritizing more serious outcomes. Submit updates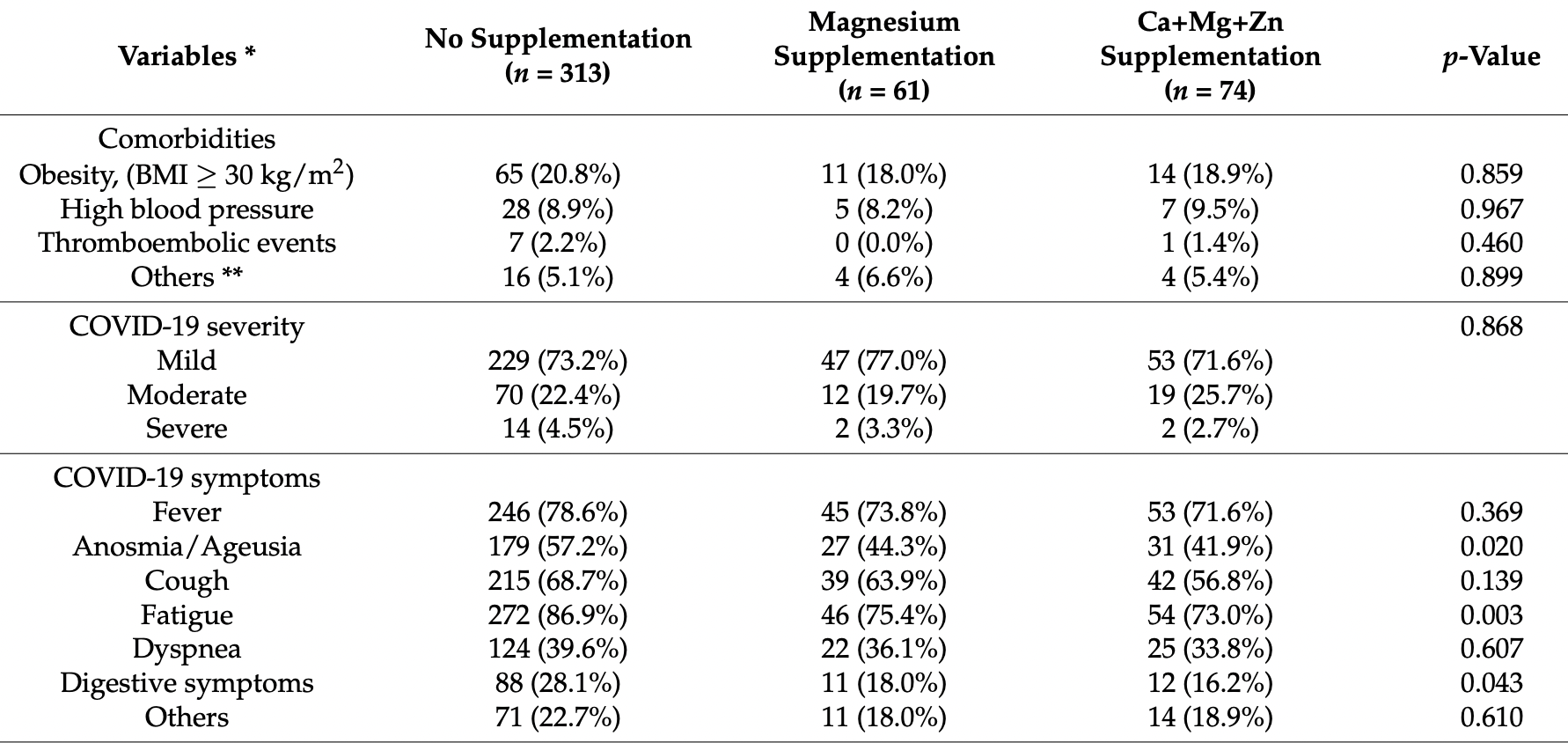 Citu et al., 30 Mar 2022, retrospective, Romania, peer-reviewed, survey, 14 authors, study period 14 April, 2020 - 14 February, 2022, this trial uses multiple treatments in the treatment arm (combined with calcium) - results of individual treatments may vary.
Contact: citu.ioan@umft.ro (corresponding author), citu.ioana@umft.ro, marganmm@gmail.com, crainamariuslucian@gmail.com, radu.neamtu@umft.ro, gorun.florin@umft.ro, oanabalan@hotmail.com, bogdanburlea@yahoo.com, felix.bratosin7@gmail.com, ovidiu.rosca@umft.ro, grigoras.mirela@umft.ro, amotoc@umft.ro, malita.daniel@umft.ro, dr.octavian.neagoe@gmail.com.
Calcium, Magnesium, and Zinc Supplementation during Pregnancy: The Additive Value of Micronutrients on Maternal Immune Response after SARS-CoV-2 Infection
Nutrients, doi:10.3390/nu14071445
Magnesium may contribute to the immune response during and after SARS-CoV-2 infection by acting as a cofactor for immunoglobulin production and other processes required for T and B cell activity. Considering magnesium as a recommended dietary supplement during pregnancy and the possible role of magnesium deficiency in COVID-19 and its complications, the current study sought to determine the effect of magnesium and magnesium-containing nutritional supplements on the immune response following SARS-CoV-2 infection in pregnant women, as well as to observe differences in pregnancy outcomes based on the supplements taken during pregnancy. The study followed a cross-sectional design, where patients with a history of SARS-CoV-2 infection during their pregnancy were surveyed for their preferences in nutritional supplementation and their profile compared with existing records from the institutional database. A cohort of 448 pregnant women with COVID-19 during 22 months of the pandemic was assembled, out of which 13.6% took a magnesiumonly supplement, and 16.5% supplemented their diet with a combination of calcium, magnesium, and zinc. Around 60% of patients in the no-supplementation group had the SARS-CoV-2 anti-RBD lower than 500 U/mL, compared with 50% in those who took magnesium-based supplements. A quantity of magnesium >450 mg in the taken supplements determined higher levels of antibody titers after COVID-19. Low magnesium dosage (<450 mg) was an independent risk factor for a weak immune response (OR-1.25, p-value = 0.003). The observed findings suggest supplementing the nutritional intake of pregnant women with magnesium-based supplements to determine higher levels of SARS-CoV-2 anti-RBD antibodies, although causality remains unclear.
Informed Consent Statement: Informed consent was obtained from all subjects involved in the study. Conflicts of Interest: The authors declare no conflict of interest.
References
Killilea, Maier, A connection between magnesium deficiency and aging: New insights from cellular studies, Magnes. Res
Rude, Magnesium, Modern Nutrition in Health and Disease
Shittu, Afolami, Improving the efficacy of Chloroquine and Hydroxychloroquine against SARS-CoV-2 may require Zinc additives-A better synergy for future COVID-19 clinical trials, Infez. Med