Nitric Oxide Accumulation in the Nonventilated Nasal Cavity
Analysis of nitric oxide concentrations in the nonventilated nasal cavity, showing increasing levels with time. Results indicate that nitric oxide levels can be increased with breathing techniques.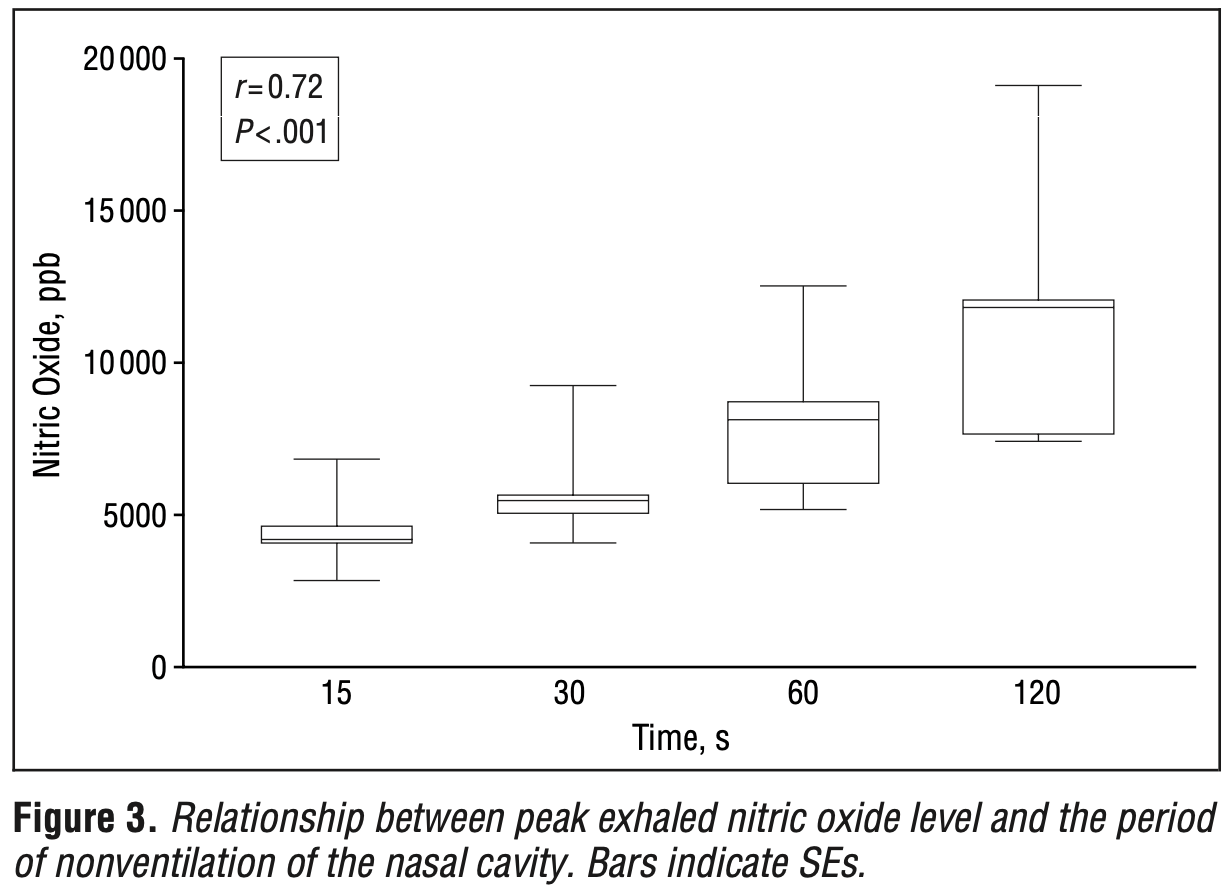 Chatkin et al., 1 Jun 1999, peer-reviewed, 6 authors.
Contact: jose.chatkin@utoronto.ca.
Abstract: ORIGINAL ARTICLE Nitric Oxide Accumulation in the Nonventilated Nasal Cavity Jose Miguel Chatkin, MD; Wei Qian, MD; Patricia A. McClean, MSc; Noe Zamel, MD; James Haight, MD; Phillip Silkoff, MD Background: Nasal nitric oxide is present in high con- centrations in the upper airway relative to the lower respiratory tract. Objective: To explore the rate of nitric oxide accumu- lation in the nonventilated nasal cavity. Methods: In 9 healthy subjects previously trained to close the soft palate, steady-state plateau nitric oxide levels were recorded while air was aspirated through the nasal airway in series at a constant flow rate. Nitric oxide was then allowed to accumulate in the nasal cavity by occluding both nares and keeping the velum closed. After varying occlusion times, peak nitric oxide levels and a second plateau were ascertained. On opening to the analyzer after the accumulation period, the peak nitric oxide level was several times higher than the initial plateau (range, 2810-19 008 ppb) and then slowly returned to previous plateau levels. There was no significant difference between initial and second plateau nitric oxide levels for any period. The accumulated nitric oxide peak increased in direct proportion to the accumulation time (P,.001). Conclusions: Nitric oxide concentrations accumulate in the nonventilated nasal cavity in proportion to the time of nonventilation. Peak nasal nitric oxide values after accumulation are similar to published sinus nitric oxide measurements obtained by direct puncture. These results suggest an important alternative source of nitric oxide in humans. Results: While the subjects aspirated air at a constant flow, there was a slow rise to a first nitric oxide plateau. N From the Catholic University of Rio Grande do Sul, Porto Alegre, Brazil (Dr Chatkin); Zhenjiang First People's Hospital, Jiangsu, China (Dr Qian); the Divisions of Respiratory Medicine (Drs Chatkin, Zamel, and Silkoff and Ms McClean) and Otolaryngology (Drs Qian and Haight), The Toronto Hospital, University of Toronto, Toronto, Ontario; and the National Jewish Medical and Research Center, Denver, Colo (Dr Silkoff). Arch Otolaryngol Head Neck Surg. 1999;125:682-685 ITRIC OXIDE (NO) is present in the human airway, 1 and high nasal concentrations of nitric oxide were first detected by Alving et al.2 The source of high nitric oxide levels in the nose is still uncertain, but there is evidence that the upper airways (ie, paranasal sinuses, nasal cavities, or nasopharynx) could be the main source of this gas in exhaled air.3,4 Nasal nitric oxide may subserve physiological functions in the upper airway. This chemical may represent the very first line of defense in the airways, possibly acting on pathogens even before they reach the nasal mucosa.3 Its concentration in upper airways is several times higher than that required for bacteriostasis5 and antiviral effect.6 It also acts as a mediator of mucociliary activity7 and mucus secretion.8 Autoinhalation may also provide another endogenous function for nitric oxide, regulating the ventilationperfusion ratio.9 Nitric oxide has also been shown to play a role in neurally mediated bronchodilation10 and in the modulation of airway reactivity.11 Nitric oxide may also be involved in the pathophysiology of several diseases. High nitric oxide levels are found in patients with noninfectious inflammations, such as allergic rhinitis.12 Conversely, nasal nitric oxide levels are substantially..
Please send us corrections, updates, or comments. Vaccines and treatments are complementary. All practical, effective, and safe means should be used based on risk/benefit analysis. No treatment, vaccine, or intervention is 100% available and effective for all current and future variants. We do not provide medical advice. Before taking any medication, consult a qualified physician who can provide personalized advice and details of risks and benefits based on your medical history and situation.
FLCCC
and
WCH
provide treatment protocols.
Submit