RCT 251 high-risk individuals in India, mostly with direct contact with COVID-19 positive patients, testing polyherbal formulations Infuza, which includes nigella sativa, and Kulzam. Both formulations showed lower risk, without statisical significance, while the best results were from the combination of both.
risk of case,

49.0% lower

, RR 0.51, p = 0.36
, treatment 4 of 52 (7.7%), control 8 of 53 (15.1%), NNT 14, Infuza.
risk of case,

87.0% lower

, RR 0.13, p = 0.03
, treatment 1 of 51 (2.0%), control 8 of 53 (15.1%), NNT 7.6, Infuza and Kulzam.
risk of case,

74.0% lower

, RR 0.26, p = 0.09
, treatment 2 of 51 (3.9%), control 8 of 53 (15.1%), NNT 9.0, Kulzam.
Effect extraction follows pre-specified rules prioritizing more serious outcomes. Submit updates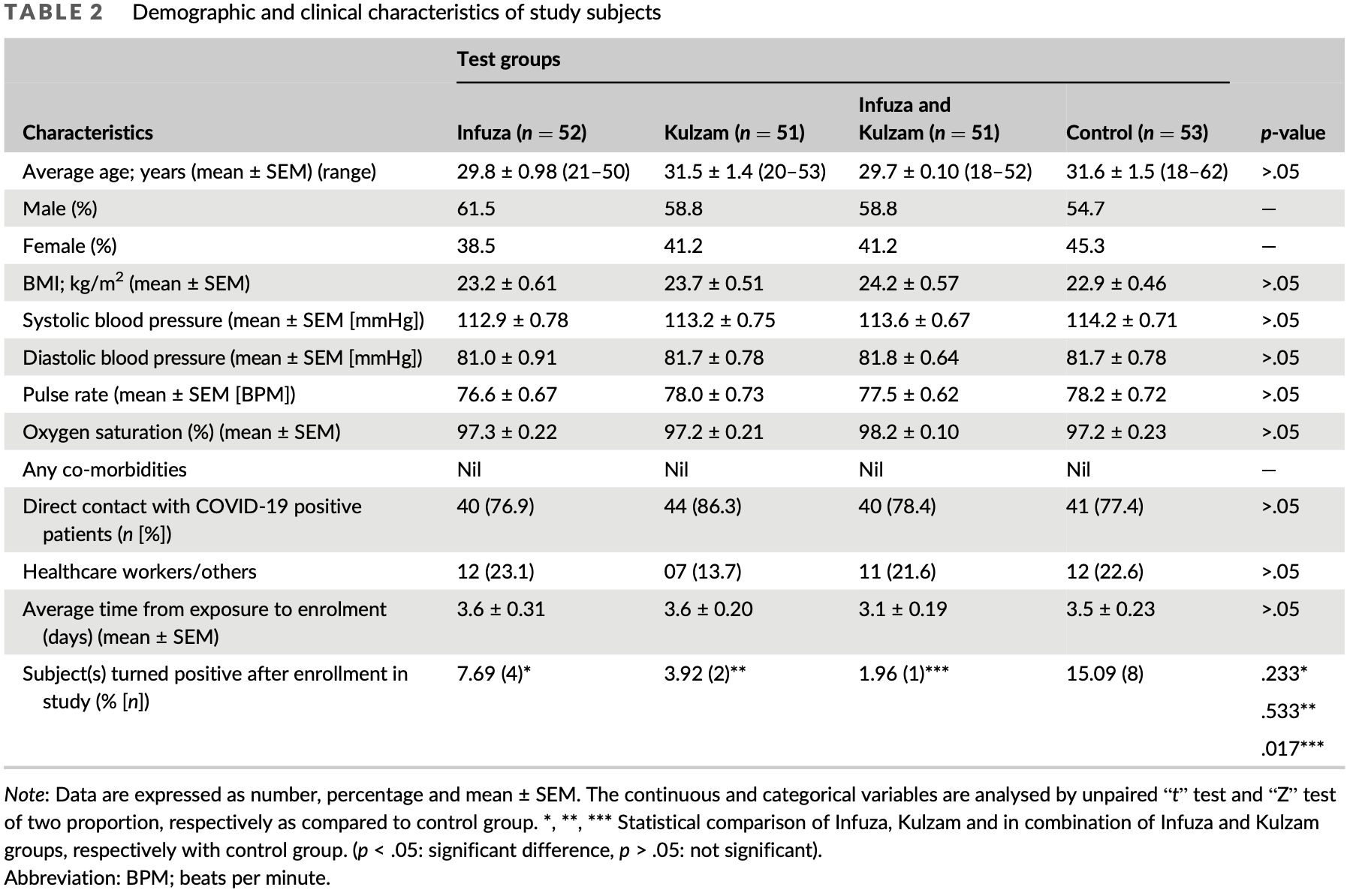 Chandra et al., 5 Jul 2022, Randomized Controlled Trial, India, peer-reviewed, 12 authors, study period 18 September, 2020 - 21 May, 2021, this trial uses multiple treatments in the treatment arm (combined with Infuza polyherbal formulation) - results of individual treatments may vary, trial
CTRI/2020/08/027222
.
Contact: mridududeja@yahoo.com.
Efficacy of polyherbal formulations for prevention of COVID ‐19 infection in high‐risk subjects: A randomized open‐label controlled clinical trial
Phytotherapy Research, doi:10.1002/ptr.7531
COVID-19 is arguably the biggest health crisis the world has faced in the 21st century. Therefore, two of the polyherbal formulations, Infuza and Kulzam were assessed for the prevention of COVID-19 infection as a repurposed medication. Four hundred seven high-risk subjects were recruited in the present open-label randomized controlled clinical trial for eligibility. After assessment for eligibility, remaining 251 subjects were randomized to the test and control groups. Further, 52 high-risk subjects in Infuza, 51 in Kulzam, 51 in Infuza & Kulzam and 53 in control group completed the 14 days of intervention/assessment. The phenotyping of lymphocytes at baseline (0 day) and after 14 days of treatment was carried out by flow cytometry assays. A total of 15.09% high-risk subjects in control group turned positive as compared to only 7.69% in Infuza, 3.92% in Kulzam and 1.96% in Infuza & Kulzam groups. The rate of conversion to COVID-19 infection in Infuza & Kulzam group was minimal and statistically significant as compared to control group (p0.017). No significant changes in phenotype of lymphocytes (T, B, NK cells), absolute lymphocyte count and cytokine levels were found in study groups. However, there was a decreasing trend of hs-CRP level in high-risk subjects after intervention of polyherbal formulations for 14 days. The combination of Infuza and Kulzam may synergistically prevent COVID-19 infection in high-risk subjects of COVID-19.
AUTHOR CONTRIBUTIONS Conceptualization: Mridu Dudeja, Kailash Chandra, Ayan Kumar Das, Naushad Ali Rana, Santosh Joshi, Asad Mueed; Data curation: Sumeera Banday, Mohini Arora, Shashank Agarwal, Santosh Joshi, Kailash Chandra; Formal analysis: Kailash Chandra, Varun Kashyap, Ayan Kumar Das, Sumeera Banday; Investigation: Mohini Arora, Santosh Joshi, Kailash Chandra, Ayan Kumar Das; Methodology: Ayan Kumar Das, Kailash Chandra, Varun Kashyap, Sonal Jain, Shashank CONFLICT OF INTEREST We confirm that there is no conflict of interest associated with this publication. The medications were provided by M/S Hamdard Laboratories (Medicine Division), India. Clinical trial was conducted at Hamdard Institute of Medical Sciences and Research and associated HAHC Hospital, New Delhi. M/S Hamdard Laboratories is not involved in any aspect of clinical trial reported in the study. SUPPORTING INFORMATION Additional supporting information can be found online in the Supporting Information section at the end of this article. How to cite this article: Chandra, K., Das, A. K., Banday, S., Rana, N. A., Arora, M., Jain, S., Islam, F., Agarwal, S., Kashyap, V., Joshi, S., Mueed, A., & Dudeja, M. (2022) .
References
Najmul, Rampuri, None, Khazain ul Advia
Sharma, Kaur, Bioactive molecules from eucalyptus essential oil as potential inhibitors of COVID-19 corona virus infection by molecular docking studies, Kragujevac Journal of Science