Analysis of serum and intracellular vitamin C levels in hospitalized COVID-19 patients. Low vitamin C levels were common with 36% having serum levels <26 μmol/L and 15% <11 μmol/L.Intracellular vitamin C levels in peripheral blood mononuclear cells (PBMCs) were low at admission and declined during hospitalization, suggesting ongoing utilization and depletion of vitamin C stores.Critical patients had higher odds of low serum vitamin C levels. There was a weak negative correlation between serum vitamin C levels and severity, without statistical significance.
risk of critical case,

55.9% lower

, RR 0.44, p = 0.10
, high D levels (≥26μmol/L) 5 of 34 (14.7%), low D levels (<26μmol/L) 12 of 36 (33.3%), NNT 5.4.
Effect extraction follows pre-specified rules prioritizing more serious outcomes. Submit updates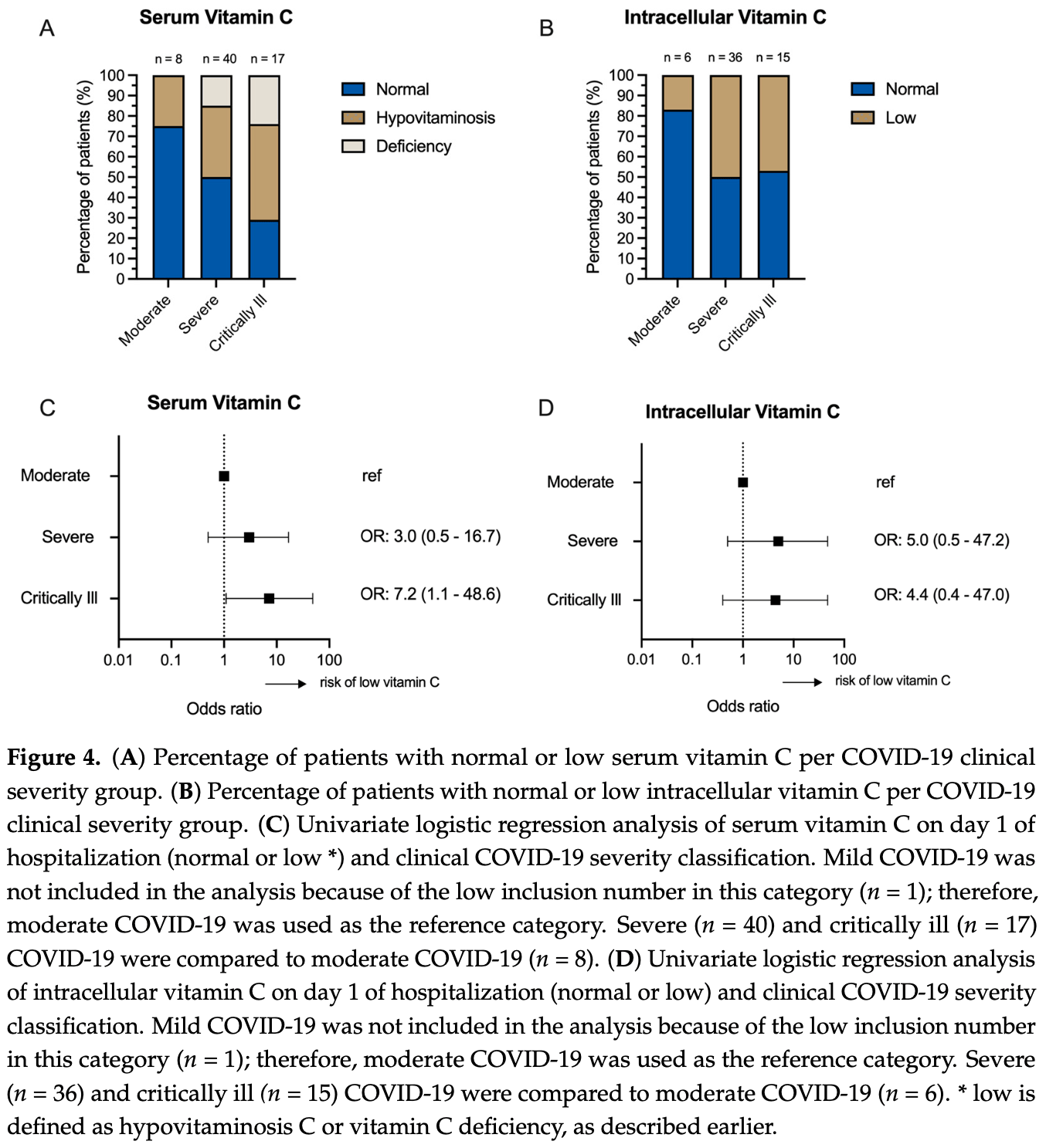 Boerenkamp et al., 20 Aug 2023, prospective, Netherlands, peer-reviewed, mean age 70.0, 11 authors, study period 2 December, 2020 - 10 March, 2021.
Contact: lara.boerenkamp@mumc.nl (corresponding author).
Low Levels of Serum and Intracellular Vitamin C in Hospitalized COVID-19 Patients
Nutrients, doi:10.3390/nu15163653
Vitamin C is a crucial micronutrient for human immune cell function and has potent antioxidant properties. It is hypothesized that vitamin C serum levels decline during infection. However, the precise mechanisms remain unknown. To gain deeper insights into the true role of vitamin C during infections, we aimed to evaluate the body's vitamin C storage during a SARS-CoV-2 infection. In this single-center study, we examined serum and intracellular vitamin C levels in peripheral blood mononuclear cells (PBMCs) of 70 hospitalized COVID-19 patients on the first and fifth days of hospitalization. Also, clinical COVID-19 severity was evaluated at these timepoints. Our findings revealed a high prevalence of hypovitaminosis C and vitamin C deficiency in hospitalized COVID-19 patients (36% and 15%). Moreover, patients with severe or critical disease exhibited a higher prevalence of low serum vitamin C levels than those with moderate illness. Serum vitamin C levels had a weak negative correlation with clinical COVID-19 severity classification on the day of hospitalization; however, there was no correlation with intracellular vitamin C. Intracellular vitamin C levels were decreased in this cohort as compared to a healthy cohort and showed further decline during hospitalization, while serum levels showed no relevant change. Based on this observation, it can be suggested that the reduction of intracellular vitamin C may be attributed to its antioxidative function, the need for replenishing serum levels, or enhanced turnover by immune cells. These data give an incentive to further investigate the role of intracellular vitamin C in a larger and more heterogeneous cohort as well as the underlying mechanisms.
Conflicts of Interest: The authors declare no conflict of interest.
References
Arvinte, Singh, Marik, Serum Levels of Vitamin C and Vitamin D in a Cohort of Critically Ill COVID-19 Patients of a North American Community Hospital Intensive Care Unit in May 2020: A Pilot Study
Carr, Bozonet, Pullar, Spencer, Rosengrave et al., Neutrophils Isolated from Septic Patients Exhibit Elevated Uptake of Vitamin C and Normal Intracellular Concentrations despite a Low Vitamin C Milieu, Antioxidants
Nhcotpsro, Chinese Clinical Guidance for COVID-19 Pneumonia Diagnosis and Treatment, 7th Edition, shtml
Praveen, Puvvada, Association of vitamin C status in diabetes mellitus: Prevalence and predictors of vitamin C defi-ciency, Future J. Pharm. Sci
Schlueter, Johnston, Vitamin C: Overview and update, J. Evid. Based Complement. Altern. Med
Wang, Yang, Pei, Chong, Guo et al., SAA, LDH, and DD predict poor prognosis of coronavirus disease (COVID-19): A meta-analysis from 7739 patients, Scand. J. Clin. Lab. Investig
Zabet, Mohammadi, Ramezani, Khalili, Effect of high-dose Ascorbic acid on vasopressor s requirement in septic shock, J. Res. Pharm. Pract