Retrospective 90 severe COVID-19 ARDS patients in Romania, showing nutritional risk assessment scores PNI, CONUT, NUTRIC, and mNUTRIC to be independent predictors of mortality.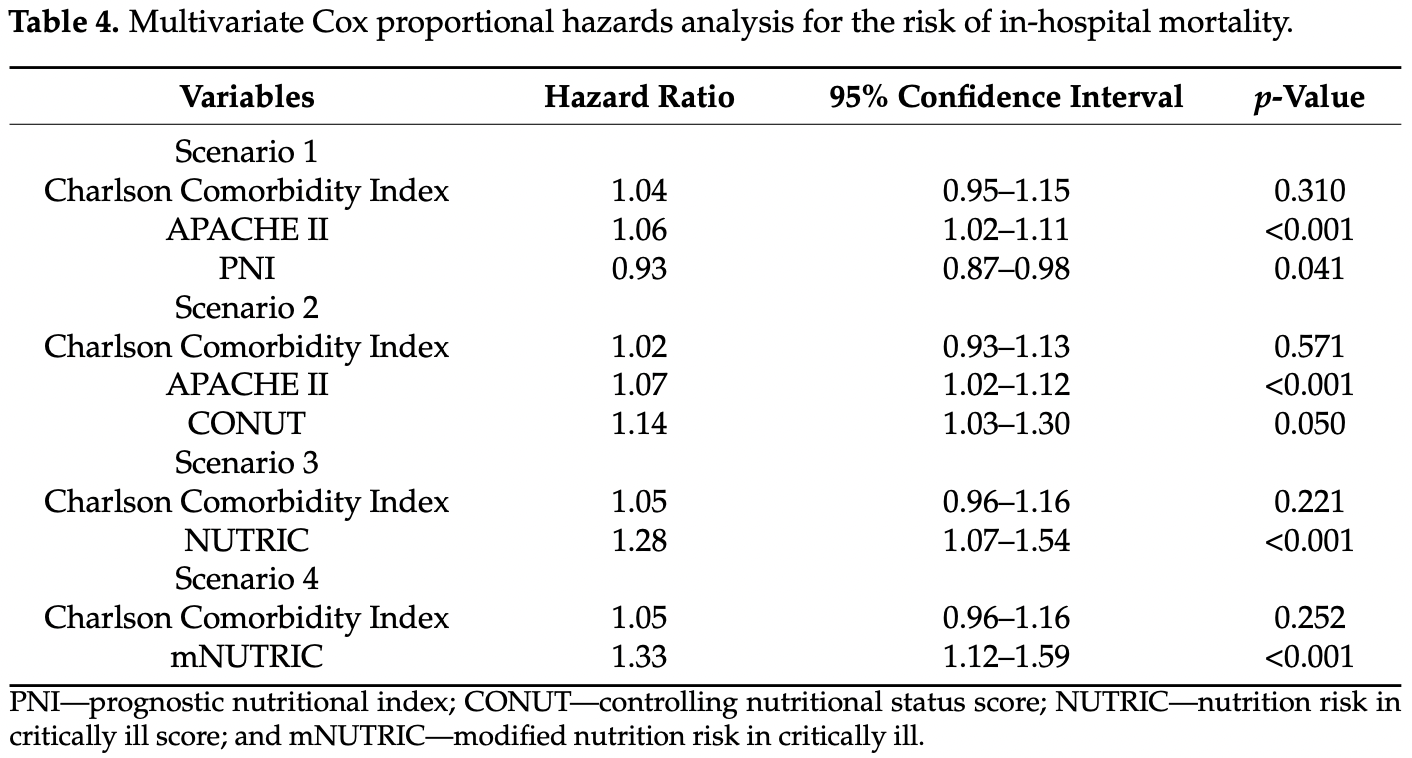 Bodolea et al., 18 May 2022, retrospective, Romania, peer-reviewed, survey, median age 67.0, 8 authors, study period December 2020 - March 2021.
Contact: avram.lucretia9@gmail.com (corresponding author), cbodolea@gmail.com, andrada.nemes@ymail.com, mihaela_cocis@yahoo.com, eu_cristina_oana@yahoo.fr, crisan.dc@gmail.com, mihaela_c87@yahoo.com, craciun.rares.calin@elearn.umfcluj.ro.
Nutritional Risk Assessment Scores Effectively Predict Mortality in Critically Ill Patients with Severe COVID-19
Nutrients, doi:10.3390/nu14102105
Background: Malnutrition predicts a worse outcome for critically ill patients. However, quick, easy-to-use nutritional risk assessment tools have not been adequately validated. Aims and Methods: The study aimed to evaluate the role of four biological nutritional risk assessment instruments (the Prognostic Nutritional Index-PNI, the Controlling Nutritional Status Score-CONUT, the Nutrition Risk in Critically Ill-NUTRIC, and the modified NUTRIC-mNUTRIC), along with CT-derived fat tissue and muscle mass measurements in predicting in-hospital mortality in a consecutive series of 90 patients hospitalized in the intensive care unit for COVID-19-associated ARDS. Results: In-hospital mortality was 46.7% (n = 42/90). Non-survivors had a significantly higher nutritional risk, as expressed by all four scores. All scores were independent predictors of mortality on the multivariate regression models. PNI had the best discriminative capabilities for mortality, with an area under the curve (AUC) of 0.77 for a cut-off value of 28.05. All scores had an AUC above 0.72. The volume of fat tissue and muscle mass were not associated with increased mortality risk. Conclusions: PNI, CONUT, NUTRIC, and mNUTRIC are valuable nutritional risk assessment tools that can accurately predict mortality in critically ill patients with COVID-19-associated ARDS.
Conflicts of Interest: The authors declare no conflict of interest.
References
De Ulíbarri, González-Madroño, De Vilar, González, González et al., CONUT: A Tool for Controlling Nutritional Status. First Validation in a Hospital Population, Nutr. Hosp
Hu, Guo, Zhou, Shi, Characteristics of SARS-CoV-2 and COVID-19, Nat. Rev. Microbiol
Li, Zhou, Ba, Wang, Song et al., Nutritional Risk and Therapy for Severe and Critical COVID-19 Patients: A Multicenter Retrospective Observational Study, Clin. Nutr
Onodera, Goseki, Kosaki, Prognostic Nutritional Index in Gastrointestinal Surgery of Malnourished Cancer Patients] Japanese, Nihon Geka Gekkai Zasshi
Vincent, Moreno, Takala, Willatts, De Mendonça et al., The SOFA (Sepsis-Related Organ Failure Assessment) Score to Describe Organ Dysfunction/Failure, Intensive Care Med
Zhang, He, Yu, Peng, Feng et al., The Modified NUTRIC Score Can Be Used for Nutritional Risk Assessment as Well as Prognosis Prediction in Critically Ill COVID-19 Patients, Clin. Nutr