Analysis of 45 COVID-19 ICU patients and 45 healthy controls, showing significantly lower zinc levels in COVID-19 patients.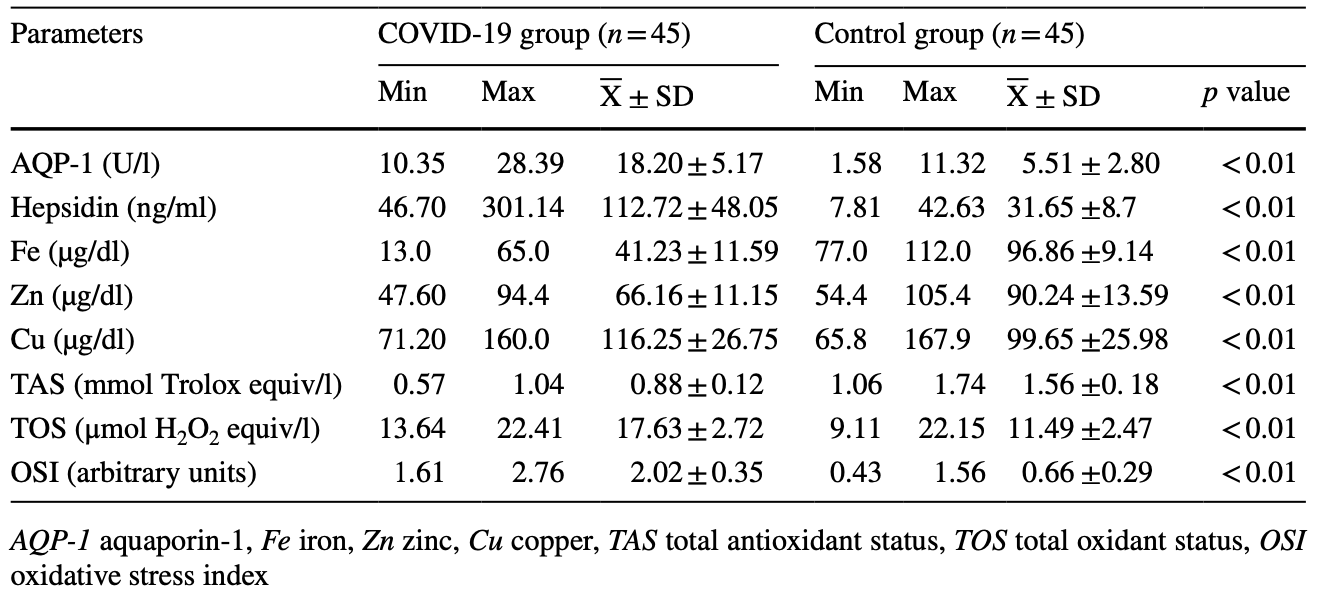 Bayraktar et al., 24 Aug 2022, retrospective, Turkey, peer-reviewed, 4 authors.
Contact: ali.81ozturk@gmail.com, nihayetmehmet@yahoo.com, m.bayraktar1993@gmail.com, basharibrahim@sdu.edu.tr.
Evaluation of the Relationship Between Aquaporin-1, Hepcidin, Zinc, Copper, and İron Levels and Oxidative Stress in the Serum of Critically Ill Patients with COVID-19
Biological Trace Element Research, doi:10.1007/s12011-022-03400-6
Our study aims to determine the relationship between hepcidin, aquaporin (AQP-1), copper (Cu), zinc (Zn), iron (Fe) levels, and oxidative stress in the sera of seriously ill COVID-19 patients with invasive mechanical ventilation. Ninety persons with and without COVID-19 were taken up and separated into two groups. The first group included seriously COVID-19 inpatients having endotracheal intubation in the intensive care unit (n = 45). The second group included individuals who had negative PCR tests and had no chronic disease (the healthy control group n = 45). AQP-1, hepcidin, Zn, Cu, Fe, total antioxidant status (TAS), and total oxidant status (TOS) were studied in the sera of both groups, and the relations of these levels with oxidative stress were determined. When the COVID-19 patient and the control groups were compared, all studied parameters were found to be statistically significant (p < 0.01). Total oxidant status (TOS), oxidative stress index (OSI), and AQP-1, hepcidin, and Cu levels were increased in patients with COVID-19 compared to healthy people. Serum TAC, Zn, and Fe levels were found to be lower in the patient group than in the control group. Significant correlations were detected between the studied parameters in COVID-19 patients. Results indicated that oxidative stress may play an important role in viral infection due to SARS-CoV-2. We think that oxidative stress parameters as well as some trace elements at the onset of COVID-19 disease will provide a better triage in terms of disease severity.
Declarations Ethics Approval This study was approved by the local ethics committee of Harran University and the Ministry of Health of Turkey (18/01/2020-HRU/210231). Consent to Participate All patients signed an informed consent for inclusion of personal records in the local database and for use to scientifc research purposes. Consent for Publication Not applicable. Conflict of Interest The authors declare no competing interests.
References
Cao, Prior, Comparison of different analytical methods for assessing total antioxidant capacity of human serum Automation and Analytical Techniques, Clin Chem