Retrospective 73 familial Mediterranean fever patients with COVID-19 in Turkey, showing significantly higher risk of hospitalization for respiratory support with non-adherence to colchicine treatment before the infection.
risk of oxygen therapy,

78.8% lower

, RR 0.21, p = 0.04
, treatment 6 of 66 (9.1%), control 3 of 7 (42.9%), NNT 3.0, inverted to make RR<1 favor treatment, odds ratio converted to relative risk.
Effect extraction follows pre-specified rules prioritizing more serious outcomes. Submit updates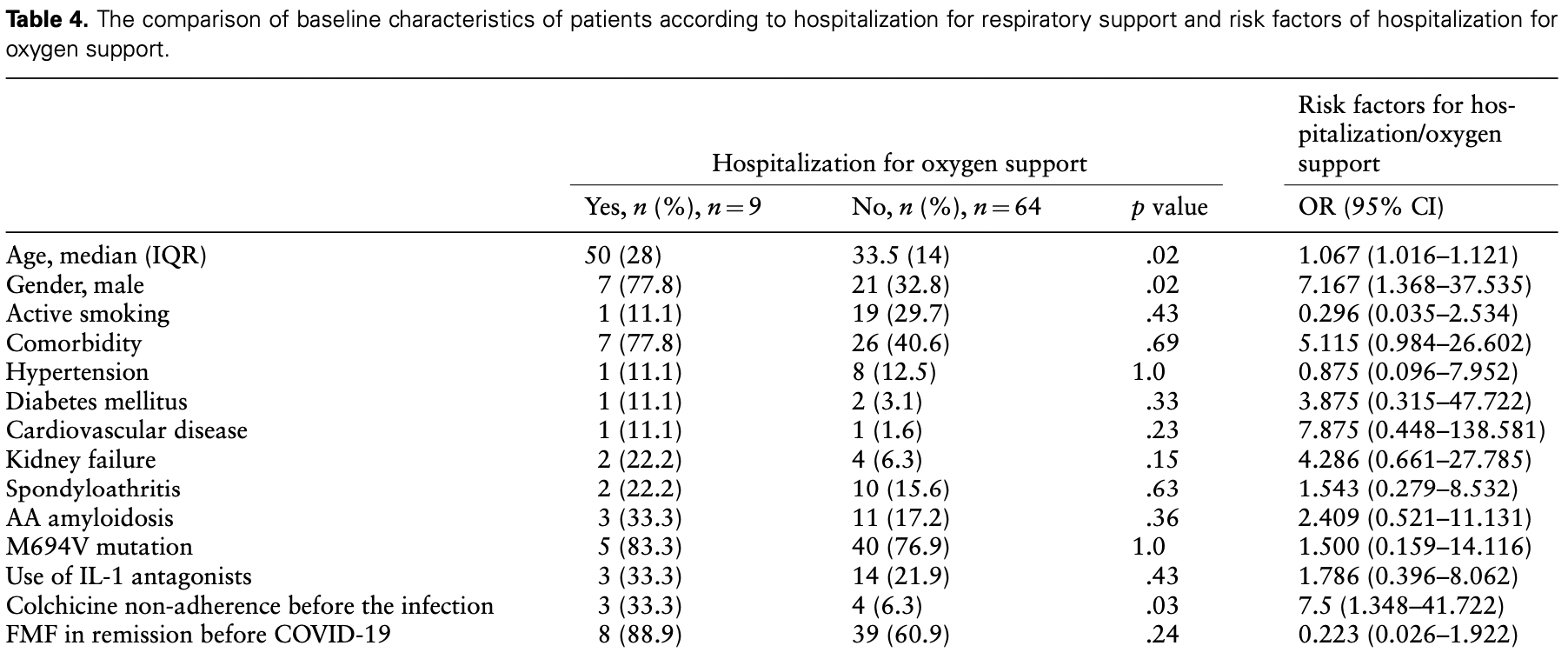 Avanoglu Guler et al., 21 Jul 2022, retrospective, Turkey, peer-reviewed, median age 39.5, 14 authors.
Contact: aslihanavanoglu@gmail.com.
COVID-19 in familial Mediterranean fever: Clinical course and complications related to primary disease
Modern Rheumatology, doi:10.1093/mr/roac074
Objectives: To evaluate the impact of familial Mediterranean fever (FMF) features on the clinical course and outcomes of coronavirus disease 2019 (COVID-19) and clinical course of FMF after COVID-19. Methods: Consecutive FMF patients with COVID-19 were enrolled from three referral hospitals. Clinical features of FMF and detailed COVID-19 information were obtained from patient interviews and medical records. Results: Seventy-three FMF patients were included in the study. 94.5% of patients had clinical symptoms of COVID-19. We found 24.7% hospitalization, 12.3% respiratory support, 4.1% intensive care unit admission, 6.8% complication, and 1.4% mortality rate in patients. The risk factors of hospitalization for respiratory support were male gender [OR: 7.167 (95% CI: 1.368-37.535)], greater age [OR: 1.067 (95% CI: 1.016-1.121)], and non-adherence to colchicine treatment before the infection [OR: 7.5 (95% CI: 1.348-41.722)]. One-third of patients had reported attacks after COVID-19. The patterns of triggered attacks were fever, peritonitis, pleuritis, transient arthritis, chronic knee mono-arthritis, and protracted febrile myalgia. Conclusions: FMF characteristics were not associated with worse outcomes of COVID-19. Colchicine non-adherence was the risk factor of hospitalization for oxygen support. The rate of FMF attacks after COVID-19 is prominently increased, with some of them being protracted and destructive.
Conflict of interest None declared. Ethics approval and consent to participate and for publication This study was approved by the Ministry of Health and Gazi University Hospital Ethics Committee (protocol number: 322, 29/03/2021) and followed the guidelines from Helsinki Declaration. All patients signed the informed consent, including consent for publication.
References