Clinical Trial of Black Seeds Against COVID – 19 in Kirkuk City / Iraq
et al., Indian Journal of Forensic Medicine & Toxicology, 15:3 (date from earlier preprint)
Clinical Trial of Black Seeds Against COVID – 19 in Kirkuk City / Iraq
,
Indian Journal of Forensic Medicine & Toxicology, 15:3 (date from earlier preprint)
,
Open-label RCT with 419 patients in Iraq, 160 treated with Nigella Sativa, showing lower mortality and severe cases with treatment. Black seeds 40mg/kg orally once daily for 14 days.
risk of death,

95.8% lower

, RR 0.04, p = 0.001
, treatment 0 of 160 (0.0%), control 14 of 259 (5.4%), NNT 18, relative risk is not 0 because of continuity correction due to zero events (with reciprocal of the contrasting arm).
risk of severe case,

92.6% lower

, RR 0.07, p < 0.001
, treatment 2 of 160 (1.2%), control 44 of 259 (17.0%), NNT 6.4.
Effect extraction follows pre-specified rules prioritizing more serious outcomes. Submit updates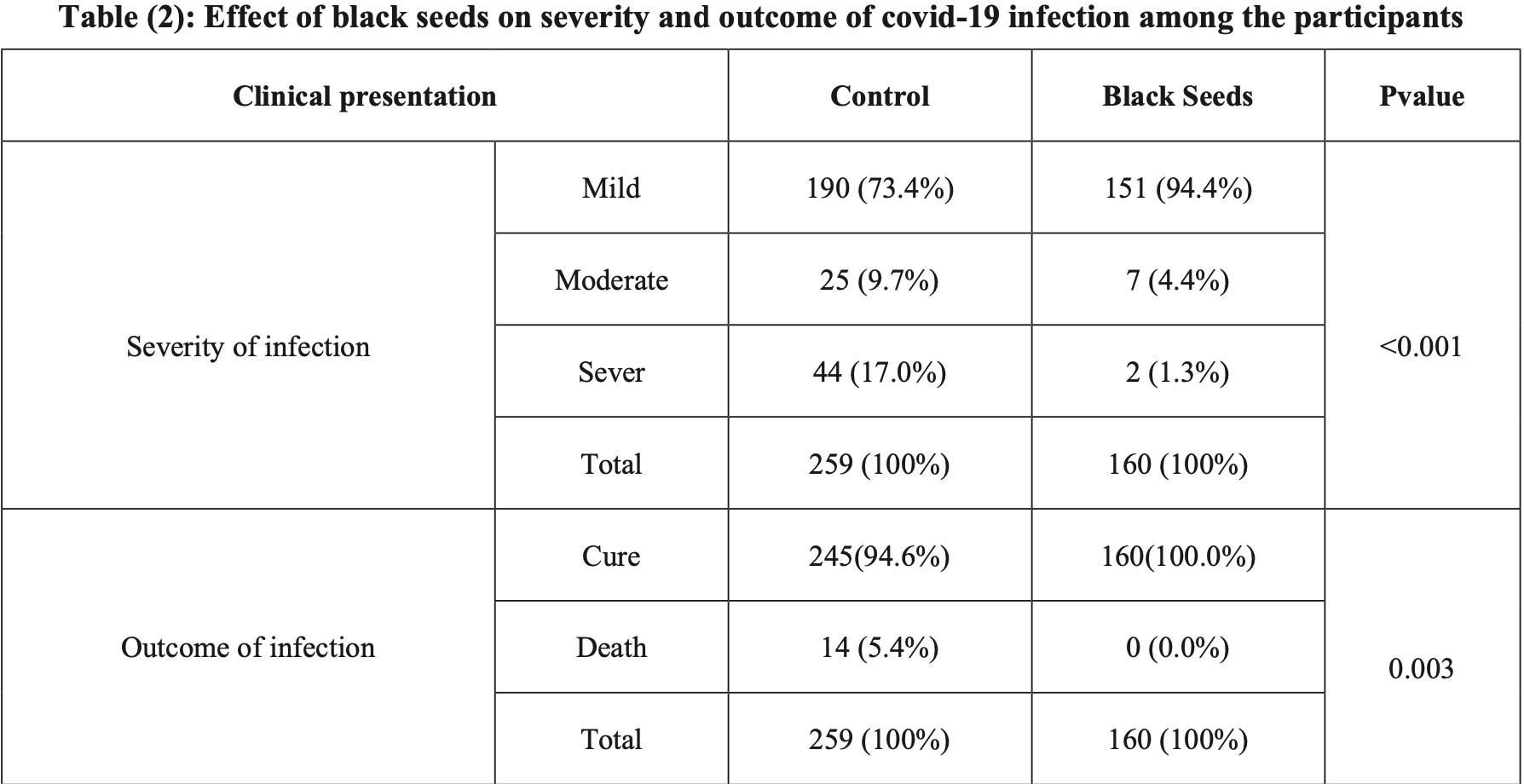 Al-Haidari et al., 31 Jan 2021, Randomized Controlled Trial, Iraq, peer-reviewed, 3 authors.
Abstract: See discussions, stats, and author profiles for this publication at: https://www.researchgate.net/publication/352134969 Clinical Trial of Black Seeds Against COVID -19 in Kirkuk City/ Iraq Article in Indian Journal of Forensic Medicine & Toxicology · January 2021 CITATIONS READS 0 108 3 authors, including: Tunjai Namiq Faiq Ozdan Akram Ghareeb Kirkuk Health Directorate Northern Technical University 8 PUBLICATIONS 1 CITATION 17 PUBLICATIONS 7 CITATIONS SEE PROFILE All content following this page was uploaded by Tunjai Namiq Faiq on 05 June 2021. The user has requested enhancement of the SEE PROFILE Indian Journal of Forensic Medicine & Toxicology, July-September 2021, Vol. 15, No. 3 3393 Clinical Trial of Black Seeds Against COVID – 19 in Kirkuk City/ Iraq Kadhim Ali Abbas Al-Haidari1, TunjaiNamiq Faiq2 , OzdanAkram Ghareeb3 1 Family Physician inKirkuk Rehabilitation Center, Kirkuk Health Directorate, Iraq, 2Consultant Otolaryngologist in Kirkuk General Hospital, Kirkuk Health Directorate, Iraq, 3Assistant Lecturer in Department of Community Health Techniques, Kirkuk Technical Institute Abstract In order to cope with Coronavirus Disease 2019 (COVID-19) pandemic, there is an urgent need for effective prevention and control measures. This study aims to explore the positive action of black seeds (BS) against COVID-19 in patients involved in the trail. It is a descriptive, comparative, and open-label study. In our study, (419) participants were divided into two groups.The studied participants included patients which received standard care treatment as a control group (CON) , while the (BS) group were patients received black seeds at a 40 mg/kg dose orally, once daily for 14 days plus standard protocol of treatment. The evidence of BS efficacy was obvious in the severity and outcome of infection with covid-19. A significantly higher severity of infection among control group 44 (17.0%) than the black seed group were noticed; the control group also showed 14 deaths (5.4%), while there were no deaths in black seeds group (0.0%). Thus, we can conclude that black seed is very effective in reducing the severity of covid-19 and preventing death in infected patients. Key words : Pandemic disease, COVID-19, Infection,medicinal plant, , Black seeds
Please send us corrections, updates, or comments. Vaccines and treatments are complementary. All practical, effective, and safe means should be used based on risk/benefit analysis. No treatment, vaccine, or intervention is 100% available and effective for all current and future variants. We do not provide medical advice. Before taking any medication, consult a qualified physician who can provide personalized advice and details of risks and benefits based on your medical history and situation.
FLCCC
and
WCH
provide treatment protocols.
Submit