Vitamin D levels and disease severity in COVID-19
et al., Medical Journal of İzmir Hospital, 26:3
Vitamin D levels and disease severity in COVID-19
,
Medical Journal of İzmir Hospital, 26:3
,
Retrospective 153 COVID-19 patients in Turkey, showing lower age-adjusted vitamin D levels in hospitalized patients vs. outpatients.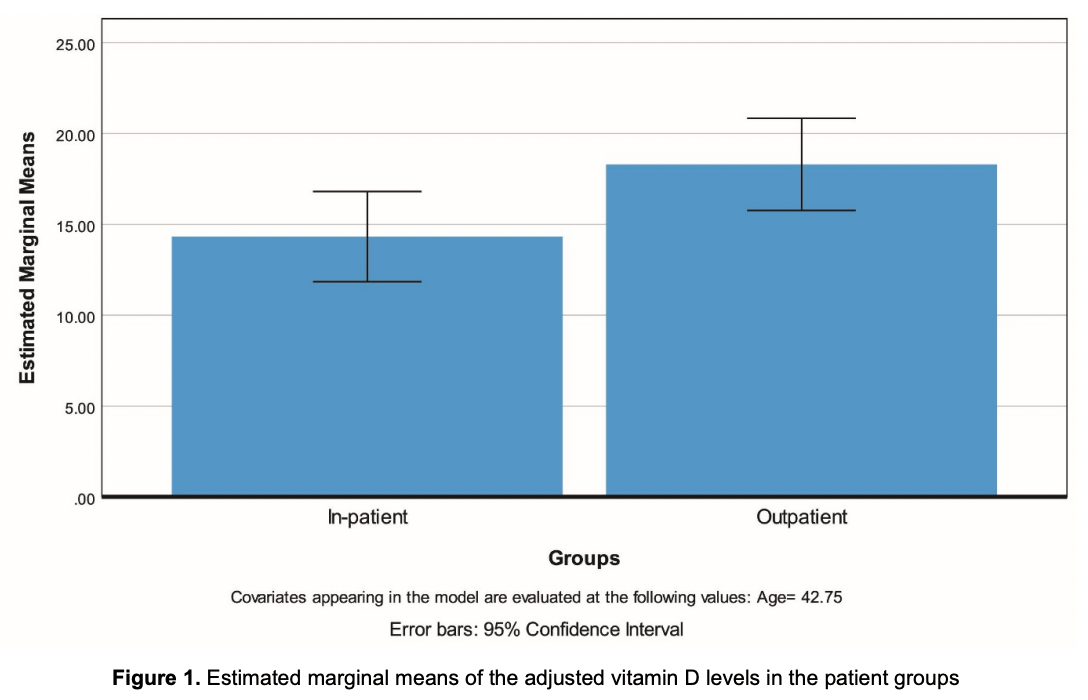 Alarslan et al., 31 Jul 2022, retrospective, Turkey, peer-reviewed, 5 authors.
Abstract: Araştırma Makalesi / Research Article İzmir Eğitim ve Araştırma Hastanesi Tıp Dergisi (Medical Journal of İzmir Hospital) 26 (3): 311-318, 2022 VITAMIN D LEVELS AND DISEASE SEVERITY IN COVID-19 COVID-19'DA D VİTAMİNİ DURUMU VE HASTALIK ŞIDDETİ Pinar ALARSLAN1 Esin CELIKER2 Zeliha ARSLAN2 3 Gokcen UNAL KOCABAS Oguzhan OZYURTKAN4 1 Department of Endocrine And Metabolic Diseases, Medicana International Istanbul Hospital, Istanbul, Turkey 2 Department of Chest Diseases, Medicana International Istanbul Hospital, Istanbul, Turkey 3 Department of Endocrine And Metabolic Diseases, Izmir Baskent University Hospital, Izmir, Turkey 4 Department of Thoracic Surgery, Medicana International Istanbul Hospital, Istanbul, Turkey Keywords: Covid-19, SARS-CoV2, vitamin D Anahtar Sözcükler: Covid-19, SARS-CoV2, D vitamini Yazının alınma tarihi: 21.10.2021 Yazının kabul tarihi: 15.03.2022 Online basım: 31.07.2022 SUMMARY Introduction: to evaluate the clinical and biochemical characteristics of patients with Covid-19 with regard to disease severity, and to assess vitamin D levels. Material and methods: A total of 153 patients diagnosed with Covid-19 were enrolled in this retrospective cohort study. Patients were divided into following three groups in terms of clinical severity: those managed as outpatients (n=75), those managed in wards (n=61) and those requiring intensive care unit (ICU) (n=17). Results: The levels of WBC, neutrophil, BUN, CRP, AST, ALT, D-dimer, ferritin, procalcitonin and BNP were significantly higher in the intensive care group compared to ward patients and outpatients. Albumin levels, hemoglobin values and lymphocyte percentages were lower in the severe disease group compared to the other two groups. Estimated marginal means of the adjusted vitamin D levels were 14.32 ± 1.26 ng/mL for the inpatients (ward and ICU) and 18.30±1.28 ng/mL for the outpatients (p=0.032). Conclusion: Vitamin D deficiency may have been effective on the aggravation or prognosis of the disease, possibly with its anti-inflammatory, anti-fibrotic, anti-oxidant and immunomodulatory effects. In this respect, the role of vitamin D supplementation on treatment should be examined in further studies by monitoring vitamin D levels in patients. ÖZ Giriş: Covid-19'lu hastaların klinik ve biyokimyasal özelliklerini hastalık şiddetine göre değerlendirmek ve D vitamini düzeylerini değerlendirmek. Gereç ve Yöntem: Bu retrospektif kohort çalışmasına Covid-19 tanısı konan toplam 153 hasta dahil edildi. Hastalar klinik şiddet açısından şu şekilde üç gruba ayrıldı: ayakta tedavi gören hastalar (n = 75), servislerde tedavi edilenler (n = 61) ve yoğun bakım ünitesi (YBÜ) gerektirenler (n = 17). Bulgular: Yoğun bakım grubunda WBC, nötrofil, BUN, CRP, AST, ALT, D-dimer, ferritin, prokalsitonin ve BNP düzeyleri serviste ve ayakta tedavi gören hastalara göre anlamlı olarak yüksekti. Şiddetli hastalık grubunda albümin düzey, hemoglobin değeri ve lenfosit yüzdesi diğer iki gruba göre daha düşüktü. Düzeltilmiş D vitamini 311 düzeylerinin tahmini marjinal ortalamaları yatan hastalar (servis ve YBÜ) için 14.32 ± 1.26 ng / mL ve ayakta tedavi gören hastalar için 18.30 ± 1.28 ng / mL idi (p = 0.032). Sonuç: D vitamini eksikliği, muhtemelen anti-enflamatuar, anti-fibrotik, anti-oksidan ve immünomodülatör etkileriyle hastalığın şiddetlenmesi ya prognozu üzerinde etkin olmuş olabilir. Bu açıdan hastalarda D vit düzeyi takibi yapılarak ileri çalışmalarda D vit takviyesinin tedavi üzerindeki..
Please send us corrections, updates, or comments. Vaccines and treatments are complementary. All practical, effective, and safe means should be used based on risk/benefit analysis. No treatment, vaccine, or intervention is 100% available and effective for all current and future variants. We do not provide medical advice. Before taking any medication, consult a qualified physician who can provide personalized advice and details of risks and benefits based on your medical history and situation.
FLCCC
and
WCH
provide treatment protocols.
Submit