The F/B ratio as a biomarker for inflammation in COVID-19 and T2D: Impact of metformin
Analysis of 115 pateints in Ukraine, providing evidence that the gut microbiome may play a role in the inflammatory response of COVID-19 patients, that the firmicutes/bacteroidetes ratio may be a potential biomarker for inflammation, and that metformin may affect the relationship between the firmicutes/bacteroidetes ratio and CRP levels.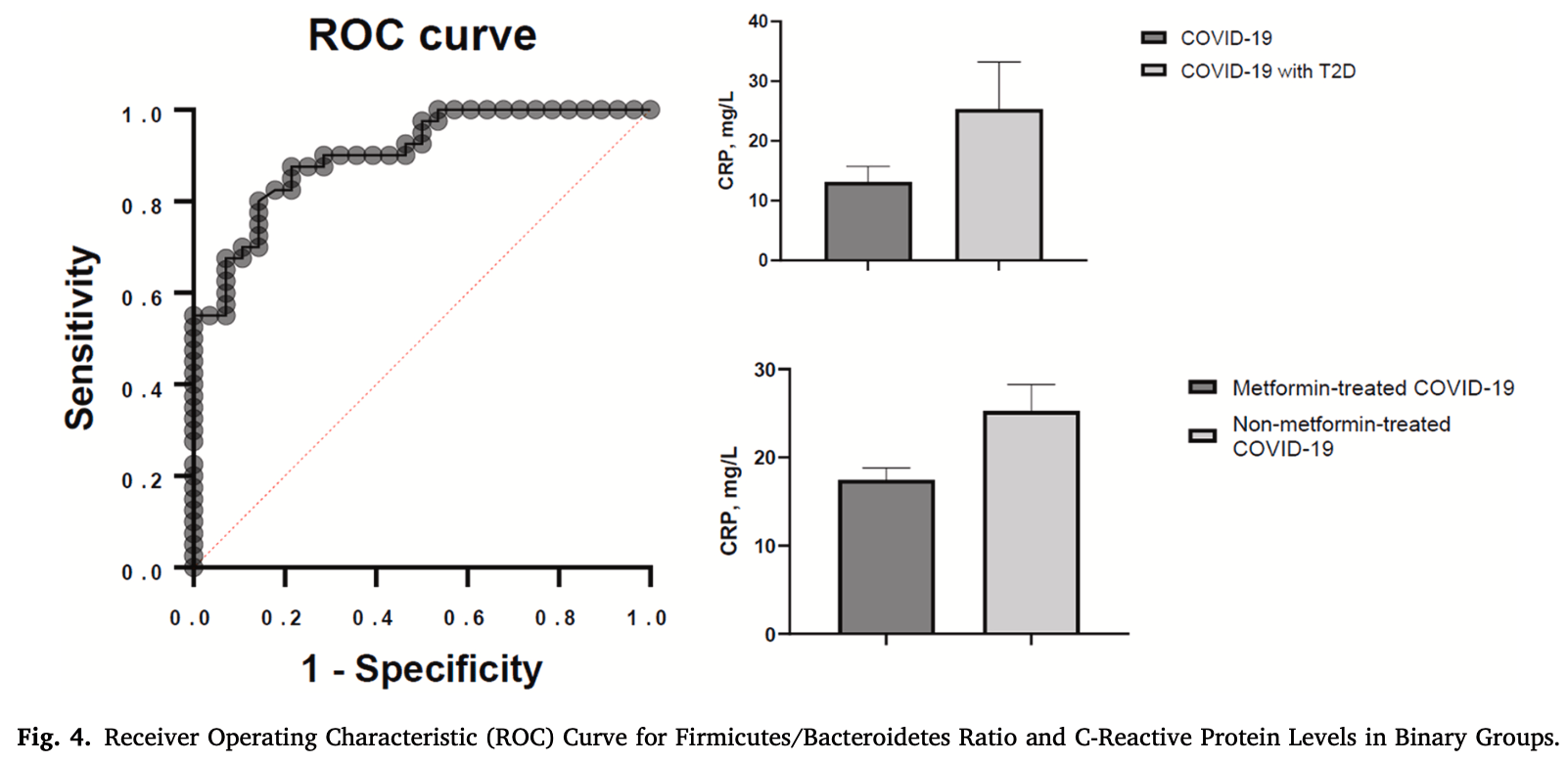 Petakh et al., 15 May 2023, Ukraine, peer-reviewed, 3 authors.
Contact: pavlo.petakh@uzhnu.edu.ua, alexkamyshnyi@gmail.com.
Abstract: Biomedicine & Pharmacotherapy 163 (2023) 114892 Contents lists available at ScienceDirect Biomedicine & Pharmacotherapy journal homepage: www.elsevier.com/locate/biopha The F/B ratio as a biomarker for inflammation in COVID-19 and T2D: Impact of metformin Pavlo Petakh a, b, *, Valentyn Oksenych c, Aleksandr Kamyshnyi b, * a Department of Biochemistry and Pharmacology, Uzhhorod National University, Uzhhorod, Ukraine Department of Microbiology, Virology, and Immunology, I. Horbachevsky Ternopil National Medical University, Ternopil, Ukraine c Institute of Clinical Medicine (Klinmed), University of Oslo, 0318 Oslo, Norway b A R T I C L E I N F O A B S T R A C T Keywords: Coronavirus 2019 Gut microbiota Diabetes Metformin C-reactive protein The pandemic of COVID-19 has highlighted the intricate relationship between gut microbiome and overall health. Recent studies have shown that the Firmicutes/Bacteroidetes ratio in the gut microbiome may be linked to various diseases including COVID-19 and type 2 diabetes (T2D). Understanding the link between gut microbiome and these diseases is essential for developing strategies for prevention and treatment. In this study, 115 participants were recruited and divided into three groups: 1st group: T2D patients and healthy controls, 2nd group: COVID-19 patients with and without T2D, 3rd group: T2D patients with COVID-19 treated with or without metformin. Gut microbial composition at the phylum level was assessed using qRT-PCR with universal primers targeting the bacterial 16 S rRNA gene and specific primers for Firmicutes and Bacteroidetes. Data was analyzed using one-way ANOVA, logistic regression, and Spearman's rank correlation coefficient. The study found that the ratio of Firmicutes to Bacteroidetes (F/B) was higher in patients with both T2D and COVID-19 compared to those with only T2D or COVID-19. Additionally, the F/B ratio was positively correlated with Creactive protein (CRP) in T2D and COVID-19 patients. The study also suggests that metformin treatment may affect this correlation. Logistic regression analysis showed that the F/B ratio was significantly associated with CRP. These findings suggest that the F/B ratio may be a potential biomarker for inflammation in T2D and COVID19 patients and metformin treatment may have an effect on the correlation between F/B and CRP levels.
Please send us corrections, updates, or comments. Vaccines and treatments are complementary. All practical, effective, and safe means should be used based on risk/benefit analysis. No treatment, vaccine, or intervention is 100% available and effective for all current and future variants. We do not provide medical advice. Before taking any medication, consult a qualified physician who can provide personalized advice and details of risks and benefits based on your medical history and situation.
FLCCC
and
WCH
provide treatment protocols.
Submit