K18-hACE2 mouse study showing reduced COVID-19 severity with quercetin and dasatinib, for both prophylaxis and early treatment.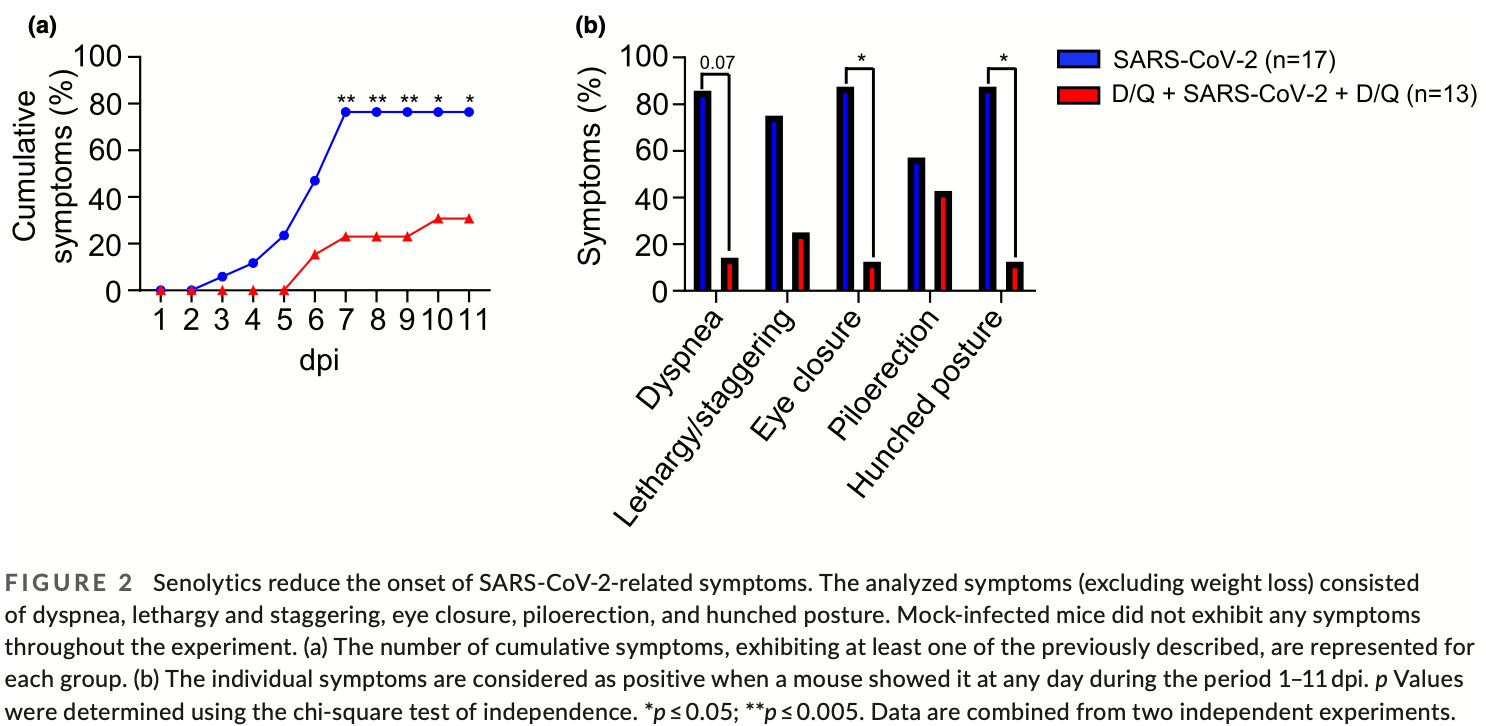 Pastor-Fernández et al., 26 Jan 2023, Spain, peer-reviewed, survey, 16 authors.
Contact: cvonkobbe@cbm.csic.es.
Treatment with the senolytics dasatinib/quercetin reduces SARS‐CoV ‐2‐related mortality in mice
Aging Cell, doi:10.1111/acel.13771
The enormous societal impact of the ongoing COVID-19 pandemic has been particularly harsh for some social groups, such as the elderly. Recently, it has been suggested that senescent cells could play a central role in pathogenesis by exacerbating the proinflammatory immune response against SARS-CoV-2. Therefore, the selective clearance of senescent cells by senolytic drugs may be useful as a therapy to ameliorate the symptoms of COVID-19 in some cases. Using the established COVID-19 murine model K18-hACE2, we demonstrated that a combination of the senolytics dasatinib and quercetin (D/Q) significantly reduced SARS-CoV-2-related mortality, delayed its onset, and reduced the number of other clinical symptoms. The increase in senescent markers that we detected in the lungs in response to SARS-CoV-2 may be related to the post-COVID-19 sequelae described to date. These results place senescent cells as central targets for the treatment of COVID-19, and make D/Q a new and promising therapeutic tool.
| Histological processing The samples fixed in 10% neutral buffered formalin solution (Panreac Química, SLU) were mounted in synthetic paraffin with a melting point of 56 °C (Casa Álvarez Material Científico), using a Citadel 2000 Tissue Processor (Thermo Fisher Scientific), with an automatic program applying alcohols of increasing concentration and xylene substitute (Citrus Clearing Solvent, Thermo Fisher Scientific). Blocks were made in a cold plate block forming unit (Histo Star Embedding Workstation, Thermo Fisher Scientific) . Histological sections were obtained with a rotary microtome (Finesse Me+ Microtome, Thermo Fisher Scientific) at 3-4 μm thickness. A Gemini AS Automated Slide Stainer (Thermo Fisher Scientific) was used to stain the sections with hematoxylin-eosin and finally mounted using a CTM6 Coverslipper (Thermo Fisher Scientific), with a xylene-based mounting medium (ClearVue Mountant, Thermo Fisher Scientific). | Immunohistochemistry (IHC) Tissue samples were cut at 3 μm thickness, mounted on superfrost®plus slides and dried overnight. For IHC, an automated immunostaining platform was used (Autostainer Link, Dako or Ventana Discovery ULTRA; Roche). Antigen retrieval was performed with CC1 32 min, only for p21 and High pH buffer, Dako, Agilent (p19 and SARS-CoV-2 nucleocapsid); endogenous peroxidase was blocked (hydrogen peroxide at 3%) and slides were then incubated with the appropriate primary antibody as detailed: rat monoclonal anti-p21 CIP1 (291H;..
References
Blagosklonny, From causes of aging to death from COVID-19, Aging
Cayetano Von Kobbe, None
Maghazachi, Al-Aoukaty, Schall, C-C chemokines induce the chemotaxis of NK and IL-2-activated NK cells: Role for G proteins, Journal of Immunology
Zheng, Wong, Li, Verma, Ortiz et al., Treatment with the senolytics dasatinib/quercetin reduces SARS-CoV-2-related mortality in mice, The New England Journal of Medicine