Potential influence of Nagella sativa (Black cumin) in reinforcing immune system: A hope to decelerate the COVID-19 pandemic
et al., Phytomedicine,
Potential influence of Nagella sativa (Black cumin) in reinforcing immune system: A hope to decelerate the..
,
Phytomedicine, doi:10.1016/j.phymed.2020.153277 (Review)
,
Review of immune-regulating, anti-inflammatory, and antioxidant benefits of nigella sativa, and potential benefits for COVID-19.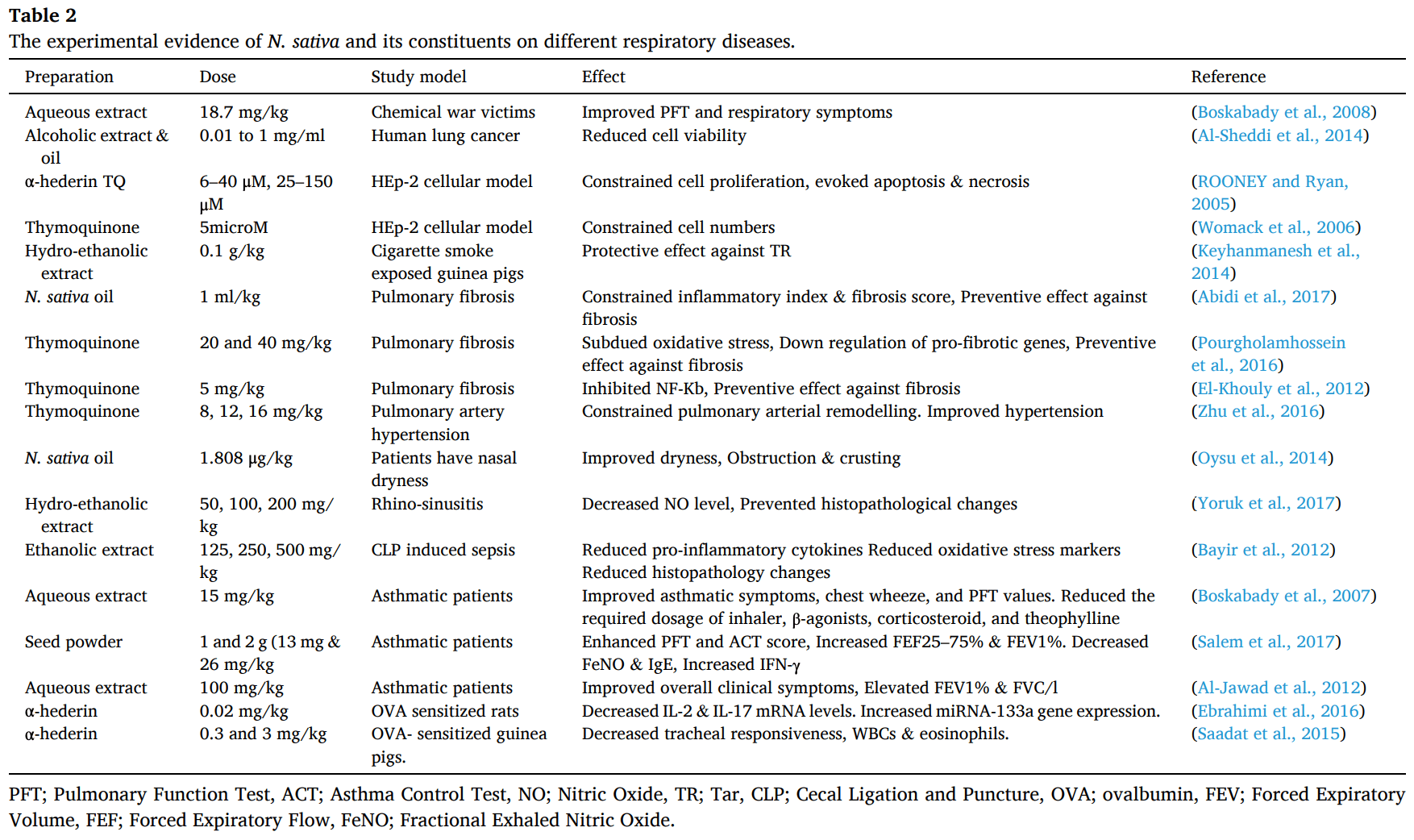 Kulyar et al., 10 Jul 2020, peer-reviewed, 6 authors.
Abstract: Since January 2020 Elsevier has created a COVID-19 resource centre with free information in English and Mandarin on the novel coronavirus COVID19. The COVID-19 resource centre is hosted on Elsevier Connect, the company's public news and information website. Elsevier hereby grants permission to make all its COVID-19-related research that is available on the COVID-19 resource centre - including this research content - immediately available in PubMed Central and other publicly funded repositories, such as the WHO COVID database with rights for unrestricted research re-use and analyses in any form or by any means with acknowledgement of the original source. These permissions are granted for free by Elsevier for as long as the COVID-19 resource centre remains active. Phytomedicine 85 (2021) 153277 Contents lists available at ScienceDirect Phytomedicine journal homepage: www.elsevier.com/locate/phymed Review Potential influence of Nagella sativa (Black cumin) in reinforcing immune system: A hope to decelerate the COVID-19 pandemic Muhammad Fakhar-e-Alam Kulyar a, †, Rongrong Li b, †, Khalid Mehmood c, Muhammad Waqas a, d, Kun Li a, *, Jiakui Li a, ** a College of Veterinary Medicine, Huazhong Agricultural University, Wuhan, 430070, China Department of Neurology, Jinling Hospital, Medical School of Nanjing University, Nanjing 210002, Jiangsu, China Faculty of Veterinary and Animal Sciences, The Islamia University of Bahawalpur-63100, Pakistan d Faculty of Veterinary & Animal Sciences, University of the Poonch, Rawalakot, District Poonch 12350, Azad Jammu & Kashmir, Pakistan b c A R T I C L E I N F O A B S T R A C T Keywords: Nagella sativa Black seed Covid-19 Coronavirus Thymoquinone Immunomodulation Nigellidine α-hederin The world is witnessing a difficult time. The race of developing a new coronavirus (COVID-19) vaccine is becoming more urgent. Many preliminary studies on the pathophysiology of COVID-19 patients have provided some clues to treat this pandemic. However, no suitable treatment has found yet. Various symptoms of patients infected with COVID-19 indicated the importance of immune regulation in the human body. Severe cases admitted to the intensive care unit showed high level of pro-inflammatory cytokines which enhanced the disease severity. Acute Respiratory Distress Syndrome (ARDS) in COVID-19 patients is another critical factor of disease severity and mortality. So, Immune modulation is the only way of regulating immune system. Nigella sativa has been used for medicinal purposes for centuries. The components of this plant are known for its intense immuneregulatory, anti-inflammatory, and antioxidant benefits in obstructive respiratory disorders. A molecular docking study also gave evidences that N. sativa decelerates COVID-19 and might give the same or better results than the FDA approved drugs. The aim of this review was to investigate the possible immune-regulatory effects of N. sativa on COVID-19 pandemic. Our review found N. sativa's Thymoquinone, Nigellidine, and α-hederin can be a po­ tential influencer in reinforcing the immune response on molecular grounds.
Please send us corrections, updates, or comments. Vaccines and treatments are complementary. All practical, effective, and safe means should be used based on risk/benefit analysis. No treatment, vaccine, or intervention is 100% available and effective for all current and future variants. We do not provide medical advice. Before taking any medication, consult a qualified physician who can provide personalized advice and details of risks and benefits based on your medical history and situation.
FLCCC
and
WCH
provide treatment protocols.
Submit