IPTW retrospective 141 COVID-19 patients (83% hospitalized), 71 treated with colchicine and 70 matched control patients, showing lower mortality and faster recovery with treatment.
risk of death,

76.0% lower

, HR 0.24, p = 0.005
, treatment 71, control 70, adjusted per study, propensity score weighting.
risk of no recovery,

44.4% lower

, RR 0.56, p = 0.048
, treatment 71, control 70, adjusted per study, inverted to make RR<1 favor treatment, propensity score weighting.
Effect extraction follows pre-specified rules prioritizing more serious outcomes. Submit updates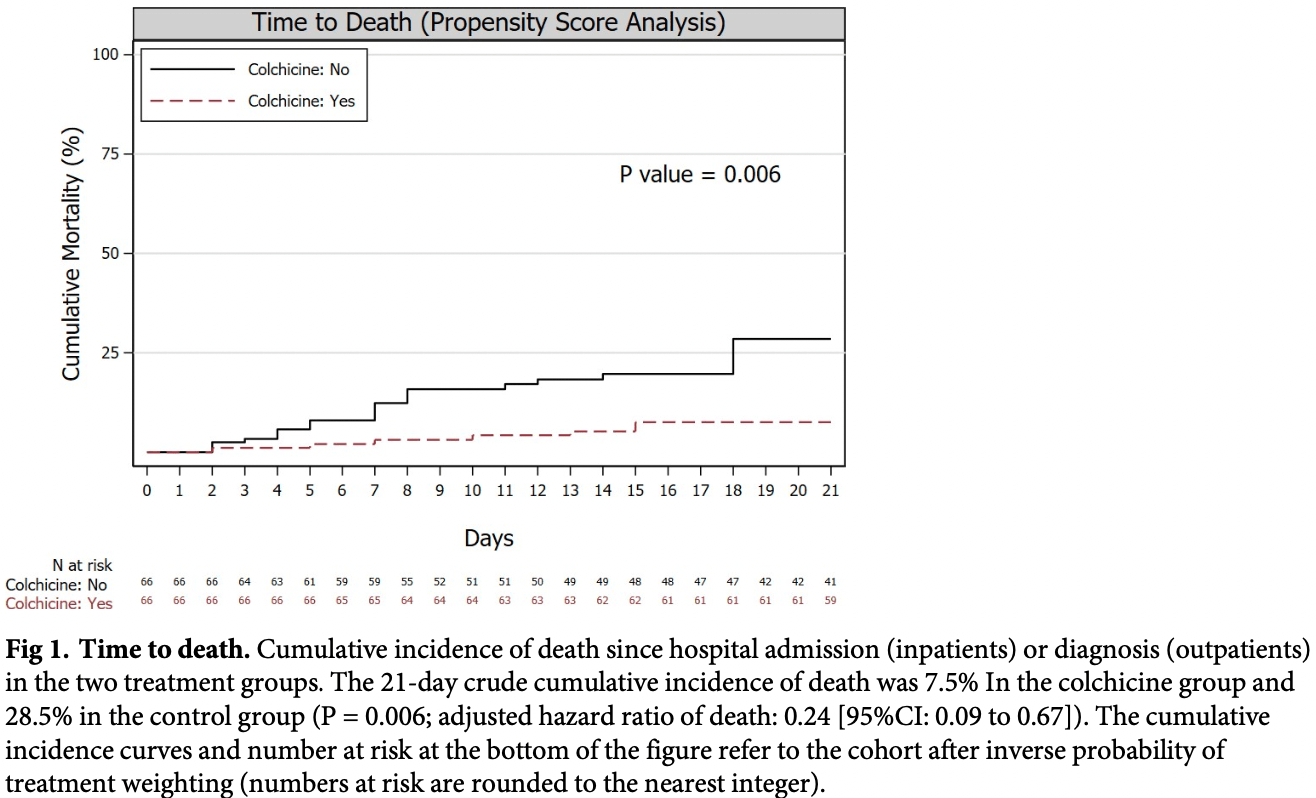 Manenti et al., 24 Mar 2021, retrospective, Italy, peer-reviewed, 24 authors, study period 1 March, 2020 - 10 April, 2020, dosage 1mg days 1-21.
Reduced mortality in COVID-19 patients treated with colchicine: Results from a retrospective, observational study
PLOS ONE, doi:10.1371/journal.pone.0248276
Objectives Effective treatments for coronavirus disease 2019 (COVID-19) are urgently needed. We hypothesized that colchicine, by counteracting proinflammatory pathways implicated in the uncontrolled inflammatory response of COVID-19 patients, reduces pulmonary complications, and improves survival. Methods This retrospective study included 71 consecutive COVID-19 patients (hospitalized with pneumonia on CT scan or outpatients) who received colchicine and compared with 70 control patients who did not receive colchicine in two serial time periods at the same institution. We used inverse probability of treatment propensity-score weighting to examine differences in mortality, clinical improvement (using a 7-point ordinary scale), and inflammatory markers between the two groups. Results Amongst the 141 hospitalized), 70 (50%) received colchicine. The 21-day crude cumulative mortality was 7.5% in the colchicine group and 28.5% in the control group (P = 0.006; adjusted hazard ratio: 0.24 [95%CI: 0.09 to 0.67]); 21-day
Supporting information S1 Table. Demographic and clinical characteristics of the study population after propen Author Contributions Conceptualization: Lucio Manenti, Umberto Maggiore, Paolo Cravedi, Licia Peruzzi. Data curation: Lucio Manenti. Formal analysis: Lucio Manenti. Writing -original draft: Lucio Manenti, Umberto Maggiore, Paolo Cravedi. Writing -review & editing: Umberto Maggiore, Enrico Fiaccadori, Tiziana Meschi, Anna Degli Antoni, Antonio Nouvenne, Andrea Ticinesi, Nicoletta Cerundolo, Beatrice Prati, Marco Delsante, Ilaria Gandoflini, Lorenzo Donghi, Micaela Gentile, Maria Teresa Farina, Vincenzo Oliva, Cristina Zambrano, Giuseppe Regolisti, Alessandra Palmisano, Caterina Caminiti, Enrico Cocchi, Carlo Ferrari, Leonardo V. Riella, Paolo Cravedi, Licia Peruzzi.
References
Montealegre-Gomez, Garavito, Gomez-Lopez, Rojas-Villarraga, Parra-Medina, Colchicine: a potential therapeutic tool against COVID-19