UK Biobank retrospective 235,928 participants using walking pace as a proxy for physical fitness, showing lower risk of COVID-19 hospitalization with an average vs. slow walking pace.
risk of hospitalization,

34.6% lower

, RR 0.65, p = 0.007
, high activity levels 213 of 123,588 (0.2%), low activity levels 59 of 14,887 (0.4%), adjusted per study, inverted to make RR<1 favor high activity levels, model 2, average vs. slow walking pace, multivariable.
Effect extraction follows pre-specified rules prioritizing more serious outcomes. Submit updates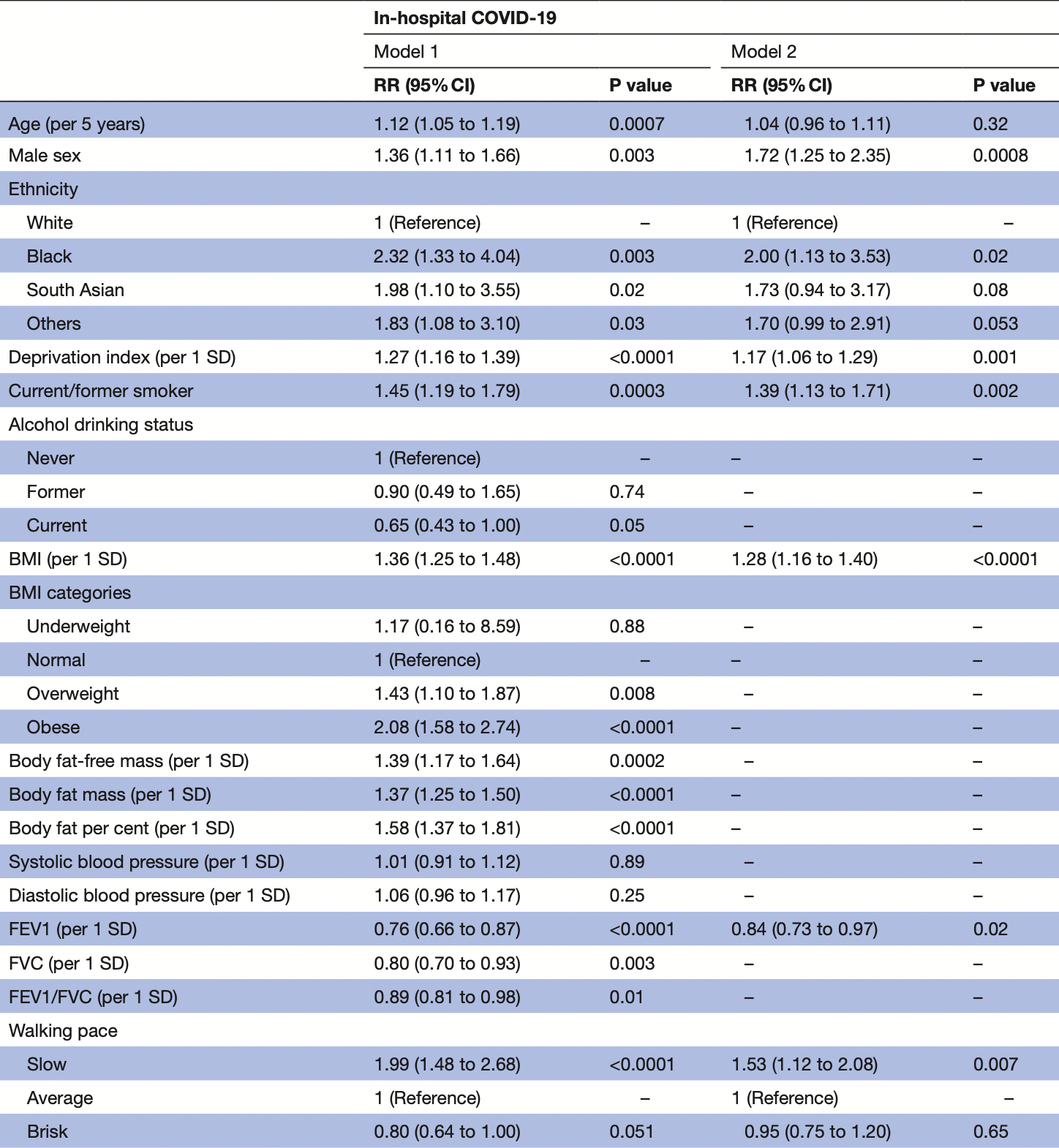 Ho et al., 19 Nov 2020, retrospective, United Kingdom, peer-reviewed, survey, 13 authors.
Modifiable and non-modifiable risk factors for COVID-19, and comparison to risk factors for influenza and pneumonia: results from a UK Biobank prospective cohort study
BMJ Open, doi:10.1136/bmjopen-2020-040402
Objectives We aimed to investigate demographic, lifestyle, socioeconomic and clinical risk factors for COVID-19, and compared them to risk factors for pneumonia and influenza in UK Biobank. Design Cohort study. Setting UK Biobank. Participants 49-83 year olds (in 2020) from a general population study. Main outcome measures Confirmed COVID-19 infection (positive SARS-CoV-2 test). Incident influenza and pneumonia were obtained from primary care data. Poisson regression was used to study the association of exposure variables with outcomes. Results Among 235 928 participants, 397 had confirmed COVID-19. After multivariable adjustment, modifiable risk factors were higher body mass index and higher glycated haemoglobin (HbA1C) (RR 1.28 and RR 1.14 per SD increase, respectively), smoking (RR 1.39), slow walking pace as a proxy for physical fitness (RR 1.53), and use of blood pressure medications as a proxy for hypertension (RR 1.33). Higher forced expiratory volume in 1 s (FEV1) and high-density lipoprotein (HDL) cholesterol were both associated with lower risk (RR 0.84 and RR 0.83 per SD increase, respectively). Non-modifiable risk factors included male sex (RR 1.72), black ethnicity (RR 2.00), socioeconomic deprivation (RR 1.17 per SD increase in Townsend Index), and high cystatin C (RR 1.13 per SD increase). The risk factors overlapped with pneumonia somewhat, less so for influenza. The associations with modifiable risk factors were generally stronger for COVID-19, than pneumonia or influenza. Conclusion These findings suggest that modification of lifestyle may help to reduce the risk of COVID-19 and could be a useful adjunct to other interventions, such as social distancing and shielding of high risk.
Ethics approval UK Biobank received ethical approval from the North West Multicentre Research Ethics Committee (REC reference: 11/NW/03820). All participants gave written informed consent before enrolment in the study, which was conducted in accordance with the principles of the Declaration of Helsinki. Direct dissemination of the results to participants is not possible/applicable. This study was performed under UK Biobank application number 7155. Provenance and peer review Not commissioned; externally peer reviewed. Data availability statement Data may be obtained from a third party and are not publicly available. UK Biobank data can be requested by bona fide researchers for approved projects, including replication, through https://www. ukbiobank. ac. uk/ Supplemental material This content has been supplied by the author(s). It has not been vetted by BMJ Publishing Group Limited (BMJ) and may not have been peer-reviewed. Any opinions or recommendations discussed are solely those of the author(s) and are not endorsed by BMJ. BMJ disclaims all liability and responsibility arising from any reliance placed on the content. Where the content includes any translated material, BMJ does not warrant the accuracy and reliability of the translations (including but not limited to local regulations, clinical guidelines, terminology, drug names and drug dosages), and is not responsible for any error and/or omissions arising from translation and adaptation or otherwise. Open access This..
References
Beun, Kusadasi, Sikma, Thromboembolic events and apparent heparin resistance in patients infected with SARS-CoV-2
Fk, Celis-Morales, Gray, Modifiable and nonmodifiable risk factors for COVID-19: results from UK Biobank, MedRxiv
Petrilli, Cm, Jones, Yang, Factors associated with hospitalization and critical illness among 4,103 patients with COVID-19 disease
Tu, Tu, Gao, The epidemiological and clinical features of COVID-19 and lessons from this global infectious public health event, J
Zhao, Zhang, Li, Incidence, clinical characteristics and prognostic factor of patients with COVID-19: a systematic review and meta-analysis
Zhu, Hasegawa, Ma, Obesity & genetic predisposition with COVID-19, Metabolism