Retrospective 357 COVID-19 pneumonia patients in Slovakia, showing higher mortality with vitamin D deficiency (<12ng/mL). All patients received vitamin D supplementation in hospital. In multivariable linear regression, vitamin D levels were independently associated with mortality (
p
=0.0398).This is the
111th of 175 COVID-19 sufficiency studies
for vitamin D, which collectively show higher levels reduce risk with
p<0.0000000001 (1 in 18 vigintillion)
.
risk of death,

19.0% lower

, RR 0.81, p = 0.05
, high D levels (≥12ng/mL) 127 of 283 (44.9%), low D levels (<12ng/mL) 41 of 74 (55.4%), NNT 9.5.
Effect extraction follows pre-specified rules prioritizing more serious outcomes. Submit updates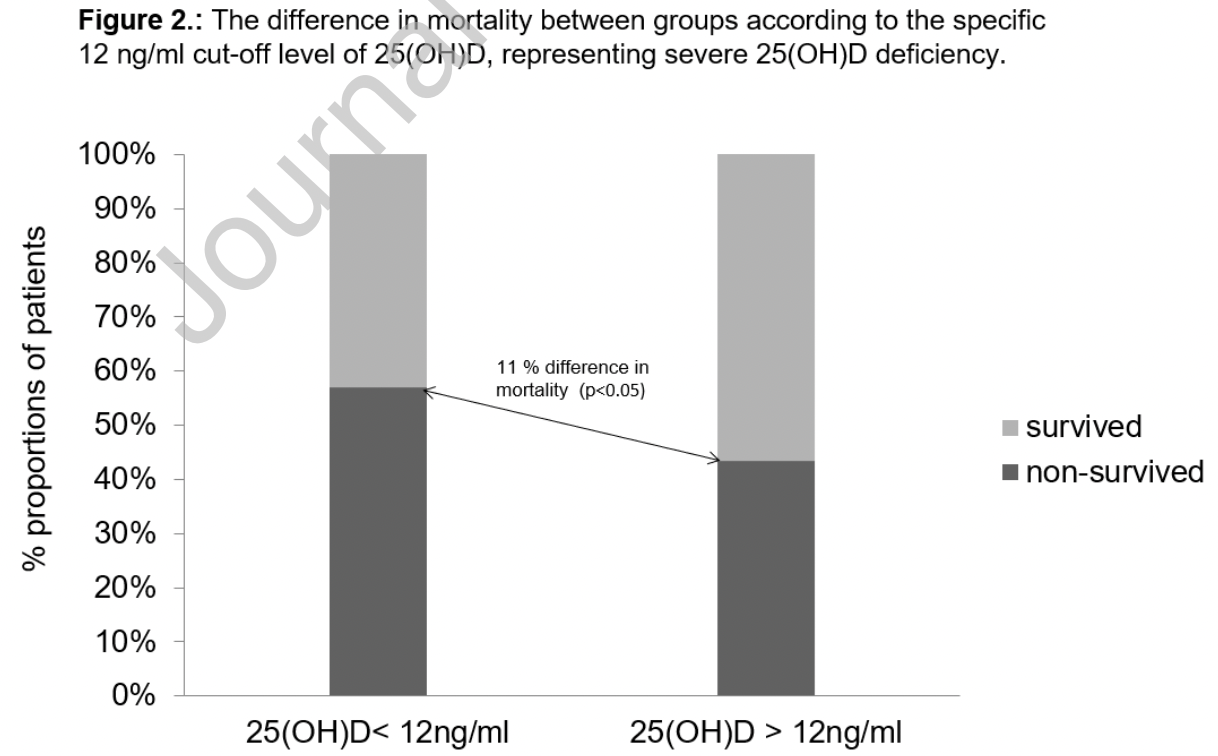 Juraj et al., 22 Jan 2022, retrospective, Slovakia, peer-reviewed, 13 authors, study period 1 November, 2020 - 30 April, 2021.
Contact: smaha1@uniba.sk.
Patients with COVID-19 pneumonia with 25(OH)D levels lower than 12 ng/ml are at increased risk of death
International Journal of Infectious Diseases, doi:10.1016/j.ijid.2022.01.044
This is a PDF file of an article that has undergone enhancements after acceptance, such as the addition of a cover page and metadata, and formatting for readability, but it is not yet the definitive version of record. This version will undergo additional copyediting, typesetting and review before it is published in its final form, but we are providing this version to give early visibility of the article. Please note that, during the production process, errors may be discovered which could affect the content, and all legal disclaimers that apply to the journal pertain.
assessment at admission could be relevant for the risk stratification and planning for treatment strategy in patients with COVID-19. Conflict of Interest The authors declare that they have no known competing financial interests or personal relationships that could have appeared to influence the work reported in this paper. Ethical Approval Statement The study was conducted in accordance with the Declaration of Helsinki and was approved by The Ethics Committee of the University Hospital Bratislava. An informed and written consent was obtained either from the participants or a first degree relative.
References
Murai, Fernandes, Sales, Pinto, Goessler et al., Effect of a Single High Dose of Vitamin D3 on Hospital Length of Stay in Patients With